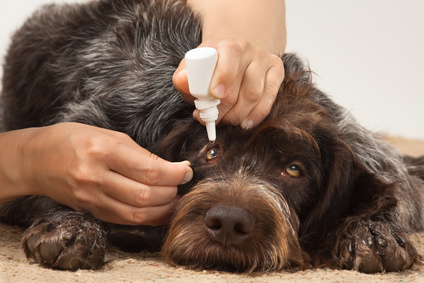 Jak poznat zánět spojivek u psa? Zarudlé oči, slzení i hnisavý výtok
Svědí, pálí a někdy i bolí. Zánět spojivek u psa je pro našeho mazlíčka velmi nepříjemný. Poradíme, jak zánět spojivek u psa rozpoznat a jak ho vyléčit. Také řekneme co dělat, aby pejskovi oči zůstaly nadále zdravé. Onemocnění vyřešme co nejdříve, neléčený zánět spojivek u psa může vést k jiným, vážnějším chorobám.
Jak poznat zánět spojivek u psa?
Pejskovo oko je zanícené a hodně slzí.
V koutku oka se mu objevuje hlenovitý, někdy hnisavý výtok. Může mít i nažloutlou až nazelenalou barvu.
Otečou mu spojivky, někdy i oko.
Mhouří oči.
Oči ho svědí, proto si je škrábe. Tím si nejenom může ublížit, ale nemoc ještě zhoršit.
Jak se zánět spojivek u psa léčí?
Pokud se zánět spojivek u psa objevil teprve nedávno a je mírný, oko psovi třikrát až čtyřikrát denně vymývejme. Hodí se na to převařená voda, odvar z heřmánku, borová voda či opthal.
Jestli se jeho zdravotní stav do dvou dnů od zahájení domácí léčby nezlepší, raději navštivme veterináře. Ten nám doporučí vhodné léky. Čím déle bychom čekali, tím se bude zánět spojivek u psa zhoršovat. Kromě toho bychom mu prodlužovali trápení.
Pejsek si nesmí oko škrábat. Sice to není jednoduchý úkol, ale snažme se mu v tom zabránit. Zánět si zhoršuje. Pokud naše příkazy nezabírají, nasaďte mu ochranný límec.
Nepoužívejme na psa lidské oční kapky. Některé sice zabírají, jiné by mu ale mohly uškodit.
Když hnis, který vytéká z oka, změní barvu na nažloutlou až zelenou, léčba této psí nemoci se musí řešit antibiotiky.
Proč zánět spojivek u psa vzniká?
Prach a prašné prostředí
Alergická reakce
Poranění oka
Silný vítr
Infekce (viry nebo bakterie)
Oční nemoci psů je nejlepší omezit prevencí
Pokud je náš mazlíček na zánět spojivek náchylnější, můžeme mu pravidelně oči čistit. Stačí nám k tomu vatové tyčinky a převařená voda. U této psí nemoci můžeme použít i speciální kapky do očí, ty si nechme doporučit zvěrolékařem. Čištění očí může být pro psa stresovou záležitostí. Odměňujme ho kvalitním krmivem, veterináři doporučují například granule pro psy k9.
Krátkolebá plemena a menší plemena jsou k zánětu spojivek náchylnější. Stejně tak plemena s delší srstí a četnými záhyby kůže, jako je třeba šarpej. U nich oči pravidelně kontrolujme. Vznikající nemoci psů v oblasti očí díky tomu zachytíme včas.
Pozor na další psí nemoci jako zánět rohovky a oční zákal
Pokud zánět spojivek u psa neustupuje, může se nemoc rozvinout v zánět rohovky. Patří mezi vážné nemoci psů a způsobuje trvalé poškození zraku. Zánětu rohovky si všimneme tak, že oko psa přestává být průhledné a naopak vypadá jako zamlžené. Pak musíme ihned navštívit zvěrolékaře.
Zarudlé oko nemusí nutně znamenat zánět spojivek, ale oční zákal. Kromě příznaků zánětu má pes oko bolestivé, má špatnou náladu a vyhýbá se kontaktu s okolím. V takovém případě opět navštivme zvěrolékaře. Psí nemoci jako oční zákal se nevyplácí brát na lehkou váhu.
Chcete se k zeptat na cokoliv k tématu? Obraťte se na naše poradce.
Rozbalit všechny příspěvky
Video týdne
Taky se občas po práci cítíte tak, že si říkáte: ať mi všichni třeba vlezou na záda!? Dnes už prostě nic dělat nebudu...
Příběh zvířátka
Říkají mi Rago, Ragoušku, Ragajdo, Rufajdo, nebo když si vypůjčím třeba botu, tak křičí Ragíííno! (to je povel k držení v zubech, to já už poznám)...