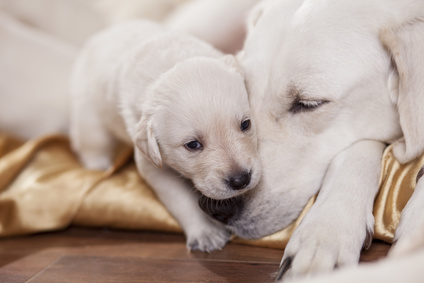 Březí fena den po dni: Jaké krmivo pro březí a kojící feny zvolit?
Když žena čeká dítě, v těhotenství potřebuje speciální výživu, aby ona i dítě dostávali vždy jen to nejlepší. A podobné je tomu i u zvířat. Březí fenka potřebuje během období, kdy čeká štěňata, vhodnou výživu, stejně jako po porodu, kdy zase potřebuje doplnit všechny minerály a živiny. A právě na to, jaké krmivo pro březí a kojící feny zvolit, se podíváme v tomto článku.
Březost fenky může trvat až 63 dní. Během dvou měsíců mohou fenky svou běžnou hmotnost až zdvojnásobit, a proto potřebují speciální krmivo pro březí a kojící feny, ze kterého dokážou načerpat potřebnou energii. Proto je třeba skladbě jídelníčku březí fenky věnovat větší pozornost.
Březí fena den po dni: 1. až 4. týden
Až do 4. týdne nemusíme březí feně upravovat její obvyklou stravu a ani způsob krmení. Krmíme ji jako vždy, 1x až 2x denně standardním krmivem, a to v běžných krmných dávkách. Štěňátka jsou ještě příliš malá na to, aby si od feny odebírala živiny. V těchto prvních týden březí fena nezvyšuje zatím svoji tělesnou hmotnost. Je ale potřeba jí dopřát dostatek pohybu, aby nedošlo k nadváze a poté k možným komplikacím v průběhu březosti a při následném porodu.
Březí fena den po dni: 4. až 8. týden
K růstu štěňat dochází u fenky až od 4. týdne březosti. Fenka proto potřebuje dostatek kvalitního krmiva, které ji poskytne správnou výživu až do samotného porodu. Proto zvýšíme denní dávku krmiva na více porcí denně. Ideální je podávat fence krmivo pro březí a kojící feny 3x až 4x denně.
Březí fena den po dni: Období před porodem
Pro březí fenku jsou nejvhodnější speciální krmiva určená přímo k takovému účelu. Obsahují totiž všechny potřebné důležité látky a minerály, které fena během období březosti potřebuje. Granule se někdy nazývají také jako granule zátěžové. A to proto, že těhotenství pro fenu představuje velký nápor na organismus.
A jak často krmivo pro březí a kojící feny podávat? Granule podáváme po menších dávkách, abychom se vyhnuli zátěží zažívacího aparátu, a fence je dopřejeme 3x až 4x denně.
Den porodu štěňat
Nemějte obavy, pokud v den porodu nebude chtít březí fena jíst žádné granule. Asi 12 až 24 hodin před samotným porodem je fena neklidná a vyskytuje se u ní předporodní nechutenství, které můžeme přirovnat k ranním nevolnostem těhotné ženy. Chuť k jídlu se fenám vrací asi 10 hodin poté, co odrodí poslední štěně. Aby se fenka opět dostala na svůj běžný krmící režim, snažíme se jí krmivo trochu vylepšit. Dáme jí například masový vývar nebo granule zvlhčíme teplou vodou.
Nezapomínejme na to, že jen vhodně zvolené krmivo pro březí a kojící feny může zaručit správný vývin štěňat. Po celou dobu březosti mějte také na paměti, aby fena dodržovala pitný režim. Vodu s miskou by proto měla mít neustále k dispozici.
Jakou stravu podáváme u kojící feny?
Nesmíme zapomínat na to, že kojení je pro fenu velmi náročné a i v tomto období je potřeba dbát důsledněji na to, jaké krmení kojící feně podáváme. Aby nám štěňata rostla jako z vody, byla zdravá, silná a dostávala spoustu výživného mléka, musíme kojící feně podávat speciální krmivo pro kojící feny. Díky nim dostane kojící fena i po porodu opět tolik potřebné živiny, vitamíny a minerály, bez nichž by se neobešla.
Důležité je podávat kojící feně stravu s dostatkem bílkovin, jelikož právě nedostatek bílkovin může být příčinou nedostatku mateřského mléka pro štěňátka. Někteří doporučují mléčné polévky se zavařenými vločkami nebo krupičné polévky s mletým masem. Vždy je ale nejlepší poradit se o správném stravování vaší feny s veterinářem.
Rozbalit všechny příspěvky
Video týdne
Taky se občas po práci cítíte tak, že si říkáte: ať mi všichni třeba vlezou na záda!? Dnes už prostě nic dělat nebudu...
Příběh zvířátka
Říkají mi Rago, Ragoušku, Ragajdo, Rufajdo, nebo když si vypůjčím třeba botu, tak křičí Ragíííno! (to je povel k držení v zubech, to já už poznám)...