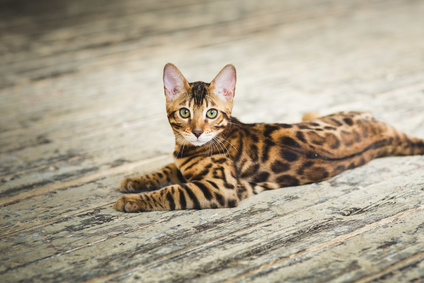 Bengálská kočka připomíná malého leoparda. K divoké šelmě má ale daleko
Svým vzhledem připomíná roztomilého leoparda. Malou kočkovitou šelmu ale můžete mít doma i vy doma. Kočka bengálská patří svým vzhledem k těm nejhezčím, již od malého koťátka, a při prvním pohledu se do ní určitě zamilujete i vy. Je velmi temperamentní a bude vám chtít neustále dělat společnost. Divoká a agresivní jako šelma, jejíž jméno a vzhled nese, však bengálská leopardí kočka není.
Kočka bengálská: když se zkříží kočka domácí a divoká
Bengálská kočka vznikla zkřížením domácí kočky s tou divokou, tedy s kočkou bengálskou žijící v jihovýchodní Asii. Tato skutečná divoká šelma vypadá jako zmenšenina leoparda, proto i když se dnes podíváte na kočku bengálskou, může vám divokého leoparda připomínat. Plně domestikované plemeno bylo uznáno po několika nezdařených pokusech v roce 1998.
K nám se kočka dostala až v roce 1994 a i dnes patří mezi velmi vzácné druhy koček. Důvodem řídkého zastoupení této kočky u nás je možná i cena. Ta se za kotě pohybuje v rozmezí 20 až 40 tisíc korun.
Bengálská leopardí kočka: malý leopard u vás v pokoji
Kočky mohou vážit až 10 kg, jelikož mají mohutnou stavbu těla i těžké kosti. Trup má velký a svalnatý, hlavu naopak malou a oblou a vzhledem působí divoce. Bengálská leopardí kočka vás však upoutá nejen zbarvením připomínající leoparda, ale také krásně velkýma a výraznýma očima zelené nebo zlatavé barvy.
Kočka může být zbarvená v několika různých kombinacích:
Brown tabby - černě mramorovaná/tečkovaná
Seal mink - mramorovaná/tečkovaná
Seal sepia - sépiová tečkovaná/mramorovaná
Bengálská kočka - povahou je klidná a velmi společenská
I když by mnohé napadlo, že bengálské kočky budou mít divokou povahu, opak je pravdou. Rozhodně nejde o žádnou agresivní a příliš divokou kočku, která se nesnese s malými dětmi. Naopak je velmi společenská a bude od vás vyžadovat velkou pozornost a péči. Dobře vychází dokonce i s jinými kočkami nebo pejsky.
Mnozí chovatelé ji nedoporučují pro začátečníky, přeci jen je svou povahou trochu náročnější na péči. Proto je vhodným společníkem spíše pro zkušenější chovatele, kteří dokáží kočku dobře vycvičit a usměrnit její temperament. Zajímavostí je, že kočka nevydává klasické zvuky mňoukání, ale spíše zvuk podobný vyštěknutí.
Jakou péči kočka bengálská potřebuje? Dost hraček a dobré škrabadlo
Kočka má velmi hravý duch a rozhodně se celé dny nepovaluje v pelíšku nebo natažená na gauči. Proto byste jí rozhodně měli pořídit dostatek hraček a velké a kvalitní škrabadlo, aby vám z bytu neudělala kůlničku na dříví. Hračky vybírejte především takové, které budou vhodné pro její lovecké instinkty. Například hračky připomínající ptáky nebo myši, které jsou pohyblivé.
Pozor si dejte hlavně na to, zda máte doma akvárium s rybičkami. Bengálská kočka s rybičkami není rozhodně dobrou kombinací. Kočka má totiž vodu ráda a rybičky jsou pro ni lákavým předkrmem. Stejně obezřetní buďte v případech, kdy chováte ještě nějaké opeřence nebo hlodavce. Přeci jen je kočka bengálská vyšlechtěna z opravdové divoké šelmy a své instinkty lovce nezapře.
Bengálská kočka leopardí: prostor a zábava jsou pro ni priority
Bengálská kočka potřebuje hlavně dostatek prostoru, aby se mohla probíhat po pokoji a hrát si. Je velmi inteligentní a dokáže se rychle naučit, že postel nebo stůl jsou rozhodně tabu. Dokáže rozpoznat povely a naučit se je respektovat, a to podstatně usnadňuje její výchovu oproti jiným kočkám.
Zvláštností je, že ji velmi přitahuje voda. Můžete ji proto potěšit velkou miskou s vodou, do které dáte třeba balonek nebo jinou hračku. Tímto způsobem se dokáže bengálská kočka zabavit na celé hodiny a bude nejspokojenější v celém širém okolí.
Na čem si kočka nejvíce pochutná? Kvalitní strava je základem
Když přijde řeč na krmení, je asi jedno, jestli se jedná o kočku bengálskou nebo jakoukoliv jinou. Kočky prostě jídlo milují, patří mezi gurmány mezi zvířaty a potřebují vždy kvalitní stravu, která bude pestrá a vyvážená. Proto byste jí měli dopřávat:
kvalitní granule
konzervy
pamlsky
barf krmivo/syrová strava
Nezapomínejte, že je potřeba, aby kočka měla neustále k dispozici čerstvou vodu. Jelikož si v ní ale bengálská kočka často i hraje, je nezbytné vodu neustále měnit, aby byla čistá. Třeba i několikrát denně.
Kočce rozhodně nedáváme:
zbytky z kuchyně
slaná a kořeněná jídla
sladkosti
prošlé jídlo
Kočce hrozí ale i nemoci jako je oční zákal nebo srdeční problémy
I když se o kočku staráte sebelépe a dopřáváte jí jen tu nejlepší péči, někdy se bohužel onemocnění nevyhnete. I když se nejedná o běžné případy, nejčastěji se může objevit oční zákal nebo srdeční problémy. Jedinečné je toto plemeno však díky tomu, že má imunitu odolnou vůči kočičí leukémii. Veterináři často doporučují, abyste nechali kočku testovat na onemocnění srdce a ledvin. Tak můžete snadno rozpoznat, zda kočce něco hrozí a začít se správnou léčbou včas.
Rozbalit všechny příspěvky
Video týdne
Taky se občas po práci cítíte tak, že si říkáte: ať mi všichni třeba vlezou na záda!? Dnes už prostě nic dělat nebudu...
Příběh zvířátka
Říkají mi Rago, Ragoušku, Ragajdo, Rufajdo, nebo když si vypůjčím třeba botu, tak křičí Ragíííno! (to je povel k držení v zubech, to já už poznám)...