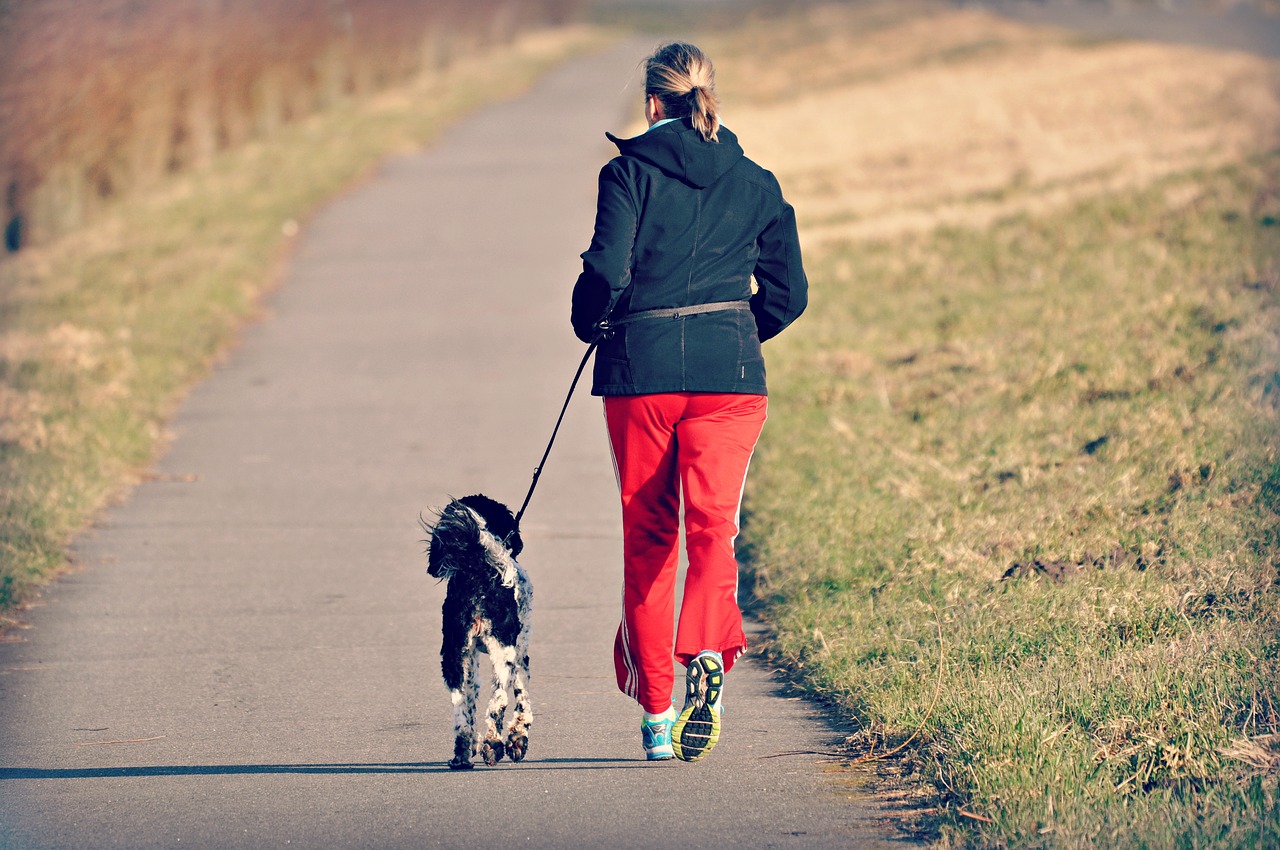 Běh se psem je zábava. Jak na to?
Hezké počasí láká vyrazit ven s naším čtyřnohým kamarádem. Běh se psem nás oba bude bavit a navíc spolu strávíme čas. K tomu uděláme něco pro své zdraví. Poradíme, jak se na běhání se psem připravit. Například se nám bude hodit vodítko na běhání se psem.  Před výletem je také dobré zvážit, kolik toho náš pejsek uběhne. Řekneme, jaká zátěž je pro pejska vhodná. A doporučíme jak vybrat ta nejlepší místa na běhání.
Na běh se psem se dobře připravme
Pejsek je tím nejlepším společníkem na běhání. Psi milují pohyb, společné trávení času a k tomu dokážou uběhnout pořádný kus cesty. Pokud chceme vyrazit na běh se psem, měli bychom se dobře vybavit. Co budeme na běh se psem potřebovat?
Vodítko na běhání se psem: Speciální vodítko na běhání se psem by mělo být dlouhé kolem dvou až dvou a půl metrů a mít speciální uchycení kolem pasu. Pak bude běh se psem pohodlný pro nás, i pro mazlíčka.
Sáčky na exkrementy: Pokud si pejsek po cestě odskočí, mějme v záloze připravené sáčky. Při běhání se psem dávejme zastávky na venčení.
Láhev na vodu a cestovní miska: Při běhu se psem nezapomínejme dělat pauzy na pití. A nejenom pro nás, ale i pro mazlíčka. Podobně jako lidé i psi jsou po běhání žízniví. Obecně se doporučuje zastavovat každých 10 minut. Nesme s sebou cestovní misku a láhev s vodou.
Běhání se psem pro začátečníky
1. Nejprve musíme naučit pejska běžet vedle nás. Zpočátku možná nebude princip běhání zcela chápat. Ale dříve či později se to naučí každý pejsek
2. Pejsek, který s námi má vyrazit běhat, musí umět základní povely a návyky. Měl by být zvyklý na pohyb na vodítku a z povelů umět hlavně k noze. Užitečné bude, pokud ho naučíme, že když má speciální vodítko pro psy na běhání, neměl by odbíhat ke každému stromu a očichávat každý kámen. Stejně tak se bude hodit i povel nechej.
3. Když s během začínáme, naučme pejska, aby běhal s čenichem ve výšce našeho kolene. Ruku mějme spuštěnou dole a vodítko držme u obojku. Tak se naučí správnému postoji při běhání. Zpočátku klidně držme obojek a pouze choďme. Stačí pár minut. Poté vodítko povolme a pejska odměňme. Až se naučí držet se u naší nohy, můžeme začít s běháním.
4. Začněme pomalu. Pokud je po nás i pro mazlíčka běh se psem teprve novinkou, nemůžeme ani od jednoho z nás očekávat sportovní výkony. Pokud pejsek není zvyklý na dlouhou trasu nebo rychlé sprinty, nepřetěžujme ho. Jinak by se mohl zranit.
5. Z počátku volme kratší vzdálenosti. Jak bude běhání se psem častější, můžeme délku tratí prodlužovat.
6. Ze začátku můžeme kombinovat běh a chůzi. Kus uběhněme a pak kus popojděme. Pes i my tak máme možnost si vydechnout a odpočinout.
7. Pokud se nám zdá pejsek unavený nebo už dál běhat nechce, nenuťme ho.
Běh se psem: Varovné signály, že je mu zle

Letargie

Silné funění

Nadměrné slintání

Nemožnost popadnout dech

Slabost

Krvavý průjem

Tmavější dásně

Zvracení
Běh se psem nemusí být pro každého
Vždy zvažme, kolik toho zvládne právě náš pejsek. Měl by být v plné zdravotní kondici. Starší pejsci mají problémy s chrupavkami, běh je pak pro ně bolestivý a namáhavý. Pejsci s kratšíma nohama toho uběhnou méně, než větší plemena. Ta jsou ale zase náchylná k dysplazii kyčelního kloubu. Mopsli mají sice roztomilý čumák, ale mají zúžené nosní dírky a proto mají větší obtíže s dýcháním než jiná plemena. Pro ty dlouhý běh se psem vhodný není.
Běh se psem, který je ještě malý, se nedoporučuje. Štěněti se můžou poškodit chrupavky a kosti, protože jsou teprve ve vývinu. U menších psů se většinou může začínat o něco dříve, než u psů větších.
Nezapomeňme na antiparazitika. Blechy, klíšťata i komáři nejsou jen nepříjemní, ale i nebezpeční. Přenáší střevní parazity a způsobují nejednu nemoc.
Měli bychom si být jistí, že běhání se psem mu neuškodí. Můžeme navštívit veterináře.
8 zásad pro zdravé běhání se psem
1. Pokud s pejskem chodíme běhat často, nezapomeňme, že by měl mít speciální granule pro aktivní psy. Jinak mu může chybět jak energie, tak důležité živiny.
2. Před běháním se psem se oba zahřejme. Nejde o vyčerpávající cviky, stačí pětiminutová procházka. Svaly se zahřejí a nestanou se nám úrazy.
3. Než se na běh se psem vydáme, nechejme pejska, aby se vyvenčil. Nebudeme muset samotné běhání se psem přerušovat.
4. Pokud je velké horko, běhání odložme. Psi se na rozdíl od nás nepotí a tak se nemají jak ochlazovat. Navíc si představme běhání s kožichem. Abychom mohli vyrážet na běhání se psem i v létě, vyberme si například cestu lesem, kde je větší chlad. Dlouhosrstým plemenům můžeme nechat dát kratší sestřih. A pozor na horký písek nebo asfalt. Pejskovi můžou popálit tlapky.
5. Když se vrátíme z běhání se psem, zkontrolujme mazlíčkovi tlapky. Po cestě se do nich mohl zadřít kamínek nebo tříska. Jestliže naopak vyrážíme na běh se psem v zimě, dávejme pozor na posolené chodníky. Tlapkám škodí.
6. Určitě chceme pejska za namáhavý výkon odměnit. S pamlsky ale nespěchejme. Pokud by je snědl bezprostředně po běhání, mohlo by se mu udělat špatně. Chvíli tedy počkejme a mezitím ho odměňujme pouze pochvalami.
7. Líbí se běh nejenom nám, ale i pejskovi? Poznáme to jednoduše. Pokud už za sebou máme několik zvládnutých výletů a pejsek začne nadšeně štěkat a vrtět ocasem, když bereme do ruky vodítko pro psy na běhání, máme vyhráno.
Vyberme si na běh se psem správné místo
Pro zdraví nás obou je lepší běh se psem po polních cestách, nežli po silnicích. Tvrdé nárazy dopadů na asfalt jsou totiž zátěž pro chrupavky. U pejska i pro packy. Navíc bude běh se psem příjemnější v krajině, nežli ve městě. Před běháním se ujistěme, že trasa, po které poběžíme, je přístupná pro psy. Nejlepší je používat speciální vodítko na běhání se psem. Pokud budeme v přírodě pouštět pejska na volno, můžeme se potkat s divokými zvířaty. Pes může ucítit stopu a vydat se za ní. Takové setkání nemusí dopadnout dobře buď pro našeho pejska nebo pro druhé zvířátko.
Rozbalit všechny příspěvky
Video týdne
Taky se občas po práci cítíte tak, že si říkáte: ať mi všichni třeba vlezou na záda!? Dnes už prostě nic dělat nebudu...
Příběh zvířátka
Říkají mi Rago, Ragoušku, Ragajdo, Rufajdo, nebo když si vypůjčím třeba botu, tak křičí Ragíííno! (to je povel k držení v zubech, to já už poznám)...