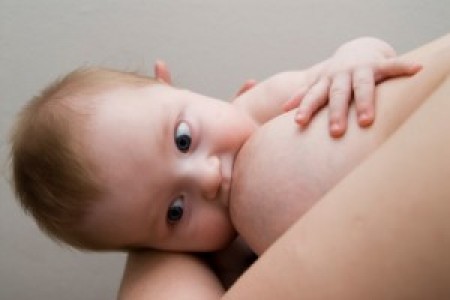 Jedním z nejdůležitějších požadavků zdravého vývoje novorozeněte je správná výživa. Mateřské mléko je nejpřirozenější potrava pro děti, krmení z láhve má však také svoje klady, ne jen zápory. Nechceme samozřejmě tímto říct, že je v pořádku, když ženy nekojí, obzvlášť pokud jim v tom nic nebrání. Matka příroda určitě neplánovala pro novorozence kojeneckou láhev s kravským mlékem. Pokud však z nějakého důvodu kojit nemůžete, nedělejte si s tím přílišné starosti.
Mateřské mléko 
Mateřské mléko je ten nejpřirozenější způsob výživy kojence. Dodává malému organismu důležité protilátky a vše, co novorozenec potřebuje. Je nejlépe stravitelné a pro dítě velmi výživné. Obsahuje v ideálním poměru všechny výživné látky – bílkoviny, tuky, mléčný cukr, minerály a vitamíny a také látky pro správný vývoj imunitního systému, mozku, metabolických a endokrinních funkcí. A co si budeme povídat, mateřské mléko je vždy po ruce, nemusí se ohřívat a jeho pořizovací cena je nulová. 
Stravitelnost mateřského mléka
Na mateřské mléko se skoro nevytvářejí alergie, kdežto nezanedbatelná část dětí si vytvoří alergii na kravské mléko, pokud nejsou kojeny. Mateřské mléko obsahuje jiný druh bílkovin, než mléko kravské, které je proto hůře stravitelné. V mateřském mléce je méně sodíku, což prospívá ledvinám. Kojené děti netrpí tak často zácpou, nadýmáním, kolikami a zvracením, jako děti, které kojené nejsou a také mají málokdy opruzeniny. 
Mateřské mléko jako nosič informací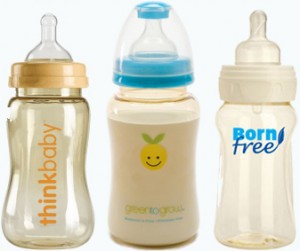 Kojení není jenom o tom, že dítě dostává správné živiny. Je to také jakýsi druh komunikace, při kterém dochází mezi matkou a dítětem k přenosu informací skrze prsní bradavky matky a ústa dítěte. Mateřské mléko funguje podobně jako homeopatikum. Obsahuje vodu, která se považuje za nejlepšího nositele informací. Někdy dítě vyžaduje kojení bez důvodu, aniž by mělo hlad, v tom případě se jen na chvíli přisaje a hned se odvrátí. Potřebuje pouze výměnu informací. Dítě se skrze mateřské mléko dozvídá, co se právě v jeho okolí a s jeho matkou děje. Vidí např., že matka pláče, ale nechápe proč – jeho aktuální zkušenost mu nedostačuje na to, aby děj pochopilo. Pak si dítě žádá o přiložení k prsu. Dítě si chtělo třeba jen něco potvrdit.
Kojení a imunita
Z nejnovějších vědeckých poznatků se dozvídáme, že kojení zvyšuje imunitu dítěte, jeho inteligenci, zlepšuje metabolismus a chrání dítě před gastroenteritidou. Kojení také udržuje v rovnováze střevní mikroflóru dítěte. V prvních hodinách po porodu se tvoří mlezivo, tzv.kolostrum, které obsahuje mnoho protilátek, jenž se v kravském mléce nenacházejí a nejsou tak bohatě zastoupeny ani později v mateřském mléce, proto je důležité přistavit dítě k prsu hned po porodu.V mateřském mléce se nacházejí i matčiny protilátky, které ji chrání proti nemocem a dítě je do svého těla takto automaticky přebírá. Také na kůži matky, se kterou novorozeně přichází díky kojení často do styku, se nacházejí rozličné bakterie, které na dítě přenášejí část imunity.
Kojení a hormony
Při kojení se u matky vytváří hormon Oxytocin. Je to hormon lásky, vyplavuje se z těla  při sexuálním vzrušení a vyvrcholení. Při kojení se proto vytváří citové pouto mezi matkou a dítětem. Tento mechanismus funguje i opačně, když žena spontánně pocítí lásku k partnerovi či dítěti, automaticky se tím také spustí reflex pro tvorbu mléka.
Kojení jako antikoncepce
V určitých společenstvích kojí ženy své děti běžně až do jejich tří let a tak to praktikovali i naše babičky a prababičky, kdy kojení bylo jedinou dostupnou antikoncepční metodou. Ženy totiž začínají ovulovat až když přestanou kojit. Nyní je běžné kojit maximálně do půl roku věku dítěte, dokrmovat ho kravským mlékem a velmi brzy přecházet na pevnou stravu, ale je to tak správně?
Krmení z láhve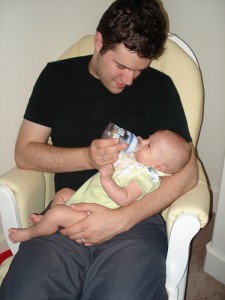 Kojení z láhve má také svoje výhody. Krmit miminko může kdokoliv, může se na něm podílet také tatínek, který si tím vytváří citovou vazbu k dítěti. Po krmení z láhve spí dítě delší dobu a maminka má více času pro sebe. Pokud se matka potřebuje brzy po porodu vrátit do práce, je krmení z láhve často jedinou možností, jak skloubit kariéru s péčí o dítě. Krmení z láhve na veřejnosti je méně náročné a méně stresující než kojení z prsu. Sexuální život partnerů se může rychleji vrátit do normálu, jelikož mléko přestane téct z prsou a libido matky se po ukončení kojení zvýší. Kojení z láhve tedy přináší určité výhody matce i ostatním, měně však dítěti. Proto pokud můžete, dejte raději přednost přirozenému kojení..