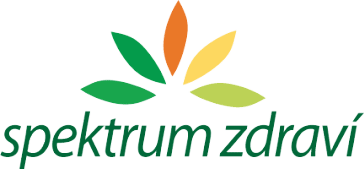 Keramické postupy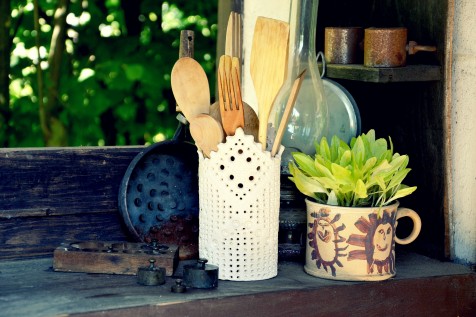 Vařečky naházené v šuplíku… tak to u nás doma nehrozí. Vařečkám jsme vyrobili krásnou nádobu nazvanou jednoduše a výstižně "vařečkovník". Vypadá složitě, ale je to klasika, vyválení plátu, obtisk krajky se zajímavým okrajem a pak už jen jedna dírka vedle druhé a můžeme rolovat, lepit šlikrem a vypálit v keramické peci. Autor/foto: Nataša Kotvová, časopis Golem Materiál a pomůcky keramická hlína MA šlikr krajka váleček nůž víčko od fixu špejle Vařečkovník - postup   1. Vyválíme si plát silný asi 0,6 cm a obtiskneme na něj krajku se zubatým okrajem.   2. Podle tvaru krajky vyřízneme všechny špičky. Spodní a boční okraje vyřízneme rovně.   3. Víčkem od fixu uděláme v horní části plátu motiv z větších otvorů. Využijeme zajímavý tvar plátu.   4. Nástrojem s užší špičkou dále děrujeme plát. Kopírujeme pravidelná políčka obtisknuté krajky.     5. Když máme celý...
POKRAČOVÁNÍ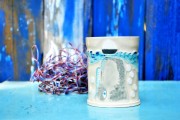 Autor: Vlaďka Rybárová / foto: Lenka Šustrová Šelak si možná odteď najde místečko ve vaší keramické dílně. Dá se s ním náramně...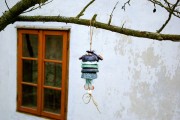 Autor/foto pro Golem 2/2016: Jana Žabková alias Loliti Pár mističek, oči, žábry a rybí ocas… jednoduchá hravá...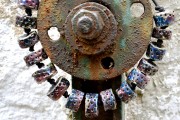 Autor/foto: Monika Jankůj Materiál a pomůcky keramická hlína MA jehla děrovač raku glazura štětec podložka pro...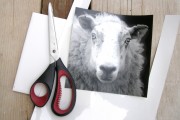 Autor/foto: Michala Šmikmátorová Materiál a pomůcky bílé keramické kachličky fotky v tiskovém rozlišení...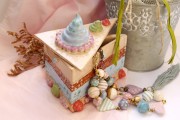 Autor/foto: Jana Žabková - Loliti Materiál a pomůcky světlá točířská...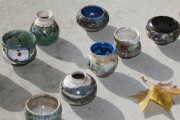 V předchozím díle seriálu o raku keramice jsme nastínili základy této původem japonské techniky a uvedli si...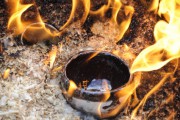 Raku je označení pro keramickou techniku, která má bohatou historii, sahající až do 16....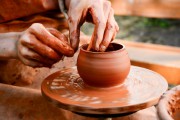 Začínáte s keramikou? Pokud ano, možná vás zaskočí poměrně značné množství neznámých pojmů, které je potřeba znát. Jinak si...