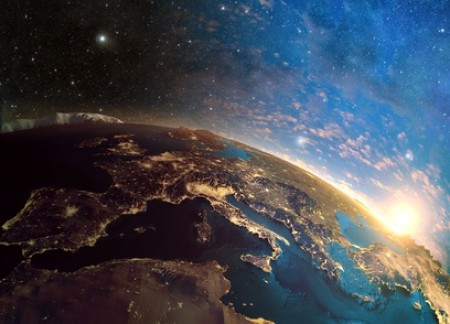 Jak vznikají geopatogenní zóny?
Proč je důležité vědět, jak se geopatogenní zóny vytváří ? Protože nám to pomůže pochopit, jakým způsobem můžeme eliminovat jejich vliv. Cesta ke geopatogenním zónám na Zemi vede nejdříve ke Slunci, kde všechno začíná. Naše Slunce k nám vyzařuje různé formy energií. Hybnou silou je termonukleární reakce, při které dochází k přeměně vodíku na hélium. Uvolněná energie je vyzařována do prostoru v podobě tepelného, světelného, ultrafialového i kosmického záření. Kromě toho dochází ke vzniku protuberací – slunečních skvrn, kde silné magnetické pole katapultuje do prostoru velké množství hmoty. Vzniká sluneční vítr, jehož převažující složkou jsou protony. Množství slunečních skvrn závisí na tom, ve které fázi 11,5 letého slunečního cyklu se nacházíme.
Schumannovy vlny
Právě sluneční vítr hraje při utváření prostředí na Zemi důležitou roli. Částice slunečního větru naráží vysokou rychlostí do horních vrstev atmosféry a ionizují přítomné atomy plynů. Tak vzniká elektricky vodivá vrstva. Tato vrstva chrání Zemi před UV zářením a vytváří kolem Země kruhovou anténu. Energie zachycená ionosférou je touto anténou vyzařována na zemský povrch v podobě širokého spektra elektromagnetických vln, jehož zkladní kmitočet je odvozen z obvodu kruhu, kterým obepíná zemi - 7,81 Hz. To znamená, že vlna obíhá zemi 7,81x za vteřinu. Tento jev popsal v 50tých letech minulého století německý geofyzik Ing. Schumann a podle něj dostal i název – Schumannovy vlny.
Ing. Schumann se svými spolupracovníky poukázal na to, že ionosférické záření může hrát významnou roli pro život na Zemi jako harmonizátor mozkových nebo srdečních rytmů. Tyto názory však nebyly oficiálně přijaty.
Co jsou geopatogenní zóny?
Ionosférické záření po dopadu na povrch Země vytváří energetické pole, které má určité fyzikální vlastnosti – potenciál, frekvenční spektrum. Tyto parametry jsou ovlivňovány přítomnými minerály. Protože zemský povrch i podloží Země je nehomogenní, jsou vlastnosti tohoto pole v každém místě jiné. Někde dochází ke značnému poklesu potenciálu a posunu frekvenčního spektra k nižším kmitočtům. Typickým příkladem tohoto jevu jsou vodní prameny, zvodnatělé geologické zlomy, uhelné nebo rudné žíly. Dlouhodobé zkušenosti ukázaly, že tato místa nejsou vhodná pro člověka, hospodářská zvířata, zemědělské plodiny nebo ovocné stromy. Proto dostaly název geopatogenní zóny. Podle geologů jsou nejzdravější lokality, kde se nachází křemičité písky nebo štěrky.
Možnosti odrušení geopatogenních zón
Jak již bylo řečeno, vlastnosti prostředí jsou určeny fyzikálními parametry a kopírují minerální složení zemské kůry. Ovlivnit podloží Země je nereálné, avšak pozměnit geomagnetické pole lze. Pro život člověka máme vzorové prostředí, což jsou lokality s křemičitými písky nebo štěrky. To je náš ideál. Pomocí různých přístrojů se lze přiblížit k ideálním podmínkám. Seznámíme se s několika přístroji pro eliminaci geopatogenních zón, zhodnotíme jejich možnosti a případné nevýhody.
Tvarové zářiče
Jsou nejstarší a nejrozšířenější přístroje pro vylepšení prostředí. Do této skupiny patří pyramidy, různé antény z drátů, osobní harmonizátory, menhiry, tvarové zářiče z různých minerálů atd.
Zářiče mohou do jisté míry vylepšit prostředí. Jejich omezení spočívá především v tom, že jejich účinek se snižuje se čtvercem vzdálenosti. Velmi důležité je nastavení rezonančního kmitočtu a pásma harmonických kmitočtů. To by mělo být v souladu s Schumannovými vlnami- základní kmitočet 7,81 Hz. Tomu neodpovídá zejména klasická jehlanová pyramida. Země není zatím krychle a jejímu tvaru více vyhovuje kužel. Avšak ty kuželové pyramidy, které jsou nabízeny na internetu, nemají dobře nastavenou šířku pásma. Pyramidy nepracují nad patogenní zónou! Špatně nainstalované pyramidy svému majiteli ublíží více, než patogenní zóna.
Některé materiály působí jako negativní zářič. To znamená, že snižují potenciál a posunují frekvenční spektrum ve směru nižších harmonických kmitočtů. Sem patří i oblíbený minerál šungit. Proto je důležité si uvědomit, co je našim cílem.
Zářiče je potřeba udržovat v čistotě, jinak prachová kontaminace sníží jejich účinnost. Utírejte prach z jejich povrchu každý týden.
Podložky, stínící fólie
Zvláštní skupinou jsou různé podložky a fólie pod lůžko. Výrobci vychází z představy, že tím zachytí škodlivé záření ze Země. Jenomže materiál podložky se ihned přizpůsobí danému prostředí. Ani silná vrstva betonu nedokáže odstínit geopatogenní zónu. Podložky nejen že nefungují, ale po jejich uzemnění přivedou k tělu majitele ještě elektrosmog. U kovových fólií musíme vzít v úvahu jejich velikou elektrickou kapacitu, což úplně přeladí přirozené frekvence prostředí.
Přístroje kontaktní - uzemněné
Kolem roku 2000 začal fungovat systém Dobrá vlna, který umožňuje tyto přístroje využívat. Systém pracuje podobně jako elektronické obvody. Přijímá určitou složku ionosférického záření, tu zesiluje /optický selektivní zesilovač/ a impulzy získaného vlnění se po uzemnění vychylují směrem k centrálnímu příjímači a na určité ploše vyrovnávají nedostatečné potenciály i poklesy kmitočtů na požadovanou úroveň. Tento příjímač může být pouze jeden na celé zemi. Umožňuje přesné nastavení rezonančních kmitočtů, rozsah kmitočtových pásem a lze přidávat i homeopatické informace. Upravované prostředí je homogenní, blíží se vzorovému prostředí, které generuje křemičitá hornina. Takto lze úplně odstínit vliv vodních pramenů, uhlí, ropy, kovových rud nebo Hartmannových i Currieho pásů. Nejnovější typy přístrojů mohou fungovat bez jakékoliv udržby desítky let.
Přístroje mají velikou perspektivu pro zlepšení životního prostředí člověka, hospodářských zvířat i pro zvýšení výnosů ovocných stromů nebo zemědělských plodin. Sériová výroba by přinesla i jejich neskutečně nízkou výrobní cenu. Zatím čekáme na klíčového investora.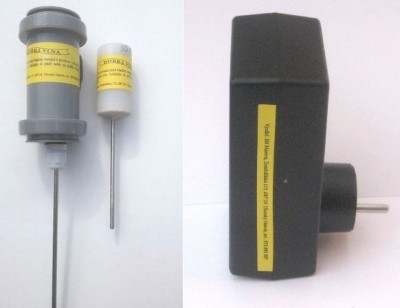 Několik rad na závěr
Při nákupu jakéhokoliv přístroje požadujte možnost vyzkoušení na 2 - 3 měsíce. Pokud vám ji výrobce neumožní, nic nekupujte. V současné době nejsou k dispozici objektivní měřící přístroje pro měření geopatogenních zón. Spolehlivou kontrolu umožňují přístroje EAV / Oberon, Jonášovy přístroje atd./. Za 40 dní po instalaci si můžete tímto způsobem ověřit, jestli zátěž geopatogenní zónou skutečně zmizela. Pokud nehodláte vyhodit peníze, buďte nedůvěřiví, protože většina nabízených přístrojů funguje nedostatečně.