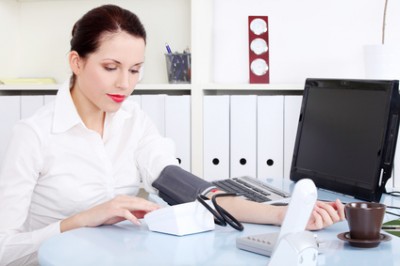 Vysoký krevní tlak je nejčastějším a vysoce nebezpečným onemocněním kardiovaskulárního systému. Jeho výskyt stoupá úměrně s věkem populace. Řadí se mezi civilizační choroby, protože o jeho vznik se zasazuje i špatný životní styl a nezdravé návyky. Rozvoj může probíhat plíživě a s minimálními příznaky nebo projevy, a tak nemocný ani nemusí o svých obtížích dlouhou dobu nic tušit. Přitom základem úspěšné terapie je právě včasné odhalení. Za prevenci lze proto považovat i dostatečnou informovanost široké veřejnosti o rizicích spojených s vysokým krevním tlakem. V dnešním článku se dozvíte k tomuto tématu vše podstatné a dostanete odpověď na důležitou otázku, jak snížit vysoký krevní tlak.
Krevním tlakem se rozumí tlak krve na stěny cév (arterií). Jeho hodnotu určují především dva činitelé – náplň krevního řečiště a vlastnosti nebo stav cévního systému. Pokud tato hodnota neodpovídá běžným normám, je tlak považován za vysoký, případně nízký. O tom, co pomáhá na nízký krevní tlak, se můžete dočíst v zajímavém článku ZDE. Normální systolický tlak u dospělého člověka se pohybuje v rozmezí 110 až 139 mm Hg (milimetrů rtuťového sloupce), diastolický by pak neměl překračovat 60 až 89 mm Hg. Pokud se tedy krevní tlak dlouhodoběji pohybuje nad hodnotou 140/90, není něco v pořádku.
Vysoký krevní tlak může mít různou podobu
Nemoc lze rozdělit do několika kategorií podle závažnosti. Z jiného pohledu se také odlišuje primární forma, kdy není známa příčina, a sekundární forma, u které se příčina zjistí. V následující tabulce se o jednotlivých typech hypertenze, jak se vysoký krevní tlak odborně nazývá, dočtete více:
| | | | |
| --- | --- | --- | --- |
| Forma | Systolický tlak |   | Diastolický tlak |
| | více než 140 | a/nebo | více než 90 |
| | 140 až 159 | a/nebo | 90 až 99 |
| středně závažná hypertenze | 160 až 179 | a/nebo | 100 až 109 |
| | 180 a více | nebo | 110 a více |
Vysoký krevní tlak – příčiny
Na řádcích výše bylo vzpomenuto, že u primárního vysokého krevního tlaku nejde odhalit přesnou příčinu, spíše obecné mechanismy, které mohou stát u zrodu.
Tento typ onemocnění je mezi pacienty zastoupen ve zhruba 90 %. Obecně lze tedy určit, že se na vzniku podílí genetické předpoklady, nevhodná strava, nedostatek pohybu, stres, nadměrné pití alkoholu a kávy, obezita. U sekundární hypertenze, která se vyskytuje u přibližně 10 % nemocných, jsou příčinami vzniku různé jiné choroby či náhlé zdravotní komplikace. Jedná se především o onemocnění ledvin a srdce, aterosklerózu, nádory nadledvin, nádory a záněty mozku, deprese apod. Vysoký krevní tlak je také uváděn u některých medikamentů jako nežádoucí účinek.
3 stádia primární hypertenze
U vysokého krevního tlaku, který vzniká především jako následek nezdravého životního stylu, se lze setkat s rozdělením do 3 stádií, od mírného průběhu až k závažnějšímu stavu. Co je pro dané stádium typické, přibližuje přehled v tabulce:
| | |
| --- | --- |
| Stádium | Průběh, potíže |
| | bolesti hlavy, pocity nevolnosti, závratě, nebo bez potíží |
| | aterosklerotické změny cév, změny se již projevují na EKG, potíže jako ve stádiu I |
| | potíže souvisí s mírou postižení orgánů, vyskytují se poruchy vědomí, selhání srdce, zvracení, zhoršení zraku, krvácení do mozku |
Vysoký krevní tlak – příznaky
Jak už bylo zmíněno výše, vysoký krevní tlak je onemocněním, jehož nebezpečí spočívá i v tom, že ho nemusí zpočátku provázet příznaky, případně jsou tak nepatrné, že je nemocný připisuje jen obvyklým problémům souvisejícím s obyčejnou únavou a vyčerpáním, což je přirozená součást života každého z nás. Postupem času se však objevují a zhoršují, jsou to zejména tyto příznaky:
bolest hlavy především v oblasti čela
zrychlený tep
nadměrné pocení
závratě
nevolnost a celková slabost
poruchy vidění
poruchy spánku
poruchy vědomí
bušení srdce
únava
krvácení z nosu
otoky kotníků
dušnost
bolesti na hrudi při námaze
Vysoký krevní tlak – léčba aneb jak snížit vysoký krevní tlak
Správně zvolené terapii předchází samozřejmě důkladné vyšetření. Hodnotí se nejen subjektivní obtíže a fyzikální projevy, ale také je nutné laboratorně zkontrolovat krev a moč a rentgenem srdce a plíce. Podstatnou součástí postupu pro stanovení diagnózy je i EKG.
EKG (elektrokardiogram) je neinvazivní metoda, kterou lze zaznamenat srdeční aktivitu na základě časových změn elektrického potenciálu. Signál je snímán elektrodami a svody umístěnými na těle člověka a zobrazuje se v křivce, na níž lékař následně hodnotí odchylky.
Pojme-li lékař podezření na sekundární typ hypertenze, pak se volí i další metody a vyšetření vztahující se k orgánu, jenž svými obtížemi vyvolal nežádoucí změny tlaku.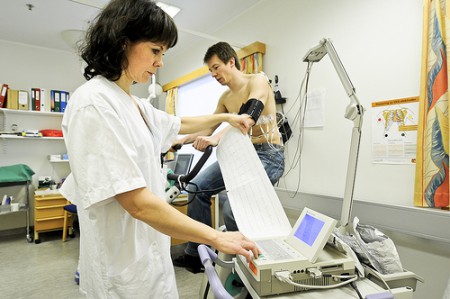 Samotná léčba vysokého krevního tlaku musí být volena s ohledem na celkový zdravotní stav pacienta a kvůli závažnosti onemocnění je zpravidla dlouhodobá. Cílem je dosáhnutí normálních hodnot krevního tlaku, tedy eliminace projevů a příznaků.
Důležitou součástí terapie jsou režimová opatření, změna životního stylu a odstranění rizikových faktorů. Zpravidla se jedná doporučení související nejen s úpravou jídelníčku (omezení přísunu soli a smažených jídel, dieta) a snížením hmotnosti, ale též se správnou spánkovou hygienou, o které se dozvíte ZDE, celkovými příznivými návyky a vyvarováním se stresu. Ten, kdo trpí vysokým krevním tlakem, by neměl pít alkohol a kouřit.
K výše uvedenému postupu se samozřejmě přidává i medikamentózní terapie. Výběr léků se odvíjí od stádia, prognózy i věku pacienta. U sekundární hypertenze se léčí průvodní onemocnění, u primární se potlačují projevy, zlepšuje se stav a průchodnost cév a normalizují hodnoty tlaku. V počátcích choroby se většinou naordinuje jeden typ léků (betablokátory, diuretika, vazodilatátory, ACE inhibitory, alfablokátory atd.), dále se volí jejich kombinace, které se navzájem doplňují a blokují nežádoucí vedlejší účinky.

Jak snížit vysoký krevní tlak správnými návyky?
Je tedy jasné, že snížit vysoký krevní tlak můžete lepším životním stylem. Ať už máte toto onemocnění diagnostikováno, nebo pozorujete prozatím mírné obtíže, které značí, že by se mohly ve vysoký krevní tlak následně rozvinout, vyplatí se věnovat čas i úsilí vlastnímu zdraví. Rozhodně nic nezkazíte dietou. Jaké potraviny vyhledávat a jaké vyloučit?
| | |
| --- | --- |
| KONZUMUJTE | OMEZTE/NEKONZUMUJTE |
| | |
| | |
| | |
| | |
| | |
| | |
| | |
| | |
| | |
| | |
| | |
| | |
| | |
| | |
| | pokrmy připravené z polotovarů |
| | |
| |   |
| |   |
| pouze kvalitní olej (olivový, lněný, sezamový) |   |
Připomeňme si také požadavky na zdravý životní styl:
nestresujte se
trpíte-li nadváhou, zhubněte
dopřejte si dostatek kvalitního spánku
odpočívejte pasivně i aktivně
nepřejídejte se
pobývejte často v přírodě
myslete optimisticky
nepřepínejte se
nekuřte, nepijte alkohol
mějte pestrý jídelníček
Vysoký krevní tlak dokážou snížit i bylinky
Léčbu i prevenci můžete podpořit i bylinkami, které sníží vliv plynoucí z rizikových faktorů, ale také vylepší stav cév. V tomto ohledu se doporučuje:
ibišek
hloh
jmelí
chmel
kozlík
žen-šen
meduňka
Můžete si pořídit tablety s extrakty těchto přírodních pomocníků, jednoduchou přípravu představují čaje a odvary z čerstvých nebo sušených rostlin.
Tip: Snížit vysoký krevní tlak pomáhá i aromaterapie (například levandule) a relaxační techniky uvolňující mysl i tělo (například masáže a akupunktura).
Vysoký krevní tlak (lidově popisován jako "tichý zabiják") je velkým rizikem, zvláště v dnešní uspěchané době, kdy spousta lidí nemá čas věnovat signálům svého těla dostatečnou pozornost. Hypertenze však patří mezi život ohrožující choroby, které se nevyplatí podceňovat. Pamatujte také na to, že tak jako u jakékoliv jiné nemoci je vždy lepší věnovat úsilí prevenci než následně léčbě. Přizpůsobte tomuto doporučení svůj životní styl a riziko, že vás vysoký krevní tlak postihne, nebo se bude dále rozvíjet, snížíte na minimum.
Pomoc vám poskytnou laserové hodinky LASPOT
Z mezinárodních studií vyplývá, že 80% všech nemocí je díky špatnému stavu krve. Pokud budete mít krev v pořádku, v podstatě nemůžete být nemocní. Jak to zajistit? Spolehnout se můžete na laserové hodinky LASPOT, které zlepšují průtokovost krve a zvyšují flexibilitu červených krvinek. Přímo tak napomáhají tomu, abyste zamezili problémům s vysokým krevním tlakem jednou provždy.