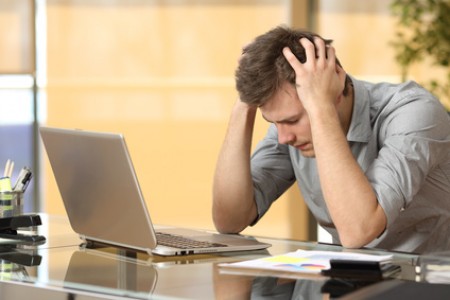 Syndrom vyhoření se nevyhýbá ani těm nejúspěšnějším.
Pracovní nebo vztahové vyhoření. Situace, kdy se člověk ocitá na okraji propasti a hroutí se mu celý svět. Okolí má ale pocit, že žije svůj sen a je spokojený. Má skvělou práci, úspěch, finanční zabezpečení i lásku. Je úžasně výkonný a všechno se mu daří. Okolí nevidí, že se jedinec točí ve spirále a má pocit, že se mu nic nedaří a nic nezvládá tak, jak by chtěl. Jedinou možností je pro něj ještě více přidat na výkonu. Organismus ale jednou tempo přestane zvládat a přijde vyhoření, tedy celkový kolaps z naprostého vyčerpání. Takovému konci lze zabránit – bude ale potřeba celková změna myšlení o sobě a svém životě. 
Nedostatek sebevědomí a sebedůvěry
Ačkoliv se to může zdát nemožné, i ten velice úspěšný člověk, který má z pohledu okolí všechno na světě, může trpět nedostatkem sebevědomí či zdravé sebelásky. Neustále se snaží být lepším a lepším, neúprosně zvyšuje své tempo a stále má přitom pocit, že není dokonalý. Zároveň tak usiluje o to, aby si nikdo v okolí jeho nejistoty a nedostatečného sebevědomí nevšiml, je to v podstatě jakási forma obrany. 
Rozdávejte lásku, nerozdávejte se ale zcela
Problémem může být také neschopnost říkat NE. Máte spoustu práce, nevíte co dřív, ale přesto nezvládnete odmítnout kolegovu žádost o pomoc? Pomáhat je sice správné, nemusíte se ale zcela rozdat a nechat se využívat. A to platí jak v pracovním životě, tak i ve vztazích. Pro svého partnera, rodinu či přátele samozřejmě chcete udělat cokoliv na světě. Myslet byste ale měli i na sebe. Říct někdy NE neznamená, že vaše nejbližší nemáte rádi. Bohužel někteří lidé se obávají, že si takovým NE zavřou vrátka u svých blízkých a že ztratí jejich lásku. 
Začíná to stresem a obavami, končí naprostým vyhořením
Ať už člověk nasadí dlouhodobě nezvladatelné tempo, nebo neumí nikdy odmítnout žádost o pomoc a nechává se využívat, konec v podobě pracovního vyhoření na sebe nenechá dlouho čekat. Jednoho dne už zkrátka nelze pokračovat. Postižený se nachází ve stavu chronického stresu, obav a vyčerpání, může trpět nespavostí, nechutenstvím, nebo naopak neovladatelnou touhou po jídle. Často se také uchýlí k alkoholu jako prostředku, který mu pomůže jeho stav překonat. Vyhoření je také častou příčinou kolapsu nebo i sebevražd! A to jak vyhoření pracovní, tak i vztahové. Ať už má jakýkoliv průběh, vždy ničí život lidem i jejich okolí. 
Příčinou vyhoření jsou špatné vzorce myšlení
I když si pod pojmem vyhoření představíme většinou to pracovní, člověk může snadno vyhořet i vztahově. Rodinné, partnerské a pracovní vztahy jsou totiž, i když se to možná nezdá, spojenými nádobami a neoddělitelnými oblastmi života. Způsob, jak řešíme nejrůznější záležitosti v práci, se totiž promítá i do toho, jak se rozhodujeme a jak řešíme soukromé problémy. A pokud má někdo vzorce myšlení, které jej přivedou do vyhoření v práci, stejně tak může nastat i ve vztahu. Obojí vyhoření má tedy stejné příčiny ve způsobu myšlení – v nízkém sebevědomí a sebedůvěře, v nedostatečné sebelásce i v obavách, kvůli kterým neumíme říkat NE. 
Pocit vlastní nedokonalosti a obavy z reakce okolí – tak nás ničí nízké sebevědomí
Když víme, jaké jsou příčiny vyhoření, můžeme také snadno najít cestu k tomu, jak vyhoření zabránit. A jelikož všechny tyto příčiny mají původ ve špatných vzorcích myšlení, jedinou cestou bude je změnit. Nízké sebevědomí si lidé často nesou už od dětství, kdy si nepřipadali dostatečně dobří, dokonce jim to okolí dávalo nějakým způsobem najevo. Člověk s nízkým sebevědomím pak trpí neustálými obavami a strachem z toho, že není dostatečně dobrý. Je sám se sebou nespokojený a neustále se snaží být lepším a dokonalejším. A to i nad rámec toho, co je jeho tělo schopno zvládnout. 
Podobně také neschopnost říkat NE vede k tomu, že člověk na sebe bere úkoly a povinnosti, jejichž tíhu a množství nemůže dlouhodobě zvládat. Doslova slouží druhým, zcela se rozdává a nemá čas a sebe a své potřeby. To všechno jen proto, že se obává zpřetrhání dobrých vztahů, pokud ostatním ve všem nevyhoví. I tento problém souvisí s nedostatečným sebevědomím a sebeláskou. 
Jak nevyhořet? Změnit své myšlení!
Všechny tyto příčiny vedou k tomu, že člověk žije v neustálém stresu, strachu a úzkosti. Snaží se je zahnat vysokým pracovním tempem i tím, že se doslova rozdává pro ostatní. Chce tím sám sobě dokázat, že je dokonalý a schopný. Dlouhodobě ale nemůže být spokojený. Přitom stačí tak málo a člověk může žít naprosto spokojený život. Musí ale začít u sebe. Naučit se sebelásce, nebát se říct NE, celkově ze svého života odbourat strach z neúspěchu a selhání. To jsou cesty, kterými zvyšujeme své sebevědomí i svou spokojenost. Navíc tím zabráníme hrozbě, že se zcela vydáme a vyhoříme. 
Hledat příčiny v sobě a ve svém myšlení najít také řešení těchto problémů, to je jediný způsob, jak účinně zabránit vyhoření. Pokud nezměníme vzorce myšlení, můžou nám doktoři jakkoliv pomáhat, předepisovat léky i lázně, vždy se ale vše vrátí do zajetých kolejí. 
Správnou cestu vám pomůže najít i osobní kouč
Ono se to ale lehce řekne – změňte své myšlení. Jak na to? Pomocnou ruku vám nabídne profesionální kouč. S jeho pomocí odhalíte příčiny, které vás vedou na okraj propasti jménem pracovní či vztahové vyhoření, a díky kouči se také naučíte všechny tyto problémy odbourat. 
Profesionální kouč vám pomůže odhalit konkrétní příčiny vašeho nízkého sebevědomí, nedostatečné sebelásky nebo toho, proč je pro vás obtížné říkat ne. Zjistíte tak, co stojí za vaším strachem, obavami a úzkostmi. Poznáte, že právě tyto pocity vás pohání v tom, abyste se doslova rozdávali v práci nebo ve vztahu, abyste se nechali ovládat a využívat. Díky kouči se krok za krokem zbavíte příčin, které vám tyto problémy přinášejí. Postupně uzdravíte své sebevědomí, které je klíčem ke svobodnému jednání i ke schopnosti říkat NE. Budete se cítit lépe, pocítíte radost a úlevu, pochopíte svou důležitost a začnete vnímat, že na svůj názor a postoj máte právo, stejně jako máte právo cokoliv odmítnout, když potřebujete, aniž byste měli strach z reakce okolí. Budete si vážit sami sebe a stejně tak si vás bude vážit i vaše okolí. A uvidíte, že se zásadně zlepší váš život ve všech oblastech od zdraví, přes práci a finance až po vztahy. 
Jednoduše pochopíte, že pro blaho své a svého okolí se nemusíte rozkrájet. Jedině touto změnou vzorců myšlení zabráníte možnému vztahovému či pracovnímu vyhoření, ke kterému vaše dosavadní neúprosné tempo pomalu ale jistě směřovalo.