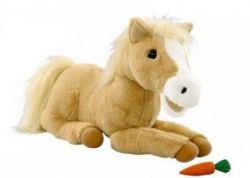 Nechte se inspirovat tipy na hračky, kterými zaručeně vykouzlíte úsměv na tvářích vašich dětí.
Hračky pro holky
Poník Toník - nenáročný domácí mazlíček
O vlastním poníkovi sní každá malá slečna. A vy jí teď sen můžete splnit díky nejoblíbenější hračce poslední doby. Tímto žhavým hitem je Poník Toník, který umí řehtat, stříhat ušima, papat mrkvičku a mrkat na svou paničku. Věrný čtyřnohý kamarád Poník Toník se rád mazlí, nedělá žádný nepořádek a stačí mu jen 4 baterie 1,5 v typu C.
Panenka Barbie pořád boduje
I když je panence Barbie už přes 50 let, pořád vypadá fantasticky. Za tu dlouhou dobu od představení její první verze vystřídala mnoho povolání, věnovala se mnoha koníčkům a zúčastnila se mnoha společenských akcí. A protože Barbie jde vždy s dobou, tentokrát si vyzkouší roli PC inženýrky. Jejím úkolem bude včas zasáhnout, když se porouchá počítač, k čemuž je vybavena notebookem, mobilním telefonem a headsetem.
Originální batůžek vlastní výroby
S vlastnoručně vybarveným batůžkem oslní malá slečna všechny kamarády a kamarádky. Fantazii se meze nekladou, a tak si pestrobarevný Color me mine batůžek může začínající umělkyně vyzdobit přesně podle svých představ. Součástí balení je 5 nesmývatelných fix a batůžek o rozměrech 34 x 27 x 7 cm s vyznačenými plochami k vybarvení.
Hračky pro kluky
Malý akční hrdina
Je váš malý uličník blázen do stříleček? Pořiďte mu novou verzi Samopalu NERF a dopřejte mu stát se alespoň v jeho světě opravdovým akčním hrdinou. Samopal NERF je zcela bezpečnou zábavou, která jen tak neomrzí. Bubnový zásobník pojme 35 šipek a u samopalu jde také nastavit režim a rychlost palby.
S partou veselých přátel není nikdy nuda…
…a když nejsou po ruce člověčí kamarádi, přispěchá na pomoc náklaďák Rocky a jeho přátelé – hasič Smokey, popelář Stinky a jeřáb Lankey. Tahle parta zvládne nejen zábavné kousky na zadních kolech, ale dokonce umí i mluvit a je s nimi velká legrace.
Jeho první kutilská sada
Máte-li doma šikovného pomocníka, který si nenechá ujít asistenci při opravách v domácnosti, bude Bedýnka s mluvícím nářadím tím pravým dárkem pro něj. Nejenže se malý kutil naučí, jak které nářadí funguje, ale také s ním zažije spoustu legrace. Mluvící nářadí totiž umí na povel i zpívat a bravurně ovládá angličtinu. V bedýnce najdete kladívko, dva šroubováky, šupleru, kleště, pilku a metr.
Hračky pro kluky i holky
Zábavná angličtina pro nejmenší
Chcete své děti naučit anglicky? Pořiďte jim pejska. Zdá se to jako nesmysl, ale čtyřnohý kamarád, kterého máme na mysli, není jen domácí mazlíček. Je to mluvící pejsek, který naučí děti anglická čísla, abecedu, barvy, části těla a pocity. Umí také na povel zpívat a hrát různé hry, takže s ním není nikdy nuda. Stejně jako mluvící pejsek, i zpívající fotbalový míč umí spoustu základních anglických slovíček, které si díky písničkám děti snadno zapamatují.
Stavebnice LEGO nikdy nezklame
Není snad jediný člověk na planetě, který by neznal stavebnice LEGO. Od vzniku prvních kostiček uběhla spousta let a za tu dobu dobyly univerzální skládačky srdce mnoha milionů dětí. A protože tvůrčí tým společnosti LEGO je nevyčerpatelnou studnicí nápadů, je zde opět nová LEGO hra Heroica – Hrad Fortaan. Jen pravý hrdina dokáže překonat monstrózní armádu skřetů, přemoci jejich krále a získat Přilbu ochrany.
I řada LEGO Duplo, určená pro nejmenší milovníky stavebnic, se může pochlubit novinkou. Velká městská nemocnice je vybavena rentgenem, sádrovnou, kolečkovým křeslem, sanitkou a spoustou dalších nezbytností pro správný chod nemocnice. S péčí o pacienty si hravě poradí šikovný personál nemocnice, který je součástí balení.
Monopoly jdou s dobou
Jedna z nejoblíbenějších strategických deskových her pro děti i dospělé – Monopoly – byla obohacena o možnost využití platebních karet, k čemuž slouží přiložené čtecí zařízení. Monopoly banking se touto inovací stanou ještě zábavnější a napínavější hrou pro celou rodinu.
Všechny žhavé hity mezi hračkami k letošním Vánocům a spoustu dalších hraček pro kluky i holky najdete v internetovém hračkářství Hračkárna.