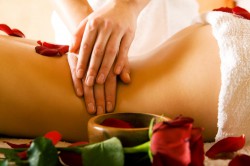 Masážní lehátko je základem pro dokonalou masážPořízení masážního lehátka řeší každý začínající masér. Ocení ho také hobby maséři, nebo sportovní fyzioterapeuti. Pokud za klienty často cestujete, vyplatí se vám skládací lehátko.
Nezáleží, jestli se chystáte otevřít svůj první masérský salon nebo jste jen hobby masér, který čas od času namasíruje rodinu a kamarády. Správně provedená masáž potřebuje kvalitní lehátko. Když necháte klienta ležet na pohovce nebo jiné nevhodné podložce, jeho svaly se dostatečně neuvolní a vystavujete ho riziku křečí a celkového nepohodlí. Z masáže pak odchází více unavený, než když na ni přišel.
Správná poloha pro masáž je taková, kdy je tělo volně položeno na měkké podložce. Jen v této poloze se mohou všechny svaly uvolnit. To platí zejména pro oblast hlavy a krční páteře. Proto je bezpodmínečně nutné, aby masážní lehátko mělo otvor pro hlavu (obličej) nebo přímo anatomicky tvarovaný podhlavník. Límec podhlavníku musí být ušitý tak, aby při masáži nezabraňoval prokrvení hlavy. Špatný podhlavník poznáte i podle toho, že po masáži máte v obličeji otlačené švy a jiné nerovnosti. Kromě pozice hlavy se zajímejte o další prvky lehátka, jako jsou loketní opěrky, které dovolují klientovi umístit ruce i podél těla.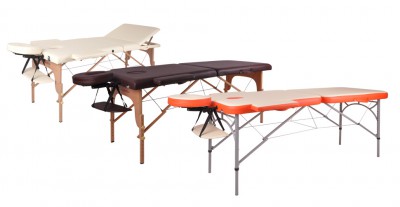 Kvalitní masážní lehátka inSPORTline
Kvalitní lehátka nemusí být drahá
Masážní lehátka inSPORTline nabízí skvělý poměr ceny a kvality. Rozkládací konstrukce umožňuje lehátko v okamžiku složit a vydat se na cestu ke klientovi. Lehátka jsou vyráběna jako dvoudílná nebo třídílná. Právě třídílná lehátka jsou ideální pro masáže, kde je vyžadována složitější manipulace s klientem. Nastavitelnou třetí částí lze klientovi přizvednout nohy, ale využijete je i při masáži zad, obličeje a dekoltu. Dvoudílná lehátka zase poskytují možnost připojit masážní klíny a jiné doplňky. Pokud budete masáže provozovat v místnosti se stálou teplotou a vlhkostí, nemusíte se bát dřevěné konstrukce. Top produktem v této kategorii je masážní třídílné lehátko Japane. Chybu neuděláte ani s dvoudílným lehátkem Tamati, které má hliníkové nohy a proto je vhodné i do vlhkého prostředí, jako je sauna a welness.
Masážním stolem to nekončí
K pořádné masáži patří i nejrůznější doplňky, na které spolu s pořízením masážního lehátka určitě nezapomeňte. Vyzdvihnout je potřeba masážní klíny a válce, které dovolují polohovat jednotlivé části těla a dopřát jim tak dostatečné prokrvení. Zejména pokud nemáte polohovatelné lehátko, měly by tyto podpěrné pomůcky být základní výbavou každého maséra. Masážní oleje, gely a masti jsou zase důležité pro správné prokrvení a hladký pohyb masérových rukou po klientově těle. Samostatnou kapitolou jsou pak lávové kameny s ohřívačem, které posunou vaše masérské umění na další úroveň.

Masáž je velmi oblíbenou relaxací
Pokud s masírováním začínáte, zajímejte se o výhodné balíčky, kdy k masážnímu lehátku dostanete zdarma například tejpovací pásky, tašku na lehátko a jiné masérské příslušenství. Takový balíček vám do začátku podnikání může ušetřit zajímavé peníze.