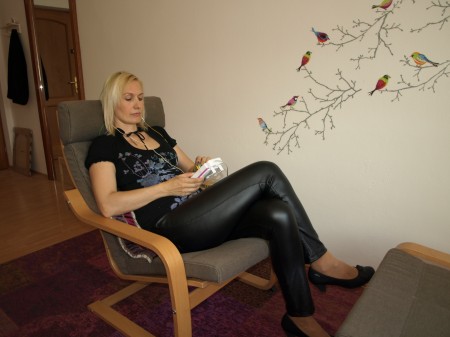 Terapeutka právě nastavuje na Biofeedback správné hodnoty pro tréninkBiofeedback je psychoterapeutická metoda, která nám nabízí možnost zlepšit funkci našeho mozku a naučí nás ovládat své mozkové vlny. Je to vlastně takové sebeučení mozku pomocí tzv. biologické zpětné vazby. Výsledným efektem je, že se mozek hravou formou naučí lépe, efektivněji a s menším výdejem energie využívat své schopnosti a kapacitu. Trvale přejde na nově naučený způsob regulace organismu, čímž se odstraní dosavadní poruchy a obtíže. V následujícím článku vám odpovíme na nejčastější dotazy ohledně metody biofeedback.
Jak samotný trénink probíhá?
Je důležité, aby se člověk při tréninku cítil příjemně a uvolněně. Nejprve je potřeba zjistit, co si přejete na fungování svého mozku zlepšit, zda je to soustředění, paměť, vůle, uvolnění apod.
Trénovaný sedí v pohodlném křesle a na hlavě a uších má připevněné elektrody, které snímají naši aktuální mozkovou činnost. Průběh svých mozkových vln vidíme před sebou na monitoru v podobě hry, kterou ovládáme pouze činností svého mozku. Celá hra je závislá jen na vaší pozornosti, schopnosti soustředit se a uvolnit. Tento stav bdělé uvolněné pozornosti se snažíme prohloubit a upevnit.
Proč je biofeedback účinný?
Biofeedback zmírňuje deprese, upravuje spánek, zvyšuje výkonnost, zlepšuje paměť, působí proti únavě.Především proto, že náš mozek se rád učí, jak si řešení problémů usnadnit, zrychlit a zpříjemnit, když se mu ukáže, jak na to. Jakmile se mozek naučí ovládat sám sebe, dělá to automaticky a neustále. Proto jsou výsledky tréninku zpravidla trvalé. Celý proces se velmi podobá normálnímu učení nebo cvičení.
Komu tato metoda biofeedback může pomoci?
EEG Biofeedback je pro každého, kdo chce zlepšit své mozkové funkce a zklidnit svou mysl. Zmírňuje deprese, upravuje spánek, zvyšuje výkonnost, zlepšuje paměť, působí proti únavě. Člověk je rychlejší a pohotovější, učení je snadnější a naučené informace si budete pamatovat.
Dětem s poruchami pozornosti a učení EEG Biofeedback pomáhá zvládnout nároky školy. Zlepší soustředění, uklidní neposednost, sníží agresivitu a úzkost, zvýší zdravé sebevědomí. Vaše dítě bude samostatnější. Velmi dobře se osvědčuje u dětí se syndromem ADHD a dys- poruchami.
Pomáhá také při problémech logopedických, spánkových a stavech vyhoření. Nejčastějšími klienty tedy jsou děti s problémy ve škole, manažeři, řidiči, piloti, operátoři, osoby s poruchami mozkové činnosti, sportovci a další, kteří chtějí využívat své duševní kapacity na maximum
Trénování na přístroji EEG Biofeedback pomáhá uvést myšlení do celkové harmonie a díky práci se stresem dokáže velmi rychle zklidnit celý organismus.
Jak dlouho biofeedback trénink trvá a za jak dlouho se dostaví výsledky?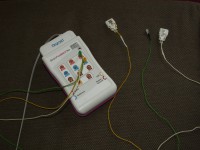 BiofeedbackTrénuje se levá i pravá mozková hemisféra, poměr stran je individuální, záleží na potížích a stavu a jedno sezení trvá v průměru 30 - 40 minut. Vhodné je trénovat zhruba 2x týdně, ale v případě, že chcete pouze zklidnění, stačí přijít i jednou za 14 dní. Konečný počet tréninků závisí na trénovaném a jeho potřebě.      
V rámci akutního zklidnění nebo před zkouškou či pohovorem, je možné přijít třeba jen 3 - 5x. Dospělým, jejichž mozek funguje dobře, ale chtějí ještě svůj výkon zlepšit (manažeři, podnikatelé, duševní pracovníci), postačí třeba 10 sezení jako kondiční trénink. Běžně však klienti docházejí na 20 – 25 tréninků biofeedback, někdy i pokračují déle.