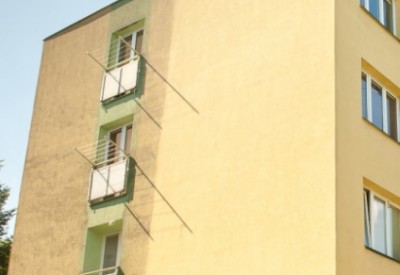 Čištění fasády panelového domu
Pokud patříte mezi ty, kterým záleží na osobním zdraví, pak určitě víte, že pro zdravé tělo je velmi důležité nezávadné okolní prostředí. Aby byl vzduch v bytě čistý, musíte pravidelně vysávat a utírat prach – to je známá věc. Méně známým faktem je však to, že kvalita vzduchu u vás doma je velmi ovlivněna také tím, co se ukrývá v samotných zdech vašeho domu. Abyste se tedy mohli doma radovat z čistého vzduchu bez nežádoucích mikroorganismů, je potřeba jednou za čas přistoupit k čištění fasády domu i k čištění střechy.
Čištění střechy a fasády není jen otázkou estetiky
Mít pěkný dům, který vypadá stále jako nový, by si asi přála řada z nás. Mít pevné zdraví a netrápit se zbytečnými alergiemi touží jistě každý. Odborné čištění fasády domů, čištění střech či parní čištění domácností přispěje k obojímu.
Působením slunce, deště, větru, prachu, smogu, padajícího listí a dalších vlivů dostává střecha i fasáda vašeho domu velmi zabrat. Množí se zde jak nečistoty na první pohled viditelné, tak i mikroorganismy, které mohou být nenápadné, ale o to víc škodlivé pro lidské zdraví. Všelijaké plísně, řasy a další nepříjemnosti způsobují řadu alergií a chronických zdravotních problémů.
Máte pocit, že už jste střechu ani fasádu nečistili kdoví jak dlouho, a že vaše neustálá rýma, kašel či jiné alergie by mohly mít něco společného s plísněmi a mikroorganismy skrývajícími se ve vašem domě? Uděláte nejlépe, když kontaktujete odborníky na čištění střech, čištění fasády. Takovou společností je i firma Umyjem-to, jejíž pracovníci vyzrají i na odolné nečistoty a problém pro ně nepředstavuje ani odstranění graffiti. Důkladně a šetrně provádí také parní čištění domácností.
Co mohou způsobit nečistoty na vašem domě?
Říkáte si, že špinavá střecha nebo ušmudlaná omítka nemohou mít vliv na lidské zdraví? Tak to je velký omyl. I když to zní možná zvláštně, čistá fasáda, střecha, a vůbec celé okolí domu přispívají k zdravému vzduchu a prostředí na bydlení velkou měrou. A proč?
Na každou stavbu působí spousta vnějších vlivů. Počasí, příroda, ale i produkty velkoměsta dotváří a ovlivňují vše kolem nás. Ať už se jedná o spadané listy hnijící v okapech, prach a smog usazený na fasádě, hlínu zašlapanou do dlažby před domem či o další nečistoty, všechny tyto věci tvoří vhodné a příjemné prostředí pro množení škodlivých plísní, řas a mikroorganismů, které vám ke zdraví rozhodně nepomáhají, ba naopak.
V případě, že tyto organismy necháte, aby se roztahovaly po vašem domě, dřív nebo později vám tuto štědrost oplatí nějakou nemocí. Ať už se bude jednat o alergii, chronickou rýmu či jiné potíže dýchacích cest, rozhodně to nebude příjemné. Odborné vyčištění fasády panelových domů, rodinných domů, střech i dlažeb vás těchto zbytečných zdravotních komplikací může ušetřit.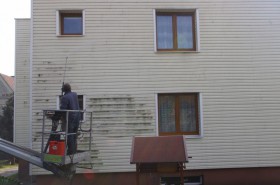 Čištění fasády domu je pro zdraví nezbytné. Díky nečistotám a nežádoucím organismům však může dojít také k narušování samotné fasády a k jejímu postupnému rozpadání. Vznikají drobné trhlinky, které se působením mechů, řas a plísní prohlubují, až může dojít i k narušení izolačních vlastností zateplení domu. A to se vám projeví nejen na zdraví, ale i na peněžence.
Obecně je možné říci, že pobývání v domě napadeném plísní, mechem, řasou či jiným podobným organismem, je škodlivé pro každého. Pokud však jde o děti nebo starší osoby, mělo by se na profesionální čištění střechy a fasády dbát dvojnásob. Jedná se totiž o skupinu lidí, která je na tyto záležitosti více náchylná.
Čištění střechy, dlažby i fasády přenechejte odborníkům
Pokud chcete mít zdravější bydlení a rozhodnete se pro důkladnou očistu vašeho domova, děláte správnou věc. Ať už ale půjde o čištění fasády panelových domů, čištění střech, čištění dlažby nebo jen parní čištění domácnosti, rozhodně byste se do toho neměli pouštět na vlastní pěst. Důvodů je hned několik.
V první řadě jde o vaši bezpečnost. Že je čištění fasády panelových domů nebezpečné, o tom se asi zmiňovat nemusíme. Ale i čištění fasády domu zdánlivě nízkého, popřípadě čištění střechy, může skončit tragédií, pokud se do něj pustí nezkušený laik bez patřičného vybavení. Profesionální společnost disponuje vždy nejen speciální technikou, ale i hromadou zkušeností, díky čemuž rozhodně nešlápne vedle.
U odborníků se nemusíte bát ani toho, že by se vám fasáda znehodnotila použitím nesprávného čisticího prostředku nebo nesprávné metody mytí. Profesionálové totiž dovedou spolehlivě zhodnotit, jakou techniku je třeba zvolit, aby čištění fasády domu nenadělalo víc škody než užitku. Na některé nečistoty je třeba použít parní čištění, na některé zase speciální chemické šetrné prostředky a podobně.
Firma Umyjem-to.cz disponuje ekologickými mycími prostředky, které nejsou škodlivé ani pro lidské zdraví, ani pro okolní přírodu. Výhodou je také to, že odborníci provedou u konečnou úpravu čištěného povrchu pomocí speciálního fungicidního nástřiku, který zabrání opětovnému šíření a množení plísní, řas a mikroorganismů.
A tady platí jednoduchá rovnice. Čím více a déle bude váš dům a jeho okolí čisté, tím déle budete dýchat zdravější vzduch a žít v zdravějším prostředí. Zatočte tedy s nečistotami důkladně a přispějte tak ke zdraví své rodiny.
Parní čištění bytu i čištění fasády a dalších objektů
Různé mikroorganismy, které nejsou pro zdraví prospěšné, se usazují všude. Ve fasádě či střeše páchají samozřejmě víc škod, než na ozdobném kameni na zahradě, ale i ten je možné z estetických důvodů vyčistit.
Pokud vám záleží jak na zdraví, tak i na kráse prostředí, ve které žijete, můžete nechat odborně vyčistit třeba celý dům od střechy až po sklep. Firma Umyjem-to.cz zatočí téměř s jakoukoli nečistotou. S povrchy, jako je dřevo, kámen, kov, plasty, beton a další materiály, si poradí hravě. Na odolnou špínu používá parní čištění, které dokáže odstranit až 95% jakýchkoli nečistot. Zbavíte se tak mastnoty, prachu, hlíny, mastnoty, sazí, mechu, plísní, hub, lišejníků i škodlivých mikroorganismů. Problémem není ani odstranění graffiti, což bývá často noční můrou mnohých majitelů nemovitosti.
Čištění fasády domu, čištění střech, ale ani dlažeb, schodišť, cest, altánů, teras či dekoračních předmětů se často neobejde bez použití chemie. Pokud ale zvolíte kvalitní firmu, která dbá na životní prostředí, můžete být klidní. Takovéto společnosti používají pouze ekologické, šetrné a neškodné prostředky.

Firma Umyjem-to zajistí čištění fasády i parní čištění interiéru.
Poznejte sílu parního čištění a neutrácejte zbytečné peníze
Parní čištění není jen skvělým pomocníkem v domácnostech, ale i v exteriéru najde mnohé využití. I velmi zaneřáděné podlahy, dlažby, omítky a další povrchy mohou být zase jako nové. Na mnohé nečistoty, na které už jiné metody nestačí, vyzrajete právě parním čištěním.
Například i odstranění graffiti bude s touto technologií snadnější. Pokud si navíc necháte aplikovat na povrch speciální anti-graffiti nástřik, nemusíte se už do budoucna bát opětovných starostí s pouličními umělci. Z materiálů ošetřených tímto prostředkem jde odstranění graffiti hladce.
Pokud máte strach, že bude profesionální čištění vašeho domova příliš drahé, nezoufejte. Nejedná se o závratné sumy, které by vám nebyly několikanásobně vynahrazeny všemi získanými výhodami.
Přejete si dozvědět se o čištění střech, dlažeb, fasád, domácností i plotů více?