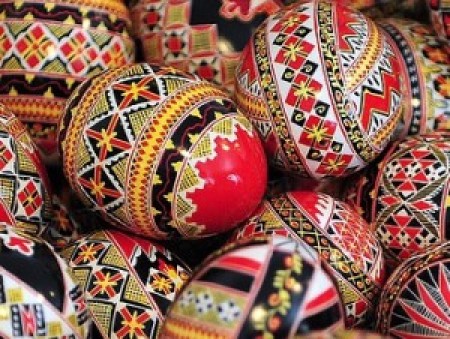 vejceNa obarvení velikonočních vajíček nemusíme používat jen umělá barviva, zkuste pro změnu ty přírodní! Určitě všichni znáte červenohnědou barvu, kterou získáme povařením slupek z cibule. Také ostatní barvy se dají získat z přírody, stačí pouze vědět z čeho a jak. To vám rádi poradíme.
Žlutá barva se dříve získávala ze šafránu, který bohužel dnes není běžně dostupný. Zkuste místo něj kari. Pokud vám ale bude stačit světlejší žlutá až zelenožlutá, použijte k barvení zázvor, kůru z plané jabloně, lipový nebo dřínový květ, oves, kmín, lístky ze sena vojtěšky nebo jeteliny. Světlezelenou barvu získáme z listů kopřiv,  z jarní jeteliny, listů jasanu, rozmarýnu, břízy, petržele, jmelí a myrty. Dříve nejoblíbenější červená barva se získává povařením slupek z červené cibule, do odvaru ale musíte přidat trochu octa. Červenohnědá barva vznikne z povařených slupek bílé cibule. Hojně se též používala hnědá barva, která symbolizuje zemi. Tu získáme odvarem z dubové nebo olšové kůry s trochou kůry březové, nebo můžeme použít samotnou dubovou kůru vařenou se solí a octem. Hnědou nám dají i ořechové listy nebo kůra z ořechu, když je povaříme. Chcete-li docílit tmavohnědého až černého odstínu, namíchejte saze s vodou a přidejte rezavé hřebíky..  No není to barvení tak trochu alchymie?
Jak si připravit kraslici
Protože s barvením vařených vajec většinou nebývá potíž, řekneme si, jak se barví kraslice. To jsou skořápky vyfouklých vajíček naplněné vzduchem, tudíž ve vodě plavou. Kraslici si připravíme tak, že na širší straně vajíčka vyťukáme ostrým předmětem, třeba malými nůžkami, malou dírku a na druhé straně uděláme dírku větší. Do dírky vsuneme dlouhý špičatý předmět, abychom narušili blánu uvnitř vajíčka. Do menší dírky foukáme tak dlouho, až obsah vajíčka celý vyteče ven. Obě dírky poté zalepíme voskem.
Kraslice se do vody neponoří, musíme jí tedy pomoci, aby se mohla obarvit. Do nádoby s barvou vložíme kraslici a zatížíme ji dřevěným prkénkem, které musí být menší než otvor nádoby, tudíž by mělo na hladině plavat a vejce bude ponořeno v tekutině pod ním.
Aby se na obarveném vajíčku nevytvořily schnutím tmavé skvrny, odsajte stékající barvu ubrouskem a vajíčko položte na "fakírskou" podložku. Tu vyrobíte tím způsobem, že zatlučete hřebíky přes tenké prkénko tak, aby jejich hroty procházely  druhou stranou ven. Na tyto hroty pak položte vajíčka. Až vejce oschnou, zvýrazníte jejich barvu olejem nebo sádlem, kterým je potřete  a hadříkem vyleštíte.
Při zdobení velikonočních vajec se dříve lidé nejvíce motivovali přírodou. Na vajíčkách jste mohli najít motivy stromů, obilných klasů, kytice, trojlístky, ze zvířat to byli kohouti a slepice, ryby, hadi, ptáci, motýli, lišky.. Časté byly také společenské motivy, jako ženich s nevěstou nebo muž s dýmkou. Z dalších zmíníme například hvězdy, slunce, sněhové vločky, podkovy, kříže, řetězy apod. Dnes se při zdobení vajec fantazii meze nekladou, můžeme se proto setkat s velice různorodými vzory a technikami.
NÁŠ TIP:
Nevíte, co dělat s nabarvenými vajíčky po Velikonocích? Zkuste domácí vajíčkovou pomazánku.
Jakou zvolit techniku zdobení?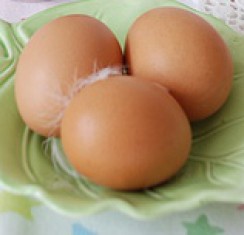 Pro inspiraci vám přiblížíme několik technik, které se používali dříve. Bylo to například nalepování obarvených kousků slámy. Tu je potřeba nejprve namočit, aby se s ní lépe pracovalo. Hojně se používala vosková technika. Rozpuštěný vosk se pomocí špendlíkové hlavičky nanáší na vajíčko do požadovaného vzoru. Poté se vejce vloží do vlažné trouby, aby se vosk jemně nahřál a dal se setřít. Vejce se pak vloží do barevné lázně a voskový vzor pěkně vynikne. Vosk také můžete na vajíčku nechat, vzor je pěkně plastický, ale vosk má tendenci se odlupovat. Vejce můžete ozdobit nalepeným textilem, krajkami, nebo barevným papírem, korálky, flitry.. Můžete je pomalovat pomocí temperových barev, poté je ale musíte přelakovat. Dají se ozdobit drátěnou technikou, vyškrabáváním vzoru do barvy (vejce musí být vařené) apod.  Zajímavé vzory vzniknou, když na vejci pomocí slánky rozfoukáme tuš.
Snad jsme vás inspirovali a přejeme hodně úspěchů ve zdobení!