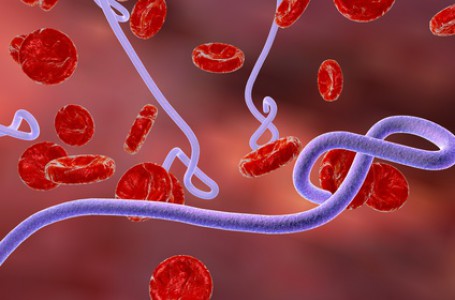 Ebola je vysoce nebezpečné infekční virové onemocnění, které se projevuje krvácivou horečkou
Virus Ebola vyvolává vysoce nakažlivou krvácivou horečku Ebola. Infekce se projevuje horečkou, nevolností, zvracením, krvácením a selháním životně důležitých orgánů. Virová krvácivá horečka je zoonóza, infekční onemocnění přenášené na člověka ze zvířat. Jméno viru se odvozuje od říčky Ebola v africkém Zairu (dnes Demokratická Republika Kongo), kde byl v roce 1976 poprvé popsán. V současné době probíhá epidemie horečky Ebola v západní Africe.
Virus Ebola
Virus Ebola patří mezi RNA viry rodu Filovirus. Virus má tvar vlákna stočeného do smyčky, je vysoce nakažlivý a odolný. Na rozdíl od řady jiných virů dokáže přežít mimo organismus hostitele. Podle místa výskytu se rozlišuje několik podtypů viru: Ebola-Sudan, Ebola-Zaire, Ebola-Reston, Ebola-Pobřeží slonoviny. Infekce jsou různě závažné, největší smrtnost má subtyp Zaire (až 90%).
Přenos infekce
Krvácivá horečka Ebola je nákaza s přírodní ohniskovostí, její výskyt je vázán na přítomnost zvířecího hostitele nebo přenašeče. Jejím přirozeným hostitelem jsou pravděpodobně netopýři, u nich se virus nevyvolává těžké onemocnění. Netopýři se do kontaktu s člověkem dostávají vzácně, ale mohou nakazit například opice. Mezi opicemi se virus šíří vzduchem.
Virus Ebola se velmi snadno šíří mezilidským kontaktem, a proto je výrazně ohrožen zdravotní personál a osoby v nejbližším okolí nemocného. Lidé se nakazí přímým kontaktem s krví a jinými tělními tekutinami a sekrety nebo nepřímo kontaktem s infikovanými předměty (opakovaně používané lékařské nástroje). Předměty, kterých se dotkl nakažený člověk, jsou infekční několik dní.
Inkubační doba je zpravidla 14 – 16 dní, ale může se pohybovat v rozmezí 2 – 21 dní.
Ebola - jak infekce v organismu probíhá?
Vstupní branou infekce jsou sliznice a porušená kůže. Virus napadá různé tkáně, nejzávažnější je infikování buněk vnitřní výstelky cév (tzv. endotelu), které vyvolá zánět cévní stěny tzv. vaskulitidu. Přitom dochází k rozsáhlé tvorbě zánětlivých bílkovin tzv. cytokinů, jež se podílejí na selhání orgánů.
Kromě toho působí virus Ebola na krevní destičky, které se pak snadněji sráží nebo zanikají. Krvácivé projevy jsou tedy výsledkem nejen vaskulitidy, ale také nedostatku krevních destiček. Dále virus postihuje krvetvorné buňky kostní dřeně, tvoří se nedostatek všech druhů krevních buněk – červených, bílých i destiček. Napadené jaterní buňky odumírají a v játrech se vytváří jaterní léze.
Jak se vir ebola množí?
Virus Ebola má cytopatický efekt. To znamená, že po průniku do hostitelské buňky uvolňuje svoji genetickou informaci, podle níž se množí nové viry. Zvrátí tedy její funkce ve svůj prospěch a zahubí ji. Při rozpadu buňky se uvolní nově vytvořené virové částice. Napadená buňka funguje jako továrna na výrobu viru.
Ebola - příznaky
Onemocnění začíná náhle horečkou, malátností, únavou, závratěmi, bolestí svalů a kloubů, zvracením a průjmy. Okolo pátého dne od rozvoje prvních příznaků se objeví skvrnitá vyrážka, postiženému zarudne obličej, přidává se i prokrvácení spojivek, zarudnutí a bolestivost hltanu s tvorbou vředů. Hojný průjem a zvracení vedou k výrazné dehydrataci.
Porucha srážení krve se u poloviny nemocných projeví sedmý den krvácivými příznaky, u druhé poloviny je pouze na laboratorní úrovni. Na kůži se tvoří drobné tečkovité krevní výrony do kůže (tzv. petechie), objevuje se krev v moči, krvácení z dásní, nosu a pochvy. Nápadné je i krvácení ze vpichů po injekcích. Krvácivé projevy nebývají tak závažné, aby samy způsobily smrt. Krevní ztráty se ale mohou podílet na rozvoji šokového stavu.
Ebola a další komplikace
Pouze u 5 % nakažených se objevuje žloutenka. Nedostatečné prokrvení mozkové tkáně spolu s krvácivými ložisky v mozku mohou vyvolat křeče, delirium (poruchu vědomí způsobující změnu chování a poruchu pozornosti) a kóma.
Průběh eboly
Průběh infekce je velmi závažný a úmrtnost dosahuje podle subtypu viru až 90 %. Špatný průběh je obvykle spjatý s výskytem krvácivých projevů.
Nakažení umírají v průběhu druhého týdne onemocnění. Příčinou úmrtí bývá šokový stav s nízkým krevním tlakem a selhání několika orgánů, především jater a ledvin. Šokový stav je způsobený výraznou dehydratací a značnou ztrátou krve.
Diagnostika eboly
K podezření na horečku Ebola vede kromě typických příznaků údaj o pobytu v zemích západní Afriky. Vzácně se jedná o osoby, které byli v kontaktu s opicemi dovezenými z rizikových oblastí, nebo pracovali v předchozích třech týdnech s infikovaným laboratorním materiálem.
Při laboratorním vyšetření krve se prokáže nedostatek krevních destiček, snížená hladina bílých krvinek a zvýšená hladina jaterních enzymů (ALT a AST).
Virus lze vykultivovat z krve a jiných biologických materiálů odebraných během horečnatého stádia nebo prokázat molekulárně biologickými metodami pomocí PCR. V krvi se vyšetřuje virový antigen (povrchová bílkovinná částice) a protilátky proti viru Ebola typu IgM. Ve vzorku odebrané pokožky lze prokázat mikroskopické změny a virové antigeny.
Léčba horečky ebola
Cílená léčba horečky Ebola neexistuje, účinná antivirotika zabraňující množení viru nejsou známá. I když probíhá výzkum specifických preparátů, terapie je prozatím symptomatická, mírní se projevy nemoci. V současné době se za nejúčinnější způsob léčby považuje kombinace silných dávek krevního séra, antivirotik, vitamínů a udržování stálosti vnitřního prostředí.
Neúčinné léky proti ebole
Viry ke svému množení využívají metabolických funkcí napadené buňky, proto je velmi obtížné vyvinout látku účinnou proti viru a málo toxickou pro lidský organismus. V léčbě jiných krvácivých horeček (horečky Lassa a hantavirové infekce) se používá antivirotikum ribavirin (Copegus, Rebetol), neúplný analog nukleosidu potřebný k tvorbě genetické informace (virové i lidské RNA). Tím, že je neúplný (nefunguje správně), zabraňuje množení RNA - virů. U horečky Ebola se bohužel neosvědčil.
Virus je rezistentní vůči interferonu, dalšímu léku virových infekcí. Interferon je bílkovina tvořená buňkami imunitního systému lidského organismu. V léčbě se využívá interferon připravený rekombinantní technologií (izolované geny se vpravují do jiného organismu schopného tvořit dané bílkoviny v laboratorních podmínkách). Při jeho podávání se jako vedlejší nežádoucí účinky objevují chřipkové příznaky. V léčbě horečky Ebola není účinný, pouze komplikuje samotné onemocnění.
Léky proti ebole ve výzkumu
Jako efektivní se prokázalo krevní sérum od osob s nedávným onemocněním, které tedy obsahovalo protilátky proti viru Ebola. Bohužel se jednalo pouze o experimentální léčbu bez kontrolní skupiny (osob, které dostávali placebo). Navíc je výroba a uchování neúnosně drahé a účinek je velmi omezený.
V praxi již byl vyzkoušen i experimentální lék Zmapp, přestože ještě neprošel klinickými testy. Lék brání viru v narušení a nakažení nových hostitelských buněk. Terapie tímto přípravkem byla několikrát úspěšná.
Ebola - symptomatická terapie
Ke snížení horečky se používají antipyretika, bolesti svalů a kloubů se tiší analgetiky. V podstatě se jedná o jeden druh léku, který zabraňuje tvorbě protizánětlivých cytokinů, jež se při krvácivé horečce masivně tvoří. Buď se podávají přípravky obsahující paralen (u nás Paralen, Panadol, Paramax) nebo léky s ibuprofenovou složkou (Nurofen, Ibalgen, Ibuprofen, Apo-ibuprofen).
Průjmy a zvracení vedou k dehydrataci, proto se ústy nebo nitrožilně podává dostatek tekutin. Současně mohou vést k iontové nerovnováze, která se hradí infúzemi s potřebnými minerály. V případě silného krvácení se podává krevní transfúze.
Prevence eboly
Dosud neexistuje vakcína, která by před krvácivou horečkou Ebola chránila. Vědci usilovně pracují na vyvinutí účinné očkovací látky. Některé farmaceutické společnosti budou od roku 2015 spouštět klinické testy.
Prozatím je jediným preventivním opatřením zabránit šíření nákazy. Při péči o nakažené osoby a pohřbívání obětí infekce je nutné používat ochranné masky a rukavice. Afričané se musí vyvarovat tradičního způsobu pohřbívání, při kterém se pohřbívající přímo dotýkají těla zesnulého, a tak se nakazí.
Doporučení ohledně eboly
Osoby podezřelé z nákazy krvácivou horečkou Ebola musí být převezeny do izolačního zařízení. Ti, kteří se starají o nakažené v terénu, musí být vybaveni maskou, brýlemi, čepicí, ochranným štítem, gumovými rukavicemi a gumovou obuvi.
Virem Ebola je nakaženo obyvatelstvo v Libérii, Nigérii, Demokratické republice Kongo, Guineji a Sieře Leone. Po pobytu v některé rizikové oblasti je vhodné zůstat v izolaci po dobu 21 dní, což je maximální inkubační doba viru.
Ebola - historie a současnost
Virus Ebola byl poprvé izolován roku 1976 u říčky Ebola v Zaire (dnešní DRK). Od té doby proběhlo především v afrických zemích několik epidemií různými subtypy viru lišící se mírou úmrtnosti (50 – 90 %). Vždy se nakazilo maximálně 500 osob.
Nynější epidemie Eboly v západní Africe, která propukla na přelomu roku 2013 a 2014, je nejhorší od objevení viru. A to nejen díky počtu nakažených (3500 osob k 1. září 2014) a zemřelých (1900 mrtvých k 1. září 2014), ale také rozšířením do několika států i mimo západní Afriku právě díky hojně nakaženému zdravotnickému personálu. Virus Ebola subtyp Zaire má vysokou úmrtnost až 90%, jedná se o nejagresivnější subtyp.