Střevní chřipka
Zánětlivé onemocnění žaludku a střev projevující zvracením a průjmem se označuje jako gastroenteritida. Lidově se jí říká střevní chřipka, ale to je označení nesprávné. S běžnou chřipkou nemá vůbec společného, nezpůsobují ji ani stejní původci, ani nemá stejné příznaky. A na rozdíl od běžné chřipky, která postihuje dýchací ústrojí, původci průjmových onemocnění působí v trávicím traktu. Akutní gastroenteritida se řadí mezi infekční choroby.
Výskyt střevní chřipky
Infekční průjmy jsou celosvětově rozšířená onemocnění. V rozvojových zemích na ně umírá ročně 5 - 10 milionů lidí, polovinu tvoří děti do 5 let, především díky choleře a E.coli. V naší republice je ročně hlášeno 60 000 infekčních průjmů, skutečná čísla jsou však mnohonásobně vyšší, protože většina lidí přichází k lékaři až déletrvajícím závažnějším průjmem nebo nepřijde vůbec.
Střevní chřipka - příznaky
Kromě průjmu a zvracení doprovázejí střevní chřipku také křeče v břiše, nutkání na stolici, horečka, celková slabost a únava. Při průjmu je pozměněná střevní peristaltika, dochází k častějšímu vyprazdňování většího objemu stolice s vyšším obsahem vody. Vysoká střevní aktivita bývá provázena křečemi v břiše. Při tenesmech neboli nutkání na stolici dochází k pocitu nutného vyprázdnění, ale stolice žádná neodchází. Pokud vznikne zánět i v žaludku, projeví se to pocitem na zvracení tzv. nauzeou nebo zvracením. Zvýšená teplota nebo horečka se objevuje zvláště u bakteriálních průjmů. Zvracením i průjmem organismus ztrácí velké množství tekutin vedoucí až k dehydrataci, která je zvláště nebezpečná až život ohrožující u dětí a starších osob.
Příčiny střevní chřipky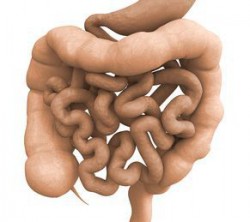 Původci průjmovitých onemocnění jsou bakterie, viry a paraziti, přičemž každý z nich má charakteristické projevy.Původci průjmovitých onemocnění jsou bakterie, viry a paraziti, přičemž každý z nich má charakteristické projevy. Pokud průjem vznikne po požití zkaženého jídlo, označuje se jako alimentární intoxikace neboli enterotoxikóza. Příznaky jsou vyvolané bakteriálním toxinem, který se vytváří a pomnoží již v potravě.
Bakteriální infekce
Bakterie se do trávicího traktu člověka dostanou spolu s potravou, vodou nebo přenosem kontaminovanýma rukama. Ve střevě nemocného se bakterie pomnoží, způsobí zánět sliznice, proto není stolice tak vodnatá a obsahuje příměs krve a hlenu. Přidruženými příznaky jsou nevolnost,zvracení, křeče v břiše a tenesmy. Bakteriální gastroenteritida má pomalejší průběh než virová, je typicky provázena horečkou, která o několik hodin předchází příznaky v trávicím traktu. Inkubační doba, než se onemocnění projeví, je v řádu několika dní (3 - 7dnů). U bakteriálních intoxikací se bakterie pomnoží již v potravě, produkují toxin, jenž se uplatní velmi brzy (několik hodin) po požití potravy. Příznaky také rychle ustoupí a horečka většinou chybí.
Otrava z potravin
Při alimentární intoxikaci jsou příznaky vyvolány bakteriálních toxinem, který se vytváří již v potravě, jsou tedy rovněž označovány jako "otravy z potravin". Inkubační doba je několik hodin, charakterizuje je rychlý vznik i průběh většinou bez horečky. Pravděpodobnost alimentární intoxikace se zvyšuje u potravin, které se před konzumací dlouho skladují, opakovaně ohřívají nebo se jí nedostatečně tepelně upravené (zmrzliny, cukrářské výrobky, smetanové omáčky, ohřívaná rýže, těstoviny). Podle délky inkubační doby rozlišuje dva typy intoxikací. Intoxikace s krátkou inkubační dobou (1 - 6 hod. po jídle) se projeví příznaky v horní části trávicího traktu, dominuje tedy nauzea a zvracení. Intoxikace s dlouho inkubační dobou (8 - 16 hod. po požití potravy) pak až v dolním trávicím traktu průjmem a křečemi v břiše.
V našich podmínkách je nejčastějším původcem Campylobakter jejuni. Přenašečem kampybakteriózy jsou typicky chladírenská kuřata, krůty a jiná drůbež, zvláště pokud není dostatečně propečená, ať už doma v mikrovlné troubě nebo v automatech rychlého stravování. Dále se lidé mohou nakazit z nepasterizovaného mléka nebo kontaminovanou vodou. Nejvyšší počet onemocnění je zaznamenán v létě a časném podzimu.
Druhou nejčastější střevní infekcí je salmonelóza s původcem Salmonela enteritis. Zdrojem jsou primárně infikované živočišné produkty od již nemocných zvířat – vejce, maso, drůbež, ryby, mléko nebo druhotně infikované při porážce zvířat či zpracování produktů – zmrzliny, majonézy, zákusky. Salmonely se mohou v potravině pomnožit, a to i pokud je uložíte v chladničce. Salmonelózy se vyskytují hlavně v letních měsících, nejčastěji u dětí od 1 do 4 let. Typické jsou mnohočetné kašovité či vodnaté stolice zbarvené do zelena provázené horečkou.
V zimních měsících se v zemědělských oblastech, kde právě probíhají zabíjačky, často vyskytuje yersinióza s původcem Yersinia enterocolica. Přenáší se prostřednictvím nedostatečně tepelně zpracovaného masa, zejména vepřového a vepřových vnitřností. Je častější u dětí, bolesti břicha v pravém podbřišku pak napodobují akutní apendicitidu (zánět slepého střeva).
Infekční průjem způsobuje také několik typů E.coli, která je za normálních okolností hlavní součástí mikroflóry tlustého střeva. Člověk se nakazí patogenním kmenem E.coli při požití nedostatečně tepelně zpracovaného hovězího masa (hamburgery) nebo kontaminovanou vodou a mlékem. Prudké křečovité bolesti břicha jsou následovány průjmy s příměsí krve.
Diagnostika průjmu
Infekční průjem se diagnostikuje na základě příznaků. Vždy se vás také lékař bude ptát, zde jste snědli nějakou rizikovou potravinu, a jestli trpí průjmem také někdo z vašeho okolí. Pro určení původce bakteriálního průjmu se používá kultivační vyšetření stolice získané výtěrem z konečníku. V případě virového nebo parazitárního onemocnění je nutný malý vzorek stolice.
Dehydratace a jiné komplikace
Nejčastějšími komplikacemi průjmovitých onemocnění jsou dehydratace a minerálový rozvrat. Dehydratace může nastat velmi rychle a dosáhnout až život ohrožujícího stupně. Při průjmu odcházejí z organismu voda a minerály ve velkých kvantem, přispívají k tomu i další ztráty způsobené zvracením a pocením. V důsledku dehydratace mohou být postiženy ledvinné funkce, kdy ledviny nejsou schopny vylučovat dusíkaté odpadní látky. Ty se pak hromadí v organismu a mohou způsobovat tzv. uremický syndrom, při kterém má nemocný kromě průjmů a zvracení, svědění kůže, krvácivé projevy, dušnost, křeče nebo poruchu vědomí. Minerálový rozvrat znamená, že je ve vnitřním prostředí organismu nadbytek nebo nedostatek některých minerálních látek. Nízká hladina draslíku se může projevovat poruchou srdečního rytmu, omezením až zástavou střevní peristaltiky (tzv. paralytický ileus), svalovou slabostí nebo poruchou schopnosti ledvin koncentrovat moč. Při nadbytku sodíku je nemocný malátný, má žízeň, bolesti hlavy, případně halucinace. Nedostatek hořčíku se pak projevuje svalovými křečemi.
Léčba střevní chřipky
Léčba u infekčních průjmů je ve většině případů stejná, tedy symptomatická, kdy se tlumí příznaky. Při užívání antibiotik je pak terapie kauzální, kdy se léčí příčina onemocnění. Hlavní zásadou terapie průjmovitých onemocnění je včasná a dostatečná hydratace s úpravou minerálového hospodářství a následné brzké obnovení příjmu potravy.
Rehydratace slouží k obnovení ztráty tekutin, může probíhat perorálně nebo intravenozně. Perorální rehydratace se využívá při mírné až středně velké ztrátě tekutin, pokud nemocný nezvrací. Lépe jsou tolerovány spíše chladnější, přislazované nápoje (nesycené minerálky bez příchutě) podávané po malých množstvích a v častých intervalech, u dětí mírně slazený čaj nebo speciální perorální rehydratační roztok Kulíšek, který svému dítěti můžete koupit v lékárně. Mírně sladké minerální nápoje usnadňují vstřebávání minerálů a vody ve střevě. V případě akutní potřeby můžeme pro dospělé připravit náhradní roztok:
8 lžiček cukru a 1 lžičku kuchyňské soli rozpustíme v 1 litru převařené vody a doplníme šťávou ze 2 pomerančů nebo grepu. Dospělí pijí 250 - 500 ml a děti 125 - 250 ml tohoto roztoku za hodinu.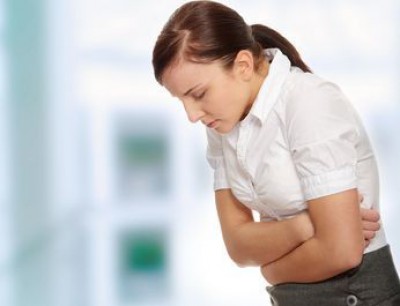 Nejčastějšími komplikacemi průjmovitých onemocnění jsou dehydratace a minerálový rozvrat.Naopak nápoje s vysokým obsahem cukru, například babskými radami doporučovaná Coca-cola, nejsou vhodné, protože paradoxně podporují sekreci vody do střeva a zhoršují průjem. Ztráty vody průjmem a zvracením jsou výrazné, proto se dospělým podávají alespoň 3 litry tekutin denně. Intravenózní rehydratace je podávání tekutin do přímo do žíly. Využívá se při velké ztrátě tekutin provázané úbytkem hmotnosti, nezvladatelném zvracení a při závažném minerálové nerovnováze, kdy lze potřebné minerály přidat do připravené infuze. Tento způsob léčby samozřejmě vyžaduje hospitalizaci v nemocnici.
Realimentace čili obnovení příjmu potravy by mělo následovat nebo provázet rehydratační terapii. Dieta je základním léčebným prostředkem, bez něhož nelze očekávat účinnost medikamentózní terapie. U kojenců se v prvních dnech průjmového onemocnění podávají rýžové nebo mrkvové odvary. Rýžový odvar připravíme rozvařením 50 g rýže v 1 litru vody. U kojených dětí není nutné kojení přerušit, zpočátku se doporučuje podávat malé množství mrkvového nebo rýžového odvaru před každým kojením. U kojenců starších 6 měsíců následuje podávání banánů, oloupaných strouhaným jablek, piškotů, mléka. U starších dětí a dospělých se strava kromě sucharů, vařené rýže, mrkve, brambor, banánů a jablek postupně se obohacuje o vývary a pokrmy z bílého masa. I po odeznění průjmů se doporučuje vyhnout smaženým, kořeněným a tučným pokrmům, nadýmavé zelenině, čokoládě a alkoholu.
Vhodné a nevhodné léky na střevní chřipku
Adsorbencia, tedy přípravky jako aktivní uhlí (Carbotox, Carbocit, Carbosorb) nebo Smecta, se uplatňují především v horních částech gastrointestinálního traktu, protože během průchodu zažívacím ústrojím se vyčerpá adsorpční schopnost aktivního povrchu. Má jej význam užívat u enterotoxikóz čili po požití zkažené potravy. Smecta kromě své adsorpční schopnosti vytváří na povrchu sliznice povlak bránící přichycení bakterií. Častým nežádoucím účinkem při užívání tohoto léku je žaludeční nesnášenlivost a nadýmání.
Střevní antiseptika působí pouze proti neinvazivním původcům, kteří vytvářejí toxiny. Ze zažívacího traktu se prakticky nevstřebávají. Nejčastěji je užívaný chloroxin (Endiaron) nebo chemoterapeutikum nifuroxazid (Ercefuryl).
Antimotilika jsou léky zpomalující střevní peristaltiku. U infekčních průjmových onemocnění je neužívejte, protože tím přispívají k množení patogenů ve střevním traktu a zvyšují riziko toho, že bakterie proniknou do hlubších tkání a dostanou se ve větším množství do krve. Mohou vést až zástavě střevní peristaltiky a rozvoji tzv. paralytické ileu. U dětí jsou úplně zakázány! Nejznámějším antimotilikem je Imodium nebo Reasec.
Probiotika jsou přípravky, které obnovují přirozenou střevní mikroflóru. Obsahují nejčastěji laktobacily. Jako plnohodnotnou alternativu probiotik si můžete koupit i potraviny obsahující živé kultury laktobacilů a bifidobakterií, tedy jogurty a zákysy. Zvláště vhodné jsou po delším užívání antibiotik nebo při dlouhodobých trávicích potížích
Antibiotika se u infekčních průjmů paušálně nedoporučují, protože prodlužují vylučování jejich původců. Výjimkou jsou střevní infekce u oslabených jedinců, tedy u starých lidí, pacientů po transplantaci orgánů nebo s nádorovým onemocněním. Rovněž pokud je průjem doprovázený vysokými horečkami (sepse) nebo mimostřevními komplikacemi je nutné antibiotika podávat.
Virové průjmy
Virové průjmy jsou častější než průjmy bakteriální. Původci jsou nejčastěji noroviry, rotaviry, adenoviry, kaliciviry, astroviry, toroviry a koronaviry. V rozvojových zemích se jedná především o onemocnění malých dětí, kdežto v zemích rozvinutých jsou častěji postiženy starší děti a dospělí. V České republice se infekce vyskytují celý rok, s maximem v zimních měsících. Výskyt je častější v epidemiích. Obecně jsou viry vysoce odolné částice, což jim zajišťuje odolnost vůči agresivní žluči i trávicím enzymům a umožňuje šíření nepřímým kontaktem a kontaminací vody a potravy. Přenášejí se infikovanou pitnou vodou, nevařenými potravinami (saláty, moučníky, mořští živočichové, jahody, maliny), kontaminovanýma rukama.
Onemocnění začíná náhle bolestmi břicha se zvracením a nečetnými vodnatými stolicemi bez příměsi krve či hlenu. Infekce u vás může proběhnout pod obrazem jednoho příznaku. Virová gastroenteritida je kratší než bakteriální, ustává většinou do 48 hodin, a nemá tak bouřlivý průběh. Častěji bývá přítomno zvracení, což souvisí s tím, že viry napadají zejména tenké střevo, zatímco bakterie se množí spíše ve střevě tlustém. V léčbě onemocnění ve většině případů postačuje rehydratace perorálně. Protiprůjmové prostředky nejsou účinné. Hospitalizace je u virových průjmů nezbytná jen zcela výjimečně. Onemocnění nemá vážné komplikace ani následky.
Rotavirová infekce u dětí
Rotaviry jsou na celém světě nejčastější původci akutní gastroenteritidy u dětí do 5 let věku. V České republice jsou evidovány 2000 - 4000 rotavirových průjmů ročně. Mají sezonní výskyt v zimě a v jarních měsících. Nejvíce postiženou věkovou skupinou jsou děti od 4 měsíců do 3 let. U novorozenců a kojenců do 2 měsíců probíhá bez příznaků. Postihuje i dospělé jedince, typicky rodiče postižených dětí. Rotaviry jsou vysoce infekční, stačí velmi malá infekční dávky k vyvolání příznaků. Přenáší se nepřímým kontaktem, je možný i přenos vzduchem kapénkami. V 50% případů je rotavirová nákaza asymptomatická, proběhne aniž by si toho nakažený všiml. U 2/3 nemocných je popisována klasická triáda – horečka, zvracení a vodnatý průjem, může se však vyskytnout pouze jeden nebo dva z uvedených příznaků. Po krátké inkubační době (1 - 3 dny) se dostaví vzestup teploty a opakované zvracení. Již první den se objeví časté a objemné stolice bez příměsi krve nebo hlenu. Dále nemají nemocné děti chuť k jídlu, jejich bříško je vzedmuté, starší děti si stěžují na bolesti břicha. U poloviny nemocných se současně objevují i příznaky postižení horních dýchacích cest – nachlazení, rýma a kašel.
Rotaviry jsou na celém světě nejčastější původci akutní gastroenteritidy u dětí do 5 let věku.
Při nekomplikovaném průběhu celé onemocnění odezní do 5 - 8 dnů. Pro malé děti je častou a závažnou komplikací dehydratace s úbytkem 5 - 10% tělesné hmotnosti, což u destikilogramového kojence představuje pouze 0,5 – 1 kg jeho hmotnosti. Zdánlivě banální úbytek na váze tak někteří rodiče mohou podcenit, které může jejich dítě i ohrozit na životě. Dále se mohou vyskytnout poruchy vstřebávání živin tzv. malabsorpční syndrom s protrahovanými průjmy. Pokud má vaše dítě rotavirovou infekci, je důležité od začátku průjmového onemocnění dostatečný příjem tekutin a již zmíněná výživa, která zabrání dalšímu poškození sliznice střev. Z nespecifických protiprůjmových prostředků lze u dětí probatika, nejlépe po odeznění akutního průjmu. Od roku 2006 jsou v České republice k dispozici dvě perorální vakcíny proti rotavirovým průjmům, které jsou určeny k imunizaci pro děti od 6 týdnů věku.
Průjmy cestovatelů
V souvislosti s možností neomezeně cestovat do zahraničí, včetně exotických zemí s nízkou hygienickou úrovní, u nás narůstá frekvence výskytu tzv. průjmu cestovatelů. Z infekcí spojených s cestování jsou průjmy cestovatelů bezkonkurenčně nejčastější. V řadě zemí je cestovní průjem označován místním jménem: v Indii břichabol města Delphi, v Rumunsku mamajka, v Egyptě faraonova kletba, v Mexiku Montezumova pomsta. Je jimi postižena třetina až polovina cestovatelů. Výskyt záleží na tom, kdo a kam cestuje a v jakých podmínkách v zahraničí pobývá.
Vysoce rizikovými oblastmi jsou Střední východ, jižní a jihovýchodní Asie, Afrika, Jižní a Střední Amerika, zde průjem postihne až 70% cestovatelů. Na některých lodích přepravujících v Egyptě cestující po Nilu onemocní 90% turistů. Na vzniku průjmů se podílí mnohem vyšší kontaminace potravin a pitné vody patogenními mikroorganismy, než je tomu v domácím prostředí, a zvýšená vnímavost zažívacího traktu při cestování v důsledku jiného způsobu přípravy potravy, konzumace jiných druhů potravin nebo používání jiného koření.
Z bakteriálních původců jsou nejčastější některé kmeny Escherichia coli (50%), Campylobakter jejuni, salmonely, shigelly a Vibrio cholerae. Z parazitárních původců je nebezpečná amebóza. Průjem cestovatelů probíhá zpravidla bez horečky, projeví se vodnatými stolicemi bez příměsi krve, které se během 3 - 5 dnů upraví. Malá část cestovních průjmů může být i neinfekční povahy v důsledku časového posunu, cestovního stresu, změny stravovacích návyků, konzumace ovoce s projímavým účinkem (např. mango nebo fíky) a pitím většího množství sladkých a přechlazených nápojů.
Základem prevence těchto nákaz je důsledné dodržování hygieny stravování na cestách. Před přípravou stravy a před jídlem si vždy umyjte ruce. Pijte a používejte pouze balenou pitnou vodu, a to i na čištění zubů. Průjem může vniknout i při pouhém polknutí kontaminované vody při koupeli nebo v bazénu. Dále nenakupujte jídlo v pouličních stáncích, jezte jen dokonale tepelně upravené pokrmy a konzumujte pouze ovoce a zeleninu, kterou si sami pečlivě umyjete a oloupejte. Nebezpečná jsou jídla obsahující tepelně neupravené mořské kraby, langusty, krevety, ústřice a srdcovky, zeleninové saláty, ale také kostky ledu vyráběné z nepřevařené vody a užívané k chlazení nápojů.
Při cestách do oblastí s vysokým rizikem by měl každý cestovatel v dostatečném předstihu (nejlépe již 3 měsíce před odjezdem) navštívit specialistu, který se zabývá cestovní medicínou a očkování před cestami do zahraničí. Ambulance cestovní medicíny jsou zřizovány při infekčních odděleních a klinikách. Lékař vám zde provede potřebná očkování, seznámí vás s preventivními opatřeními, doporučí jak cestovatelský průjem léčit a poskytne vám potřebné léky. Zvláště pokud budete cestovat do míst s nedostupnou lékařskou péčí, cestovní lékař vás vybaví dostatečnou dávkou antibiotik pro samoléčbu cestovního průjmu. Antibiotiky fluorochinolony se léčí horečnatý průjem s příměsí krve, pokud trvá déle než 3 dny. Při lehčím průběhu postačí symptomatická terapie. Na cestu si s sebou vezměte dostatečnou zásobu prášků k přípravě rehydratačního roztoku a antimotilika. Prevence střevních onemocnění očkováním je možná jen proti choleře a některým typům E.coli perorální kombinovanou vakcínou Dukoral.
Prevence průjmů
Průjmovitým onemocnění se nejlépe vyhnete, budete-li dodržovat základní hygienická opatření při osobní hygieně, přípravě pokrmů. Navzdory dobré hygieně se nelze zcela vyvarovat primární nebo sekundární kontaminaci masa, živočišných produktů salmonelami a kampylobakterem. Částečně ji lze předejít dokonalou tepelnou úpravou potravy živočišného původu, zejména pokrmů z vajec a drůbežího masa. Státní předpisy a nařízení by pak měly určovat zásady komunální a kolektivní hygieny – tedy zásobování nezávadnou pitnou vodou, likvidace odpadů a odpadních vod, veterinární opatření při zpracování jatečních zvířat, hygienické předpisy v hromadném stravování a při přípravě a distribuci potravin v celém potravinářském komplexu.
Nebojte se průjmů
Pokud onemocníte infekčním průjmem, který má standardní výše popsaný průběh, a vy sami se s ničím závažným neléčíte, není čeho se bát. Pijte dostatek tekutin a brzy obnovte příjem doporučovaných potravin. Zdravý organismus se dokáže smírnou ztrátou tekutin a iontovou nerovnováhou dobře vyrovnat. Jestliže se však jedná o dítě nebo staršího člověka trpícího řadou přidružených onemocnění, je třeba se míti na pozoru. Z tekutin opravdu pijte přislazené minerální vody, malému dítěti kupte speciální perorální rehydratační roztok nebo připravte výše uvedený roztok vlastní, důsledně hlídejte, zda nedochází ke ztrátě hmotnosti, neodkládejte obnovení příjmu potravy a brzy navštivte svého lékaře. Když by se objevily změny chování, zmatenost, malátnost nebo průjem a zvracení několik dní neustávaly, vyhledejte neprodleně lékaře.