Metanol je vysoce toxická těkavá a čirá kapalina s chemickým vzorcem CH3OH.
Intoxikace se obecně někdy nazývají jako otrava nebo předávkování. Intoxikace je pak chorobný stav, který je vyvolaný přítomností toxické látky (jedu) v organismu. Otrava je provázená příznaky, které se většinou objevují náhle nebo se rozvíjí v poměrně krátkém časovém období. Probíhají většinou ve 3 hlavních stádiích, a to je stadium excitační, narkotické a komatózní. Stádia se většinou rozlišují podle psychických a fyzických příznaků. Intoxikace jsou velmi závažné stavy, které často bezprostředně ohrožují na životě.
Metanol je vysoce toxická těkavá a čirá kapalina s chemickým vzorcem CH3OH. Metanol zapáchá jako běžný alkohol. Označuje se také jako dřevný líh, methanol nebo methylalkohol. Metanol bývá součástí rozpouštědel nebo paliv, vyskytuje se v ostřikovačích autoskel. Běžně ho můžeme nalézt ve velmi malých dávkách v lihovinách určených ke konzumaci. Pokud jsou ale lihové nápoje připraveny nesprávně (nejčastěji v nelegálních palírnách při destilaci alkoholu), množství metanolu může být mnohem vyšší než malé a pak pití těchto lihovin může konzumenty ohrožovat na životě. 
Příčina vzniku otravy metanolem
Intoxikace metanolem vzniká po jeho většinou nechtěném požití. K otravě metanolem často dochází záměnou metanolu za etanol (běžný alkohol), náhodným požitím tekutin obsahujících metanol při záměně lahví s vodou či jiným nápojem. V zemích východní Evropy a bohužel také v Česku se čas od času objeví otravy metanolem po konzumaci nekvalitně připravených alkoholických nápojů (pouze destilované lihoviny, netýká vína ani piva). Méně častou možností je úmyslné požití metanolu při sebevražedném pokusu. Metanol se po konzumaci velmi rychle vstřebává ze zažívacího traktu a maximum se v séru objeví do 90 minut po požití. Biologický poločas metanolu je 8 - 28 hodin, průměrná doba účinku se pak pohybuje kolem 12 hodin. Samotný metanol není toxický, ale při jeho odbourávání v játrech vznikají metabolity, které již toxické jsou. Díky účinkům alkoholdehydrogenázy dochází k přeměně metanolu na toxickou kyselinu mravenčí a formaldehyd, tyto látky vedou k metabolické acidóze. Metanol se metabolizuje asi 10x pomaleji než etanol (běžný alkohol), malá část metanolu (asi 3%) se vylučuje nezměněná plícemi a močí. Minimální toxická dávka metanolu je pouhých 0,1 ml na kg, což je odhadem 10 ml metanolu pro dospělého člověka, smrtelná dávka metanolu se pohybuje mezi 30 - 100 ml.
Otrava metanolem - příznaky a průběh
Jelikož se stejně jako etanol (běžný alkohol v lihovinách) také metanol řadí k alkoholům, prvním projevem požití metanolu je tzv. excitační stádium připomínající opilost. Pro lehkou otravu je typické motání hlavy, slabost, zmatenost. Objevují se poruchy vidění a fotofobie. Jelikož toxické metabolity metanolu způsobují metabolickou acidózu (překyselení organismu), tělo reaguje zvýšeným dýcháním (hyperventilace-tělo se zbavuje oxidu uhličitého a vyrovnává tak metabolickou acidózu). Objevuje se bolest hlavy, nausea a zvracení či průjem. Při vyšší dávce se již objevují narkotické účinky na centrální nervovou soustavu, kyselina mravenčí se kumuluje v sítnici a očním nervu, dále pak v bazálních gangliích mozku. To způsobuje slepotu, která může být až trvalá, poruchy koordinace a pohybů. Typické jsou křeče.
Metabolická acidóza je již velmi vysoká a hodnoty od 30 ml metanolu již mohou znamenat smrt. Jelikož metanol sám o sobě toxický není, k otravě dochází až jeho metabolitami, příznaky se tak rozvíjejí postupně. Příznaky otravy metanolem jsou již velmi rozvinuty po 12 hodinách po užití. Postupně dochází k metabolickému rozvratu, bezvědomí a postupnému selhávání orgánů (játra, ledviny a nakonec oběh).
Diagnostika otravy metanolem
Jelikož k užití metanolu dochází nejčastěji náhodnou záměnou či požitím nekvalitně destilovaného alkoholu, bývá diagnostika intoxikace metanolem někdy poměrně svízelná. Lékař se většinou opírá o anamnézu, kdy nejčastěji svědci popisují vznik vážného stavu po konzumaci neznámé tekutiny či v závislosti na popíjení alkoholu (oslavy, možná je otrava více lidí najednou). Při podezření na otravu metanolem je nutné reagovat velmi rychle. Metanol lze odhalit vyšetřením krve a moči. Laboratorní vyšetření pak určí konkrétní koncentraci látky (využívá se plynové chromatografie). Možné je vyšetření krve, moči, zvratků či vzorků požité kapaliny.
Krom diagnostiky metanolu v organismu je velmi důležité, aby lékaři sledovali celkový stav intoxikovaného, především hodnoty vnitřního prostředí (typická je metabolická acidóza) k němž patří pH, acidobazická rovnováha, osmolární a aniontová mezera, koncentrace iontů v krvi, důležité je monitorovat jaterní a renální funkce, glykémii a srdeční oběh s dýcháním.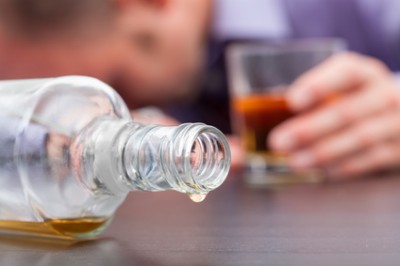 Příznaky otravy metanolem jsou již velmi rozvinuty po 12 hodinách po užití.
Otrava metanolem - léčba
V případě že zjistíme, že blízká osoba omylem požila čistý metanol nebo jinou tekutinu obsahující metanol, vyhledejte okamžitě lékařskou pomoc, nejlépe přivolejte záchrannou službu (155). Pokud jste si naprosto jistí, že šlo o čistý metanol nebo jinou látku obsahující metanol, jako první pomoc je možné podat několik mililitrů 40% destilátu, který zředíme džusem nebo vodou (musíme si ale být jisti, že jde o kvalitní destilát bez příměsi metanolu). Příkladem by mohla být vodka nebo koňak. Po podání alkoholu okamžitě vyhledejte lékařskou pomoc. Velmi často je nutná hospitalizace se sledováním vnitřního prostředí, krevního oběhu a orgánových funkcí.
Metanol, stejně jako etanol (běžný alkohol), jsou metabolizovány v játrech. Při metabolizaci tělo využívá enzym alkoholdehydrogenázu, která běžný alkohol-etanol rozloží na oxidací na acetaldehyd a acetát, což je vlastně kyselina octová. Acetaldehyd je je toxická látka, která má při vyšší konzumaci na svědomí tzv. kocovinu (bolest hlavy, nevolnost, slabost). Za normálních okolností se acetaldehyd v těle nehromadí, ale velmi rychle se rozkládá. Kyselina octová je pak pro tělo neškodnou látkou. Pokud jde ale o metanol, je stejně jako alkohol metabolizovaný v játrech alkoholdehydrogenázou, touto reakcí ale vzniká velmi toxický formaldehyd a kyselina mravenčí. V případě, že dojde k požití metanolu, alkoholdehydrogenáza ho začne postupně zpracovávat. Pokud ale zároveň podáme etanol (běžný alkohol) jako první pomoc nebo v případě, že intoxikovaný společně s metanolem konzumoval také etanol, alkoholdehydrogenáza začne nejprve zpracovávat přednostně etanol, a tím je vlastně vyblokována pro zpracovávání metanolu. Metanol pak není rozkládán na své toxické metabolity.
Toto je princip důvodu, proč lidé, kteří konzumují nekvalitní destiláty s obsahem metanolu a zároveň k tomu popíjejí jiný typ alkoholového nápoje (pivo, víno, kvalitní destilát), mají mnohem menší následky otravy metanolem, někdy ani neví o tom, že k intoxikaci metanolem došlo. Osoby, které pozřou pouze čistý metanol bez etanolu, jsou pak poměrně rychle intoxikovány a hrozí velmi vážné následky v podobě slepoty či celkového vnitřního rozvratu.
Nemocniční léčba lehké metanolové intoxikace probíhá jako podávání alkoholu per os (ústy) nebo v kombinaci s glukózou intravenózně (do žíly). Koncentrace alkoholu se udržuje většinou na hodnotě 1 promile do doby, dokud již žádný metanol není v krvi detekován. V případě těžké intoxikace musí být léčba velmi komplexní. Je možné opět podat alkohol intravenózně, další možností je lék fomepizol, což je specifický inhobitor alkohodehydrogenázy. Ten specificky vyblokuje tento enzym a metanol již nemůže být rozložen na toxické metabolity. Použít je možné také kyselinu listovou nebo její aktivní formu leukovorin, které se účastní na oxidaci kyseliny mravenčí a tím urychlí její rozklad na netoxické metabolity.
Při těžkých otravách metanolem se také využívá hemodialýza, která krev pročistí a odstraní z ní přítomný metanol i jeho metabolity, hemodialýza je také schopná upravit metabolické poruchy a zkorigovat acidobazickou rovnováhu. Těžké intoxikace metanolem jsou ale vždy velmi vážnými stavy a intoxikovaná osoba je v bezprostředním ohrožení života s vysokým rizikem vážných následků v podobě slepoty a dalších postižení (selhání ledvin a jater). K léčbě patří neustálá intenzivní péče lékařů a nemocničního personálu, kontrola koncentrace metanolu v krvi, kontrola funkcí všech orgánů, velmi často je dotyčný připojený v bezvědomí k umělé plicní ventilaci.
Prevence intoxikace metanolem
Základem prevence intoxikace metanolem je celková opatrnost. V žádném případě nenalévejte metanol, rozpouštědla, tekutiny do ostřikovačů a jiné toxické látky do láhví od vody, mléka, limonád atd. Pokud tak již učiníte, velmi výrazně láhev označte aby nikdy nemohlo dojít k záměně. Jelikož je normálně metanol čirý, je opravdu velmi jednoduché si ho splést s vodou. V některých zemích je povinnost metanol barvit na modro, aby k záměně nemohlo dojít. Pokud jste milovníci alkoholu, a to především destilátů, vždy si dávejte velký pozor, jaký alkohol pijete, zda jde opravdu o kvalitní kolkovaný destilát ze známého zdroje a vyhýbejte se domácím palírnám či pašovanému levnému alkoholu.