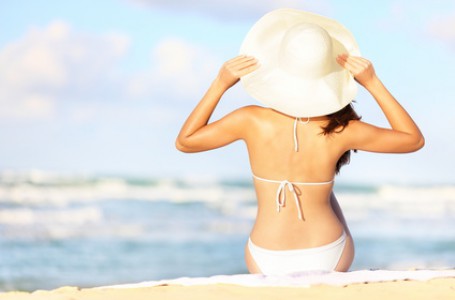 Maligní melanom
Maligní melanom je zhoubné nádorové onemocnění vznikající nekontrolovaným růstem a nádorovou transformací, přeměnou melanocytů. Melanocyty jsou pigmentové buňky, které se nacházejí hlavně v kůži, ale také například v oku, vnitřním uchu nebo mozkových obalech. Jedná se tedy převážně o nádory kožní, ale mohou se vyskytnout i jinde. Melanom je velmi závažným onemocněním, stejně jako jiné nádory může metastazovat, tedy vytvářet dceřiná ložiska v různých orgánech a tím pacienta ohrožuje na životě.
Výskyt maligního melanomu
Výskyt melanomu se obecně zvyšuje. Především postihuje bílou populaci, u afroameričanů je výskyt až dvacetkrát nižší, ale u černochů bývá vyšší úmrtnost, protože se u nich objevuje agresivnější typ melanomu a navíc bývají častokrát objeveny v pozdějším stádiu. Většinou se toto onemocnění vyskytuje mírně častěji u žen. Ve věku mezi 25 a 29 lety je melanom u žen nejčastějším nádorovým onemocněním celkově. Obecně se ovšem objevuje spíše ve starším věku.
Vznik maligního melanomu
Zatím nebylo zcela objasněno, proč melanom vzniká. Důležitou roli hraje sluneční záření. Škodlivým faktorem je hlavně UV (ultrafialové) záření a to zejména jeho UVB složka, které působí na místa exponovaná, vystavená slunci.
Vznik melanomu doprovází mutace v genech, tedy změny v základních jednotkách dědičnosti. Typy mutací souvisí s expozicí slunečnímu záření, některé jsou častější v místech přímo vystavených slunci, jiné spíše na relativně neexponovaných místech.
Jak již bylo řečeno, častěji se melanom vyskytuje ve vyšším věku, nad 50 let. Velkou roli hraje také dědičnost, tedy výskyt tohoto typu nádoru v rodině. Geneticky je dána také citlivost ke slunečnímu záření. Určité předpoklady pro objevení se melanomu se vytváří již v útlém dětství. Je to dáno množstvím pobytu na slunci. V současné době se předpokládá, že počet mateřských znamének na naší kůži přímo úměrně souvisí s dávkou ultrafialového záření, kterou jsme dostali v prvních letech života. I když maligní melanom vzniká z mateřských znamének jen někdy, vzrůstá při jejich vyšším počtu úměrně i riziko vzniku tohoto nádoru. Riziková jsou atypická znaménka, velká a měnící se pigmentové skvrny. Také naše chování na slunci v dospělém věku výrazně ovlivňuje vznik tohoto nádoru. Vyšší výskyt souvisí s cestováním do jižních krajin. Rizikové je také opalování v soláriích. Negativně působí i snížená obranyschopnost organizmu ať už vlivem léků nebo jakékoliv nemoci.
Jak může maligní melanom vypadat
Na původně zdravé kůži se začne tvořit odlišně barevná skvrna, která se zvolna zvětšuje a postupně přibývá na tloušťce. Další možností může být změna mateřského znaménka, které mohlo být roky klidné, ale najednou dojde k změně barvy, tvaru nebo velikosti. Ne vždy se musí jednat o nejhorší variantu, tedy zhoubný nádor, ale vždy je třeba nechat si jakoukoliv takovou podezřelou skvrnu nebo měnící se znaménko zkontrolovat odborným kožním lékařem, tedy dermatologem. Spousta pacientů čeká s vyšetřením do doby, než se objeví krvácení z nádoru, svědění nebo zarudnutí, toto jsou už ovšem známky pokročilého onemocnění.
Existuje takzvané ABCDE pravidlo shrnující hlavní varovné příznaky týkající se vzhledu znamének a skvrn.
A znamená asymetrii. Takové znaménko nemá tvar kruhu nebo oválu, ale jakýkoliv nepravidelný útvar.
B anglicky border, tedy ohraničení. Podezřelé jsou skvrny nepravidelně ohraničené, neostré s různými výběžky.
C colour znamená barva. Čím je znaménko tmavší, tím větší je riziko. Všímat bychom si měli také celistvosti barvy, vždy je horší, když se střídají různé odstíny pigmentace.
D diameter je průměr. Za povšimnutí jednoznačně stojí skvrny většího průměru než 5 milimetrů.
E elevation tedy vyvýšení. Pokud znaménko roste do výšky, opět může znamenat riziko zhoubné transformace.
Nesmíme zapomenout také na to, že melanom jak již bylo řečeno se může vyskytnout také na jiných částech těla než je pouze kůže. Zrádný je výskyt pod nehtem, kdy může připomínat modřinu. Pokud si ovšem dotyčný nevybavuje žádné zranění, je třeba tomuto věnovat pozornost. Je nutné sledovat, jestli se skvrna posouvá postupně s odrůstáním nehtu nebo jestli zůstává na stejném místě. Pokud se posouvá, jedná se pravděpodobně pouze o modřinu.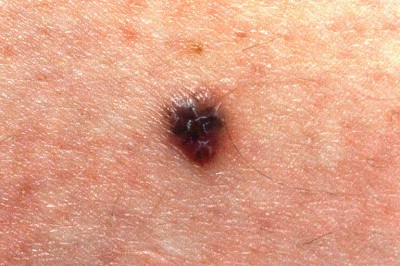 Existuje takzvané ABCDE pravidlo shrnující hlavní varovné příznaky týkající se vzhledu znamének a skvrn.
Diagnostika maligního melanomu
Velmi podstatné je samovyšetření. Každý totiž zná svou kůži nejlépe, a proto může pozorovat jakékoliv změny. Všechny části těla by měly být systematicky prohlédnuty. Celkově vyšetření zabere maximálně 5 minut a je třeba pouze velké zrcadlo, osvětlení a malé příruční zrcátko. Prohlédnuty musí být všechny části, včetně podpaží, mezi prsty a dalších méně přehledných míst. Pomocí ručního zrcátka se dají prohlédnout i záda nebo třeba zadní část krku a oblast za ušima. Nutné je také sledovat jakékoliv skvrny pod nehty nebo třeba na sliznicích. Toto je velmi účinná metoda, jak předcházet tomuto závažnému onemocnění. Mělo by se opakovat alespoň třikrát do roka.
Samozřejmě jakmile objevíme cokoliv podezřelého, ihned bychom měli navštívit kožního lékaře. Dermatologové používají speciální přístroj, takzvaný digitální dermatoskop. Je to v podstatě osvětlená lupa, která se přikládá přímo na pokožku. Podezřelý útvar je tak zvětšený až padesátkrát. Lékař takto může posoudit znaménko zrakem, ale tím, že dermatoskop může být i digitalizovaný, může být obraz přenesený na obrazovku, uložen a zhodnocen také speciálním počítačovým programem. Tato vyšetření jsou samozřejmě základ, ale nejsou stoprocentní.
K úplnému stanovení diagnózy je nutné chirurgické odstranění znaménka a histologický rozbor. Jedná se o mikroskopické vyšetření vyříznuté tkáně. Takto se tedy jednoznačně potvrdí nebo naopak vyvrátí podezření na maligní melanom, ale také se takto určí stadium onemocnění. Jedním z hlavních kriterií je tloušťka. Pokud je větší než 1 milimetr, znamená vždy horší prognózu. Jakmile je určeno, že se skutečně jedná o maligní melanom, provádí se dle stadia onemocnění další opatření a vyšetření. Nutné je vyšetření spádových uzlin, které mohou být postiženy nádorovými buňkami. Běžně se provádí rentgenový snímek srdce a plic a ultrazvukové vyšetření břicha k vyloučení metastatických ložisek. Další vyšetření, jako například CT, nukleární vyšetření nebo magnetická rezonance jsou indikovány podle konkrétního případu. Melanom může zakládat vzdálené dceřiné nádory v podstatě kdekoliv, proto bývá někdy nutné celkové interní nebo neurologické vyšetření.
Léčba maligního melanomu
Na prvním místě je jednoznačně chirurgické odstranění nádoru, které je nutné také ke stanovení diagnózy. Často je potřeba řez ještě jednou zopakovat a rozšířit. Histologickým rozborem je totiž možné zjistit, že postižené buňky zasahovaly dále, než bylo viditelné okem. Nádorové buňky se mohou různými cestami šířit dále. U melanomu je to nejčastěji pomocí mízních cév, které ústí do mízních uzlin, kde se mohou shromažďovat. Podle místa výskytu existuje první spádová uzlina, kam se nádorové buňky dostanou nejdříve. Tato uzlina se dnes již dá pomocí speciálního přístroje vyhledat, operačně vyjmout a opět mikroskopicky vyšetřit. Pokud se nádor potvrdí i tady, musí se odstranit všechny další uzliny poblíž.
Pokud je onemocnění zachyceno v brzkém stadiu, není třeba u nízkorizikových pacientů po chirurgickém odstranění žádná další léčba. U rizikovějších pacientů je v následujících dvou letech nutná následná imunoterapie. Při takovéto léčbě je podáván interferon alfa, což je látka, která je i za normálních okolností vytvářena v našem těle buňkami imunitního systému. Podáváním interferonu je podpořena obranyschopnost organismu, která je mimo jiné nasměrována na vychytávání a zabránění šíření nádorových buněk. U pokročilejších stadií melanomu již nastupuje agresivnější léčba. V případě metastáz, pokud je to možné, jejich chirurgické odstranění. Dále bývá nutné ozáření nebo chemoterapie. Kožní metastázy je možné také zmrazit nebo přímo do nich aplikovat imunomodulační látky, které opět posilují obranyschopnost.
Velmi důležitá je následná dispenzarizace pacienta v odborné ambulanci, tedy pravidelné kontroly. Jednak se u pacienta i s odstupem mohou objevit metastázy a také se může objevit melanom znovu, ať už v jizvě po operaci nebo kdekoliv jinde. Nemocní, kteří již jednou prodělali toto onemocnění, mají až desetkrát vyšší riziko, že se u nich melanom objeví znovu. Proto jsou pravidelné prohlídky určené lékařem velmi důležité. Nejintenzivnější sledování by mělo následovat v prvních pěti letech po operaci. Četnost prohlídek a nutnost dalších vyšetření vždy určí dermatolog s ohledem na stadium onemocnění.
Prevence maligního melanomu
Jak už bylo řečeno, velmi významně se na vzniku melanomu podílí sluneční záření. Je to hlavně UVB složka, v solariích pak UVA složka. Nejen že působí rakovinotvorně na naši kůži, ale také způsobují její stárnutí. Nedá se ovšem říct, že by slunce bylo jenom škodlivé. Nejen že pozitivně ovlivňuje psychiku, ale také podporuje produkci vitaminu D a na některá kožní onemocnění jako třeba lupénku nebo atopický ekzém působí v rozumné míře prospěšně. Je tedy nutné dodržovat určité zásady. Přímému slunci bychom se měli vyvarovat co nejvíce, omezit bychom měli slunění hlavně mezi 11 a 15 hodinou. V této době bychom se měli zdržovat co nejvíce ve stínu a navíc se krýt oděvem. Dnes již existují tkaniny s UV faktorem, proto pokud plánujeme pobyt na přímém slunci, je dobré toto speciální oblečení využít.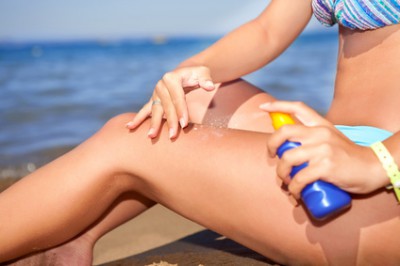 Nutné je používání opalovacích krémů s odpovídajícím ochranným faktorem.
Nutné je také používání opalovacích krémů s odpovídajícím ochranným faktorem. SPF faktor vyjadřuje, jaké množství ultrafialového záření se při používání krému dostane do těla. Například faktor 10 propustí 1/10 záření. Zjednodušeně řečeno prodlouží náš pobyt na slunci desetkrát při vzniku stejných škod, jako kdybychom opalovací krém nepoužili. Krém bychom měli aplikovat systematicky na celé tělo alespoň 20 minut před opalováním. Aplikaci je nutné během dne opakovat. Při koupání je důležité používat přípravky s označením water - každých 40 minut a water - proof každých 80 minut. Musíme myslet také na to, že dávka záření se zvyšuje s nadmořskou výškou, proto bychom se měli adekvátně chránit na horách, ale také při odrazu slunce od sněhu nebo vody. Samozřejmě každý reaguje na slunce jinak, někdo se spálí po krátké době, jiný jen vyjímečně. Proto vždy při výběru ochrany proti UV záření zvažujeme také vlastní fototyp, který si může každý sám určit podle testů, které jsou běžně dostupné na internetových stránkách. Ještě je třeba zdůraznit, že bychom přímému slunci neměli vůbec vystavovat děti do 1 roku a starší děti jen přiměřeně.
Na závěr je tedy třeba říci, že jedinou známou prevencí vzniku melanomu je účinná ochrana před ultrafialovým zářením, ať už ze slunce nebo z umělých zdrojů, samovyšetření kůže, popřípadě uzlin a včasné vyhledání lékaře při jakémkoliv problému.