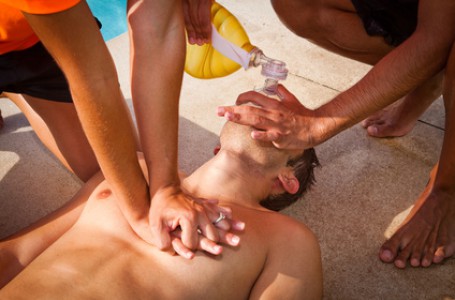 Při infarktu myokardu je třeba v případě srdeční zástavy okamžitě začít s kardiopulmonální resuscitací.
Obecně infarkt, přesněji pak infarkt myokardu, česky srdeční mrtvice nebo srdeční záhať, je akutní onemocnění srdce, ke kterému dochází po přerušení krevního toku do určité části srdce. Průtok krve se přeruší uzávěrem srdeční věnčité tepny (koronární tepny), která danou oblast srdce vyživuje a dodává místu kyslík a nezbytné živiny. Zastavením průtoku krve a přerušení výživy srdečného oddílu může způsobit nevratné poškození srdečního svalu, hrozí až náhlá srdeční smrt, kdy je srdce natolik poškozené, že nemůže dál pumpovat krev do celého těla. K těmto fatálním důsledkům často dochází při záměně příznaků s jiným onemocněním, postižený vyhledá lékaře velmi pozdě nebo vůbec. Infarkt myokardu se řadí k onemocněním kardiovaskulárního systému. Během posledních let došlo k obrovskému zlepšení léčebných možností, nutné je ale vyhledat lékařskou pomoc co nejdříve.
Srdce
Lidské srdce je dutý orgán, který je tvořen srdeční svalovinou. Jako každý sval má schopnost se stahovat. Pravidelnými stahy tak funguje jako čerpadlo a zajišťuje pohyb krve po celém těle. Tím dochází k nezbytnému přenosu dýchacích plynů (kyslík a oxid uhličitý), živin a odpadních látek. Lidské srdce je složeno ze dvou síní a dvou komor, které jsou odděleny chlopněmi. Tím dochází k oddělení krve okysličené, která směřuje k orgánům a mozku od krve odkysličené, která naopak přichází z orgánů a směřuje do plic. Jako každý orgán v těle i srdce potřebuje ke své funkci kyslík a živiny. Ačkoliv uvnitř srdce koluje velké množství krve bohaté na kyslík a živiny, srdce není schopno si je z této krve odebrat přímo, protože rychlost krve je moc vysoká a stejně tak tlak uvnitř krve je moc velký, tím srdce nedostává dostatečný čas k tomu, aby mohlo z krve potřebné složky využít. Je proto nutné, aby bylo srdce zásobováno zvenku.
Na srdce navazuje jako první velká tepna aorta, ze které hned nad aortální chlopní vychází dvě věnčité - koronární tepny, které mají na starosti zásobování celého srdce. Z aorty vnikají do srdečního svalu, obkružují celé srdce, vytvářejí jemnou síť, která svým tvarem připomíná věnec (proto věnčité tepny).
Jak bylo řečeno, koronární tepny jsou dvě - pravá a levá. Každá z nich zásobuje jinou část srdce. Jakmile dojde k uzávěru jedné z tepen (nebo obou), srdce není zásobováno krví a dochází k infarktu srdečního svalu. Jakmile dojde k úplnému odumření svaloviny, je to nevratný stav, který se hojí vazivovou jizvou bez schopnosti stahovat se.
Příčiny vzniku infarktu myokardu
Ke vzniku infarktu dojde, pokud se přeruší přísun kyslíku a živin do jedné a více větví koronárních tepen. K uzávěru nejčastěji dojde ucpáním postupujícím nárůstem cholesterolového plátu, který může prasknout. Obnaží se dosud chráněná stěna cévy a vytvoří se krevní sraženina. Jinou možností je pak vmetení malé sraženiny krve, která vznikla jinde než v srdci z mnoha příčin, případně může k uzávěru dojít malou vzduchovou bublinou, která se vytvoří při změně tlaků a rozpustnosti krevních plynů při potápění.
Pokud je příčinou infarktu cholesterolový plát, oblast tepny, která je postižená cholesterolovým plátem, je nejdříve pomalu zužována. Tento stav se nazývá ateroskleróza neboli kornatění tepen. Postižená osoba nemusí do doby infarktu pociťovat žádné příznaky. Často je ale omezená jeho fyzická výkonnost nebo se může se zvyšující se aktivitou objevovat přechodná bolest na hrudi - tzv. angina pectoris.
Velmi vzácnou možností vzniku infarktu myokardu je reflexní spazmus věnčitých tepen. Ty se stáhnou a uzavřou, srdce tak není zásobováno krví a opět dochází k infarktu srdečního svalu. K tomuto spazmu může dojít například užíváním kokainu, který tento spazmus může vyvolat. K dalším méně častým příčinám vzniku patří disekce koronárních tepen nebo vmetnutí nádorových buněk do věnčitých tepen při onkologickém onemocnění.
K neznámějším faktorům, které stojí za vznikem poškození věnčitých tepen a tím ke vzniku infarktu myokardu je kouření cigaret, zvýšená konzumace tučných jídel a tím vysoká hladina cholesterolu v krvi, stres, obezita, přetěžování organismu psychicky i fyzicky nebo naopak málo pohybové aktivity.
Průběh infarktu myokardu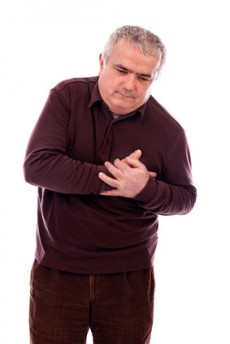 Při infarktu myokardu se nejčastěji objevuje pocit tlaku na hrudi trvající několik minut.Infarkt myokardu je vlastně konečným stádiem uzávěru tepen a celý proces odumírání srdeční svaloviny trvá několik hodin. Pokud není do 2 hodin obnoven průtok tepnami, dochází k nezvratným změnám až ke smrti svalovým buněk. Následkem uzávěru tepen může dojít až zástavě oběhu a náhlé srdeční smrti. Stav je provázen kardiálním šokem. S každou přibývající minutou je srdeční tkáň bez přítoku krve odsouzena k zániku. Naopak pokud rychle dojde k obnovení průtoku, existuje velká šance, že se všechny srdeční funkce obnoví a předejde se poškození. Infarkt myokardu bývá provázen typickými příznaky, které ale bohužel někdy mohou být zaměněny s podezřením na jiné onemocnění.
Nejčastěji se objevuje pocit tlaku na hrudi trvající několik minut. Častá je krutá svíravá bolest v oblasti hrudníku a srdce, která začíná vystřelovat do levého ramene a může se objevit až v oblasti krku a dolní čelisti, proto může být zaměněn infarkt s podezřením na zánět zubů. Bolest dále můžete pociťovat od ramene v celé horní končetině nebo v oblasti zad, případně v nadbřišku. Typické je opocení, s lepkavou kůží, zkrácené dýchání, pocity nevolnosti nebo až zvracení. Objevit se může porucha zraku, pocit pálení v oblasti srdce, pocit úzkosti.
Veškeré příznaky se mohou objevit kdykoliv, nejčastěji vznikají v klidu ve spánku nebo v dopoledních hodinách, nemusí být vůbec spojeny se stresem nebo zvýšenou aktivitou, proto často dotyčného překvapí. Ve výjimečných případech může dojít k tzv. němému infarktu, který proběhne bez jakýchkoliv příznaků, ale nejčastěji se alespoň několik příznaků objeví s menší nebo větší intenzitou. Většina postižených také často prodělá tzv. varovné příznaky, kdy v předchozích dnech nebo až měsících se v době zvýšené zátěže objevuje bolest na hrudi (angina pectoris), bolest se uklidní, jakmile tělu ulevíte a odpočinete si. Naopak při infarktu myokardu bolest nepolevuje ani v klidu, ani změnou polohy těla.
Pokud máte podezření, že proděláváte infarkt myokardu, reagujte rychle a ihned volejte rychlou záchrannou pomoc, která by vás měla do 2 hodin dopravit do nejbližšího kardio centra s tzv. koronární jednotkou. Vždy je lepší stav přecenit a preventivně zavolat pomoc než podcenit až dojde k nenávratným změnám. Raději si o pomoc řekněte a vyhněte se řízení vozidla. Vystavili byste se tak dalším rizikům, proto řiďte pouze je-li to nezbytně nutné a neexistuje pro vás jiná možnost. Mnoho lidí čeká s vyhledáním pomoci příliš dlouho, protože neumí správně posoudit příznaky nemoci.
Komplikace infarktu myokardu
Infarktem myokardu může dojít k nezvratnému poškození srdce. Srdce nemůže jako sval fungovat tak, jak má, a srdeční stahy nejsou jako dřív. Typickou komplikací bývají změny srdečního rytmu, které mohou vést k fibrilaci a až k zástavě srdce. Pokud srdce nemůže správně pumpovat dostatečné množství krve, dochází pomalu k srdečnímu selhání. Mění se stavba srdce, stěny srdce ztlušťují nebo se můžou roztáhnout srdeční dutiny. Orgány nejsou adekvátně prokrvené a objevují se komplikace jako dušnost nebo snížená funkce ledvin. Krev je špatně pumpovaná z orgánů zpět do srdce, dochází k otokům nohou, může docházet ke tvorbě plicního výpotku. Při infarktu mohou být poškozeny srdeční chlopně nebo může dojít k oslabení srdečních stěn a tím se zvýší riziko prasknutí stěny. Komplikace může vyřešit užívání léků ke zlepšení funkce srdce.
Diagnostika infarktu myokardu
Pokud máte podezření na infarkt myokardu, urychleně zavolejte lékařskou službu první pomoci (LSPP). Jakmile dorazí, převezme si vás nebo postiženou osobu. Lékař vás vždy vyzve k popisu vašich obtíží, zeptá se na vaši osobní anamnézu, kdy zjistí, s jakým onemocněním se léčíte, zda už jste někdy infarkt v minulosti prodělali, jaké léky užíváte. Ihned by vás měl napojit k EKG (elektrogardiograf) a mělo by být vyhodnoceno, zda jde o infarkt nebo ne. Většinou lékař posílá záznam do nejbližší koronární jednotky, kde lékař rozhodne, zda má LSPP pacienta na jednotku přivézt a pacient může být co nejrychleji léčen.
Lékař vám změří krevní tlak a pulz, bude sledovat váš krevní pulz a dechovou aktivitu. Lékař by vám měl ihned zajistit žilní vstup, může aplikovat některé léky například proti bolesti nebo aplikovat infuzi tekutin. Po příjezdu do nemocnice vám bude odebrána krev, kdy lékař pátrá po příznacích infarktu. V době infarktu můžou být zvýšené hladiny některých enzymů a jiných látek, které jsou uvolňovány z poškozeného srdečního svalu, můžou infarkt také prokázat. Budete neustále monitorování EKG. EKG monitoruje elektrickou aktivitu srdce a lze z něj vyčíst, která oblast srdce je poškozena a jak.
V průběhu infarktu myokardu dochází k typickým změnám, které EKG zaznamená a lékař je pak vyhodnotí. Asi nejčastěji se hovoří o tzv. Pardeeho vlně na EKG záznamu. Z EKG lékař může vyčíst, zda jde o akutní infarkt, který aktuálně probíhá, nebo zda jde o infarkt, který už proběhl v minulosti případně může být infarkt opakovaný. Další zobrazovací možností je rentgenový snímek hrudníku, ze kterého lze vyčíst velikost a uložení srdce. Viditelný může být i plicní výpotek, případně zánět plic, který může infarkt někdy imitovat. Pokud je tedy infarkt myokardu opravdu prokázán, je potřeba obnovit krevní průtok ve věnčitých tepnách co nejdříve.
Léčba infarktu myokardu
Pokud máte podezření na infarkt myokardu, první pomocí může být nitroglycerin, který může přechodně ulevit vašim obtížím. Proto pokud vás lékař už dříve vybavil tímto lékem, nebojte se ho použít v době čekání na příjezd lékařské rychlé služby LSPP (lékařská služba první pomoci). Další možností je použití aspirinu (kyseliny acetylsalicylové - Aspirin, Godasal, Gopten). Užitím těchto léků dojde k roztažení cév a prevenci tvorby krevních sraženin. Nejlepší ale je, pokud užití konzultujete s lékařem LSPP telefonicky při volání první pomoci.
První pomoc při infarktu myokardu
Pokud se setkáte s člověkem, o kterém si myslíte, že by mohl prodělávat infarkt myokardu a dojde u něho k srdeční zástavě, urychleně začněte s kardiopulmonální resuscitací, kdy srdeční masáží (100 stlačení hrudní kosti za minutu do hloubky asi 2/3 hrudníku střídané vdechy v poměru 30:2) pomůžete nahradit poškozené srdce a okysličíte tak mozek a životně důležité orgány. V resuscitaci pokračujte do obnovení krevního oběhu nebo do příjezdu LSPP. Pokud máte ve své blízkosti defibrilátor (automatický externí defibrilátor AED), určitě ho použijte. Pomůže vám s resuscitací a rozliší, zda srdeční akce je přítomná a případně jaká. Často u infarktu dochází k fibrilaci srdce, kdy jedinou pomocí je defibrilace defibrilátorem.
Jakmile dorazí vůz LSPP, lékař si vás nebo pacienta převezme a rychle začne s diagnostikou vašich obtíží. Pokud na EKG zjistí akutní infarkt myokardu, může začít s léčbou ještě po cestě do nemocnice. V nemocnici si pacienta převezme kardiolog, pokračuje v diagnostice a ihned by měl zajistit opatření a pokračovat v léčbě. Cílem je obnovit průtok krve ve věnčitých tepnách. Jednou z nejmodernějších metod léčby je tzv. koronární katetrizace srdce neboli invazivní angiografie. Kardiolog zavede do některé z vašich periferních cév tenký drátek (vodič). Nejčastěji použije tepnu na předloktí (arteriaradialis) nebo tepnu v oblasti třísla. Pod kontrolou rentgenem drátek zavede až do srdce, drátek je vlastně tenký dutý katetr. V srdci pak může uvolnit katetrem kontrastní látku, pomocí které se zobrazí koronární tepny. Lékař tak ihned vidí, zda jsou tepny zúžené, jak moc krev tepnami protéká a kde došlo k akutnímu uzávěru. Pomocí katetru může provést úpravu koronární tepen a obnovit průtok krve. Výkonu se říká angioplastika. Na konci katetru je balónek, který se v místě zúžení nafoukne a zúžená tepna se roztáhne. Je možné také zavést do míst zúžení stent, který zúžené místo vyztuží.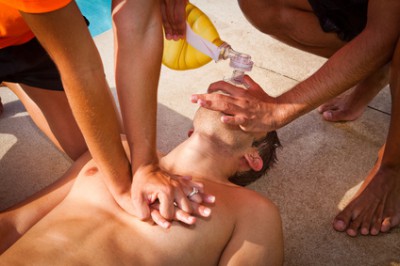 Při infarktu myokardu je třeba v případě srdeční zástavy okamžitě začít s kardiopulmonální resuscitací.
Srdeční bypass
V některých případech jsou cévy natolik zúžené, že angioplastika není možná nebo není možné zajistit, že se infarkt myokardu v brzké době nebude opakovat. Po úpravě stavu po infarktu je nutné přistoupit k akutní operaci bypassu. Bypass je vlastně nahrazení věnčitých tepen nejčastěji žílami z dolních končetin, kdy se žíly našijí místo postižených věnčitých tepen a zajistí tak náhradní cestu pro průtok krve a výživu srdce.
Pokud lékař usoudí, že nejste vhodným adeptem k srdeční katetrizaci, jinou možností je léčba léky. Většinou léčba obsahuje kyselinu acetylsalicylovou (Aspirin) k naředění krve, k dalším lékům patří trombolytika, která rozpustí přítomné sraženiny v tepnách a zajistí tak znovuobnovení průtoku věnčitými tepnami. Často se užívají další léky k ředění krve, ke kterým patří clopidogrel (Plavix) a další látky zabraňující agregaci krevních destiček. Sraženinám také předchází heparin, který se aplikuje do žíly nebo pod kůži. Nutné jsou léky proti bolesti, nitroglycerin (roztahuje věnčité tepny), beta blokátory zlepšující srdeční funkci (relaxují srdeční sval, sníží srdeční frekvenci a sníží krevní tlak, tím uleví srdci a zjednoduší srdeční práci). V případě zvýšené hladiny cholesterolu látky snižující tuto hladinu. Čím dříve léky dostanete, tím je vyšší šance k obnovení správných funkcí srdce. Od vzniku prvního infarktu už musíte být doživotně léčení, a to léky podporujícími lepší srdeční funkci a léky které ředí krev, aby nedocházelo k opakovanému ucpání věnčitých tepen. Lékař vás vybaví nitroglycerinem, betablokátory, aspirinem, clopidogrelem a případně léky snižujícími hladinu cholestreolu.
V následujících týdnech po angioplastice je nutné, abyste prodělali tzv. stresový test, kdy se zjistí, jak velkou zátěž vaše srdce vydrží. Je nutné, aby při testování byl vždy přítomný lékař, vždy budete připojení k EKG a další monitoraci. Test je na principu pomalu zvyšující se zátěže, nejčastěji jde o šlapání na kole nebo chůzi po pásu. Zátěž se zvyšuje a lékař sleduje, kdy se objeví změny na srdci. Díky testu pak lékař může doporučit vhodnou léčbu a režimová opatření.
Prevence infarktu myokardu
Nikdy není pozdě zajistit následující opatření, abyste do budoucna zamezili možnosti vzniku infarktu myokardu. Opatření také může pomoct v prevenci dalších infarktů, pokud už jste jeden prodělali. Důležité jsou vnější faktory a celkově životní styl. Nutné je nezačínat s kouřením nebo s ním přestat, pokud kouříte. Buďte aktivní a pravidelně sportujte, minimem je 4x týdně kilometr rychlé chůze. Konzumujte zdravá netučná jídla, hlavně hodně ovoce a zeleniny. Pokuste se redukovat stres na minimum, kontrolujte svoji tělesnou hmotnost a pokud trpíte vysokým tlakem, začněte ho léčit a snažte se jej snížit na optimální hodnoty. K rizikovým faktorům patří vysoká hladina cholesterolu v krvi a diabetes, proto se soustřeďte na léčbu těchto faktorů. Pokud už jste jeden infarkt prodělali, pravidla jsou stejná, ale ještě je nutné užívat léky doporučené lékařem.