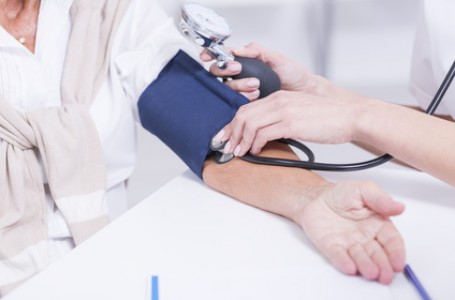 Connův syndrom se nejčastěji projevuje vysokým krevním tlakem
Connův syndrom neboli primární hyperaldosteronismus je endokrinní (hormonální) onemocnění charakterizované zvýšenou hladinou aldosteronu v krvi. Connův syndorm stojí za poměrně velkým počtem osob trpících vysokým krevním tlakem. Connův syndrom se statisticky vyskytuje o něco častěji u žen. Nejčastěji je onemocnění odhaleno u osob mezi 30 a 50 lety věku.
Aldosteron je velmi důležitý hormon produkovaný nadledvinami. Nadledviny jsou párový endokrinní orgán, který se nachází, jak z názvu vyplývá, nad oběma ledvinami. Nadledviny se skládají z kůry a dřeně a jako endokrinní neboli žlázy s vnitřní sekrecí se podílejí na tvorbě několika životně důležitých hormonů. V kůře nadlevin se vytváří tzv. glukokortikoidy a mineralokortikoidy.
Glukokortikoidy, z nichž je hlavním hormonem kortizol, mají velký vliv na metabolismus a imunitu organismu, umožňují člověku přežít vysoce stresové situace. Mineralokortikoidy, jejichž hlavním představitelem je aldosteron, mají vliv na ledviny, cévy a tělesné tekutiny. Mineralokortikoidy snižují ztráty sodíku do moči, zvyšují ztráty draslíku a zvyšují krevní tlak. V kůře nadledvin se v malé míře produkují také pohlavní hormony. Naopak dřeň nadledvin evolučně patří k nervové soustavě. Jde o modifikované sympatické ganglium a buňky dřeně produkují katecholaminy. Nejdůležitějším katecholaminem je adrenalin a noradrenalin. Dřeň v malém množství produkuje také dopamin.
Celý tento systém reaguje na zátěžové reakce a spouští poplachovou reakci stresu (úraz, krvácení, stres, strach, útěk před nebezpečím). Funkce nadledvin je začleněna do poměrně dost složitého systému. Vylučování hormonů je tak řízeno na několika úrovních. Vyšší funkci v tomto systému má mozek a to konkrétně hypothalamus a hypofýza (podvěsek mozkový).
Connův syndrom byl pojmenován po Jerome W. Connovi. Tento americký lékař popsal jako první v roce 1955 u pacientů s vysokým krevním tlakem vysokou hladinu aldosteronu a také přítomnost nádoru-tzv. adenomu nadledvin. Doktor Conn tím odhalil spojitost mezi zvýšenou hladinou aldosteronu a adenomem nadledvin. Tento stav pak pojmenoval jako primární aldosteronismus. V minulých desetiletích bylo toto onemocnění považováno za velmi vzácné. S vývojem diagnostických metod bylo ale zjištěno, že často stojí za vysokým krevním tlakem.
Aldosteron
Aldosteron je steroidní hormon a hlavní mineralokortikoid, který je produkovaný vnější zónou (zona glomerulosa) kůry nadledvin. Aldosteron hraje hlavní roli při regulaci krevního tlaku. Aldosteron působí především na oblast distálního tubulu a oblast sběracích kanálků ledvin. Díky aldosteronu ledviny znovuabsorbují některé ionty a vodu. V ledvinách dochází k šetření sodíku, vylučování nadbytečného draslíku, zadržování vody. Tím dochází ke zvýšení krevního tlaku a objemu krevní náplně. Aldosteron se svými vlastnosti řadí do tzv.renin-angiotensin-aldosteron systému. Aldosteron byl poprvé popsán Simpsonem a Taitem v roce 1953.
Connův syndrom - příčiny vzniku
Jak už bylo řečeno, Connův syndrom je označení pro primární hyperaldosterismus. To znamená, že jde o nadprodukci aldosteronu. Primární znamená, že za vysokou hladinou stojí primární produkce nadledvinami. Typickou a hlavní příčinou vzniku Connova syndromu je přítomnost nezhoubného (benigního) nádoru v kůře nadledvin. Nádor může být pouze v jedné nadledvině, objevit se ale může v obou najednou.
Další možností vzniku primárního aldosterismu je tzv. bilaterální hyperplasie nadledvin, kdy obě nadledviny zduří a nadprodukují aldosteron. Toto zvětšení nadledvin nemá charakter nádoru. Poslední ale spíš velmi vzácnou příčinou vzniku je pak zhoubný (maligní) nádor nadledvin. V případech adenomu a zhoubného karcinomu nadledvin ale přesné příčiny vzniku těchto nádorů známé nejsou. Uvažuje se vlivu vnějšího prostředí nebo o dědičnosti, případně některých toxických látkách či ionizujícím záření.
Connův syndrom - příznaky a průběh
Connův syndrom se projevuje poměrně širokým spektrem příznaků. Jednoznačně ale dominuje vysoký krevní tlak. Ke zvýšení tlaku dochází vlivem aldosteronu, který má za následek zadržování sodíku a tím i vody v těle. Vysoký krevní tlak způsobuje zvýšenou únavu, bolest hlavy, zvýšené krvácení z nosu. Vysoký krevní tlak má také špatný vliv na stěnu cév. Stěna cév ztrácí pružnost a hrozí zvýšené riziko jejich prasknutí (krvácení do mozku, vznik aneurysmat, vznik disekce aorty, kornatění tepen a infarkt srdečního svalu atd.)
Vysoký krevní tlak bývá často jediným příznakem. Objevit se ale mohou také svalová slabost a křeče, zácpa, časté noční močení, poruchy srdečního rytmu nebo až srdeční zástava. Mnoho těchto příznaků souvisí se sníženou hladinou draslíku v krvi, dále pak s metabolickou alkalózou (vysoké pH) a nízkou hladinou reninu v krevní plazmě. Pokud Connův syndrom zůstane bez povšimnutí a léčby, může poměrně brzy vést k nezvratným změnám a až k náhlému úmrtí. Důležité je rychle snížit krevní tlak a zvýšit hladinu draslíku.
Vysoký krevní tlak krom výše zmíněných komplikací může rychle vést k ztluštění srdeční stěny a srdečnímu selhání nebo k poškození cév ledvin a jejich snížené funkci až renálnímu selhání. Vysoký krevní tlak je v případě Connova syndromu kontinuální a středně těžký až těžký. Hypertenze (vysoký krevní tlak) většinou špatně reaguje na léčbu a trvá delší dobu než se podaří tlak dostat k normálním hodnotám.
Connův syndrom - diagnostika
Na možnost Connova syndromu neboli primární hyperaldosterismus j nutné myslet vždy, pokud se nedaří dlouhodobě léčit vysoký krevní tlak a daná osoba trpí dalšími výše zmíněnými příznaky. Pokud je použita kombinace mnoha tlak snižujících léků, je vhodné na tuto diagnózu taktéž myslet.
Jelikož bylo zmíněno, že primární aldosterismus je nejčastěji způsoben nezhoubným nádorem nadledvin, k zobrazovacím metodám patří počítačová tomografie (CT), magnetická rezonance (MRI), možné je použít také ultrazvuk k odhalení nádorové masy. V některých případech je Connův syndrom odhalen při EKG vyšetření, které odhalí změny srdečního rytmu či infarkt. Po dalším pátrání je možé dospět až ke Connovu syndromu.
Krevní rozbor může u Connova syndromu odhalit vysokou hladinu sodíku, nízkou hladinu draslíku a reninu. Hladina aldosteronu je také zvýšená. Pokud je nutné objasnit zda jde o jednostranný adenom nebo oboustrannou hyperplazii, je možné katetrizací odebrat krev z oblasti nadledvinových žil. Z odebraných vzorků se zjišťuje hodnota aldosteronu a kortizolu. Někdy je nutné vyloučit další typy poruch, je možné využít také genetické diagnostiky nebo mnoha dalších metod.
Connův syndrom - léčba
Pokud je Connův syndrom způsoben nezhoubným adenomem nadledviny, je léčba směřována k chirurgické intervenci. Snahou je odstranit celý nádor. Důležité ale je před samotnou operací stabilizovat krevní tlak a hladiny iontů a tělních tekutin. Nadledviny jsou poměrně snadno dostupné a ve většině případů operace probíhá laparoskopicky s minimálními řezy. Nemocný se velmi rychle zotavuje.
Jestliže je Connův syndrom způsoben zduřením obou nadledvin, léčba se vede medikamentózně. Využívá se tzv. antagonistů aldosteronu, což jsou látky, které působí opačně než aldosteron. Příkladem je spironolakton. Ten působí jako diuretikum a snižuje krevní tlak. Většinou je nutná kombinace léků. Sníženou hladinu draslíku je nutno doplnit buď přímo nitrožilně nebo v podobě tablet. Draslík má přímý vliv na stahy srdce a kosterních svalů, proto je velmi důležité sledovat jeho hodnotu. Nutné je také sledovat funkci ledvin.
Connův syndrom - prevence
Prevence Connova syndromu vychází z rizikových faktorů a příčin vzniku. K rizikovým faktorům patří ženské pohlaví a věk mezi 30 a 50 lety. Ženy v této skupině by tedy měly být ostražité. Přesné příčiny vzniku adenomu, karcinomu nebo hyperplazie nejsou úplně známé. Roli může hrát genetika, vnější prostředí atd. Základem prevence by tedy měl být zdravý životní styl s dostatek pohybu. Vyhýbat bychom se měli ionizujícímu záření nebo toxickým látkám.