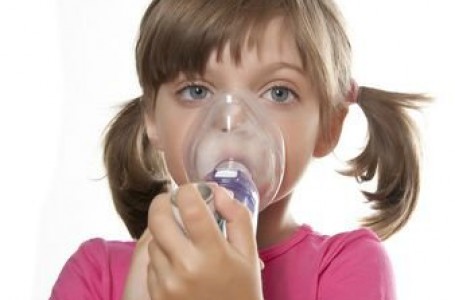 Astma Bronchiale
Astma Bronchiale je chronické zánětlivé alergické onemocnění dýchacích cest. Chronický zánět způsobuje zvýšení průduškové aktivity, které vede k opakovaným epizodám kašle, dušnosti, pískavého dýchání a tlaku na hrudi. Jedná se o záchvatovitou chorobu, v mezidobí mezi záchvaty mohou být dýchací funkce normální. Astma postihuje všechny věkové kategorie, především však osoby mladšího věku. Často se astma vyskytuje zároveň s alergickou rýmou či atopickým ekzémem.
Astma - výskyt
Celosvětově trpí astmatem 300 miliónů lidí. Postihuje příslušníky všech ras, o výskytu mnohdy více rozhodují faktory prostředí než genetické. V České republice se s astmatem léčí téměř 8% celé populace, v mladších věkových kategoriích až 15%. Ročně se diagnostikuje okolo 30 000 nových nemocných, z toho 20 000 tvoří děti. Ve vyspělých zemích počtu nemocných stále přibývá. Astma Bronchiale je nejčastější chronickou nemocí dětského věku.
Astma a jeho příčiny
Na vzniku astmatu se podílejí dědičné faktory spolu s negativním vlivem zevního prostředí. Existuje mnoho odlišných genů kontrolující imunitní odpověď i zvýšenou průduškovou reaktivitu. Nejvýznamnější genetický podklad tvoří zvýšená náchylnost k alergii (tzv. atopii). Vlivem změněné imunitní odpovědi se ve větší míře tvoří protilátky imunoglobulinu E (Ig E protilátky). Pokud vaše dítě trpí alergickou rýmou nebo atopickým ekzémem, má zvýšenou pravděpodobnost rozvoje astmatu. Geneticky podložená zvýšená průdušková reaktivita vede ke zvýšené citlivosti na zevní podněty z prostředí. Pyly trav a stromů, prach, roztoči, zvířecí srst mohou spouštět astmatický záchvat. Pokud je příčinou astmatu alergen, označuje se astma jako alergické (zevní). U více než 30% pacientů je zánět vyvolaný nealergickým mechanismem – stresem, tělesnou zátěží, hypoventilací, kouřem nebo chemickými párami, jedná se tedy o nealergické (vnitřní) astma. Roli hraje i expozice škodlivým látkám v pracovním prostředí. Jedná se především o vliv pesticidů, parfémů, enzymů, aromatických látek či pryže. Tehdy se jedná o chorobu z povolání.
Mechanismus vzniku astmatu
Záchvatovité a variabilní zúžení dýchacích cest, které nerovnoměrně postihuje plíce, je způsobeno zúžením průdušek, otokem sliznice, jejím překrvením a zesílenou sekrecí hlenových žláz. Podstatou onemocnění je chronický bronchiální zánět s významnou účastí dvou typu bílých krvinek – eozinofilů a žírných buněk. Bílé krvinky zvýšeně tvoří zánětlivé působky tzv. cytokiny, které podporují aktivitu a množení protilátek typu IgE a eozinofilů. Ve vzniku alergického astmatu hraje IgE významnou roli. Pokud člověk trpící alergií přijde do kontaktu s alergenem, na který je citlivý, začnou se v organismu tvořit specifické protilátky typu IgE, jejichž část se váže na žírné buňky. Při opakovaném kontaktu s alergenem se alergen naváže přímo na IgE na povrchu žírných buněk, tím se spustí kaskádu alergické reakce s tvorbou zánětlivých působků a rozvoje vlastních příznaků. 
Dlouhodobý zánět vyvolá zmožení hladkých svalů v průduškách, fibrotizaci subepitelové vrstvy, otok sliznice se zvýšenou produkcí hlenu a aktivaci nervových zakončení. Zánětem poškozená sliznice zpřístupní nervová zakončení zvýšenému účinku dráždivých podnětů. Astmatický záchvat proto může vyvolat i dýchání studeného vzduchu. Sliznice obsahuje zvýšené množství zánětlivých buněk, které po aktivaci vytvářejí a uvolňují řadu působků vyvolávajících stah hladkých svalových vláken ve stěně průdušek.
Astma Bronchiale - příznaky

Astma může vzniknout v kterémkoliv věku. Projevuje se záchvaty náhle vzniklé dušnosti a suchého dráždivého kašle, které většinou spontánně nebo po léčbě ustoupí. Typicky se záchvaty vyskytují nad ránem. Při dýchání vlivem zúžení průsvitu průdušek vznikají pískoty. Nemocný cítí tíži, sevření na hrudníku a má suchý neproduktivní dráždivý kašel s obtížným vykašláváním. Těžký astmatický záchvat se projevuje klidovou dušností, prodloužením výdechu, zrychlením srdečního pulzu a zrychleným dýcháním.
Nemocný musí sedět v tzv. ortopnoické poloze – rukama se opírat o stůl či židli, aby mohl zapojit pomocné dýchací svaly, aby mohl zapojit pomocné dýchací svaly a do plic tak dostat dostatek kyslíku. Díky tomu lze na něm pozorovat tzv. vtahování jugula, nadklíčkových jamek a mezižebří. Ani zvýšená dechová aktivita nedokáže zajistit organismu dostatkem kyslíku, odborně se říká, že klesá saturace kyslíku v krvi. Při dalším zhoršováním dochází ke snížení dechové aktivity, hromadí se oxid uhličitý, což se projevuje zmateností až poruchou vědomí. Při neléčeném astmatu vzniká soudkovitý hrudník.
Astma Bronchiale - průběh
Astma Bronchiale je chronické onemocnění s periodickým charakterem. Jsou období, kdy je nemocný zcela bez potíží a má pocit, že je zdravý. Přesto v bezpříznakovém období probíhá v dýchacích cestách astmatika zánět. Tato situace může být střídána obdobím zhoršení tzv. exacerbací. Změna je charakterizována kašlem, který je dráždivý s obtížným a váznoucím odkašláváním. Zhoršuje se dech a záchvaty dušnosti se projevují i v klidu. Vzplanutí nemoci bývá způsobeno alergenem, virovými respiračními záněty či opomenutím pravidelné léčby. Průběh bývá horší a dlouhodobější, pokud je osoba kuřákem. Astma je onemocnění s individuálním průběhem, které je nutné včas léčit. Zvyšování frekvence a intenzity příznaků může vyústit v akutní exacerbaci.
Při akutní exacerbaci, dříve označované jako akutní astma nebo akutní astmatický záchvat, dochází k zesílení trvalého zánětu v dýchacích cestách. Postupně se zhoršuje dušnost, kašel, zkracuje dech, objevuje se hvízdavé dýchání a pocity tíže na hrudníku. Častěji jsou postiženi starší pacienti, kuřáci, osoby neužívající pravidelně léky, převažují ženy. Exacerbace mohou mít rychlý začátek (minuty až hodiny) nebo pomalý začátek (až 2 týdny). Návrat do stavu před exacerbací trvá zpravidla 5 až 14 dnů.
Diagnostika astmatu
Pokud se u vás nebo vašeho dítěte projevují příznaky astmatu, vyhledejte specialistu na nemoci dýchacího ústrojí – plicního lékaře. Ten se v první řadě ptát na vaše potíže a pomocné údaje o vlivu prostředí či spouštěcích činitelích. Bude se snažit zjistit, zda k rozvoji příznaků dochází v souvislosti s pobytem v určitém prostředí, zaměstnání, přírodě nebo v závislosti na stravě. Potřebné jsou informace o chovu domácích zvířat, kouření, jiných druzích alergie jako alergická rýma, atopický ekzém u vás nebo blízkých příbuzných. Časté bývají i záněty vedlejších dutin nosních nebo zápaly plic. Pak vám lékař provede klinické vyšetření, poslechne si fonendoskopem vaše dýchání a odešle na rentgenové vyšetření plic. Nález na rentgenu bývá negativní, slouží k vyloučení závažnějších nemocí.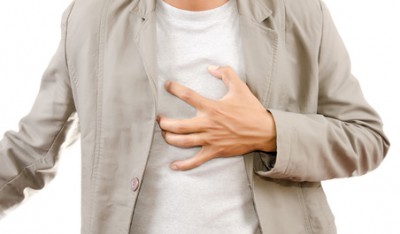 Bolest na hrudníku
Samostatná diagnóza je postavena na vyšetření dechových funkcí plic pomocí spirometrie. Poskytuje informace o průchodnosti dýchacích cest a o stavu plicní tkáně. K vyšetření se používá spirometr – přístroj, do kterého nemocný podle instrukcí dýchá. Ten pak zaznamenává vdechnutý a vydechnutý objemu vzduchu, rychlost výdechu a další plicní parametry. Na základě údajů pak lékař vyhodnotí, zda a jakou plicní poruchou nemocný trpí. Při astmatu se prokazuje obstrukční dýchací porucha. V klidovém stádiu však může být poslechový nález i plicní funkce normální, proto se provádějí bronchoprovokační testy. Před spirometrií se vyšetřovanému podá látka, která při zvýšené dráždivosti průdušek vyvolá stav podobný bronchiálnímu astmatu, tedy způsobí zúžení průsvitu průdušek. To se projeví na hodnotách zobrazených při spirometrii. Celé vyšetření je založeno na spolupráci pacienta. Pokud pacient nedodržuje pokyny, výsledky jsou zkreslené. Při charakteristických příznacích, ale nejasné spirometrii, lze provést tzv. test po léčbě – po 2 - 6 týdnech intenzivní léčby astmatu se provede spirometrické vyšetření a srovná se s původním nálezem. Nezbytnou součástí vyšetřovacího programu je alergologické vyšetření, při kterém se zjišťuje alergen spouštějící astmatický záchvat, případně ORL vyšetření.
V akutním stavu, kdy je astmatik klidově dušný, je vhodné vyšetřit sycení krve kyslíkem (tzv. saturace). Saturaci kyslíkem lze orientačně zjistit pomocí pulzního oxymetru, tj. přístroje monitorujícího prstovou či ušní sondou množství kyslíku v krvi. Při nižších hodnotách se odebírá krev z vřetenní tepny a krevní plyny se vyšetřují v laboratoři. 
Klasifikace astmatu
Jedním ze základních pilířů léčby je správné stanovení diagnózy včetně klasifikace. Astma Bronchiale je klasifikováno podle intenzity příznaků a podle úrovně jejich kontroly. Při hodnocení úrovně kontroly se zjišťuje: kolikrát týdně se vyskytnou příznaky, jak omezují běžnou denní aktivitu, jestli se příznaky objevují v noci či kolikrát astmatik musí použít úlevové léky. Rovněž se provede aktuální spirometrické vyšetření, které ukáže funkci plic. Úroveň kontroly také předurčuje budoucí rizika  - četnost exacerbací, tedy jak často dojde k exacerbaci astmatu. Podle tíže příznaků se astma dělí do čtyř stupňů – intermitentní, lehké, středně těžké a těžké perzistující astma. Tíže astmatu se určuje na základě nejnižšího stupně intenzity léčby, která je schopná udržet chorobu pod kontrolou. Ke každému stupni je pak doporučeno, jaké léky má pacient užívat.
Astma a léčba

Astma Bronchiale se nedá vyléčit, ale je možné jeho příznaky minimalizovat. Hlavním cílem léčby je kontrola nad astmatem a její udržení, aby byly u astmatika zachovány normální plicní funkce, mohl vykonávat běžnou fyzickou aktivitu a výskyt příznaků byl co nejmenší. Základem léčby jsou režimová opatření a medikamentózní léčba.
Režimová opatření při léčbě astmatu
Základem režimových opatření je zamezení kontaktu s vyvolavateli astmatu. Vyhněte se tedy lékům, potravinám, potravinovým doplňkům či škodlivinám v pracovním prostředí. Každé astma zhoršuje kouření či pobyt v prostředí s kouřem. V léčbě astmatu pomáhá i dechová gymnastika a kondiční tělesné cvičení. Dechová gymnastika slouží k uvolnění vdechových a posílení výdechových svalů a nácviku správné techniky dýchání.
Kromě cvičebních postupů, nácviku klidového, bráničního dýchání, se astmatik učí správnému držení těla, jež pomáhá efektivní "ekonomice dýchání". Dále se nemocný učí aktivnímu výdechu pomocí prodloužených dechových pohybů proti odporu, jakým je třeba nafukovací míč, bublání do vody brčkem, nádech se zúženými rty či hra na flétnu. Kondiční tělesná cvičení slouží ke zlepšení ovládání dýchání, dechových funkcí, fyzické zdatnosti a posílení svalstva. Snižuje četnost pozátěžového zúžení dýchacích cest.
U astmatu je vhodná pravidelná vytrvalostní pohybová aktivita jako plavání nebo kondiční běh, stejně jako intervalová zátěž vysoké dávky nepřesahující 2 minuty, jako krátké běhy. V pokoji astmatika by se měla udržovat optimální teplota (19 - 20°C) a vlhkost 40 – 50% a mělo by být vytvořeno bezalergenní prostředí. K lázeňské léčbě astmatu jsou určeny lázně v Luhačovicích, Jeseníku a Karlově Studánce.
Medikamentózní léčba astmatu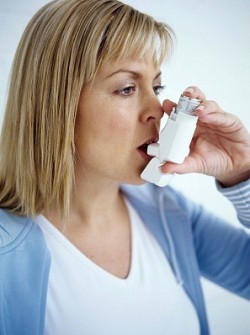 InhalátorVe farmakologické léčbě se používají dva typy medikamentů – úlevové léky s rychlým nástupem účinků pro léčbu akutních stavů s jejich používáním podle potřeby a léky preventivní, tedy protizánětlivé pro dlouhodobé pravidelné používání. Druh léku a jeho dávka závisí na tíží onemocnění, odpovídá jednotlivým klasifikačním stupňům astmatu. Stanovení léčebného programu je však individuální, šité na míru.
Nejvýhodnější cestou pro podávání antiastmatik je inhalační léčba. Léky se pomocí různých inhalátorů dopravují přímo do průdušek, což minimalizuje výskyt nežádoucích účinků. Navíc jejich účinek nastupuje rychleji a je možné použít menší dávky než při perorálním podání. Používají se práškové aerosoly, inhalátory pro suché práškové formy a nebulizátory. Pro každého astmatiku je důležité vybrat nejen správné léky, ale i vhodný režim a inhalátor. Aby mohla léčba co nejlépe fungovat, je nutné naučit astmatika správnou inhalační techniku.
Úlevová antiastmatika
Rozšiřují průdušky (označují se jako bronchodilatancia), odstraňují příznaky a léčí akutní exacerbace. Patří sem Buventol, Ventolin, Bricanyl, Atrovent či kombinovaná bronchodilatance a Berodual. Používají se převážně inhalačně. Dokážou rychle, ale pouze krátkodobě v rozsahu 4 - 6 hodin, zmírnit příznaky. Jsou určeny pouze pro akutní potřebu, pokud se používají denně, znamená to, že dlouhodobá protizánětlivá léčba není dostatečná a musí se upravit.
Kontrolující antiastmatika
Působí protizánětlivě a preventivně, podávají se od 2. stupně astmatu denně, a to i v období, kdy je člověk zcela bez potíží. Základem léčby astmatu pacientů všech věkových skupin jsou inhalační kortikosteroidy, např. Ecobec, Becodisks, Miflonid, Budiar, Giona či Flixotide. Inhalačním podáváním se minimalizují jejich nežádoucí účinky. Pokud se nedosáhne kontroly astmatu nízkou dávkou inhalačních kortikosteroidů, přidávají se bronchodilatancia s dlouhodobým účinkem jako Atimos, Foradil, Formano, Oxis, Formoterol, Serevent či Spiriva. Jednoznačně se pak preferuje jeden inhalátor, který současně podává oba léky jako Seretide, Duaspir nebo Symbicort.
Alternativou kortikoidů jsou antileukotrieny, které potlačují tvorbu a působení zánětlivých působků leukotrienů (podobné působky jako cytokiny). Používá se Accolate nebo Singulair. Alternativní variantou bronchodilatancií jsou pak teofyliny s prodlouženým účinkem jako Afonilum SR, Euphyllin CR, Theoplus, jež rozšiřují dýchací cesty. Pokud tato léčba nezajistí bezpříznakový průběh choroby, přidávají se ke dvojkombinaci antileukotrieny nebo teofyliny. Při těžkém perzistujícím astmatu se musí použít systémové kortikoidy či biologická léčba.
Biologická léčba astmatu
Biologická léčba astmatu spočívá v podávání protilátek pro imunoglobulinu IgE, jež po navázání brání spuštění alergické reakce a rozvoji příznaků. U nás je dostupný Xolair s účinnou látkou omalizumab. Je určen pro dospělé a děti od 12 let s těžkým perzistujícím alergickým astmatem, kteří mají časté symptomy a těžké exacerbace astmatu, přestože jsou léčeni vysokými denními dávkami inhalačních kortikosteroidů a bronchodilatancií. Léčba vede k významnému zlepšení příznaků, snížení počtu exacerbací, hospitalizací a spotřeby kortikosteroidů, krátkodobých bronchodilatancií a ke zlepšení kvality života. Aplikuje se podkožně každé 2 až 4 týdny.
V současné době se začala používat tzv. alergenová terapie, která spočívá podávání alergenu podkožně nebo perorálně po kapkách. Organismus si postupně vytváří protilátky a dochází k hyposenzibilizaci alergenu, tedy snížení reaktivity těla na alergickou látku. Léčba je náročná, trvá 3 – 5 let. Uplatnňuje se hlavně u alergie pylové, roztočové a plísňové.
K léčbě exacerbace se používají inhalační bronchodilatancia, systémové kortikosteroidy a kyslíková léčba (oxygenoterapie). Ta pomáhá při nedostatku kyslíku v krvi (respirační insuficienci), protože zmenšuje nároky dýchání a zlepšuje funkce všech orgánů v lidském těle. Podává se nosními brýlemi nebo obličejovou maskou. Při exacerbovaném astmatu se provádí léčba kyslíkem během hospitalizace u všech stádií. U těžších stavů se používají léky perorální, injekční a inhalační pomocí nebulizátorů, kdy nemocný inhaluje nosní nebo ústní maskou léky zředěné ve vodě po dobu 15 - 20 minut.
Při optimálně nastavené léčbě nemá astmatik žádné noční a denní potíže, choroba neovlivňuje životní aktivity ani fyzickou zdatnost, úlevové léky musí použít maximálně 2x do týdne a hodnoty plicních funkcí při spirometrii odpovídají normě. Při správně nastavené léčbě a pravidelných kontrolách s dobrou spoluprácí pacienta lze značně zlepšit kvalitu života a snížit počet exacerbací i hospitalizací.
Astma Bronchiale - prevence

Vyhýbejte se prostředí i činitelům, kteří vyvolávají nebo zhoršují vaše potíže.
Nekuřte a omezte pobyt v zakouřeném prostředí.
Vytvořte si doma bezalergenní prostředí.
Nad plynový sporák instalujte digestoř.
Odstraňte koberce a sedací nábytek, ve kterém by se mohli udržovat roztoči.
Používejte hypoalergenní lůžkoviny.
Nepořizujte si do bytu domácí zvířata.
Pokud trpíte alergickým onemocněním jako alergická rýma, zánět spojivek či ekzém, nechte si provést alergologické vyšetření a užívejte léky, jež vám alergolog doporučí. Neléčené alergické projevy mohou vyústit v alergické astma.
Doporučení pro pacienty s astmatem
I když zrovna nemáte typické potíže, navštěvujte pravidelně svého lékaře. Mějte vždy po ruce úlevové léky, protože vždy může nastat situace, kdy je budete muset neprodleně použít. Pokud musíte úlevové léky používat denně, neváhejte s návštěvou lékaře, protože ten muset upravit vaši dlouhodobou léčbu.
Jestliže se u vás vyskytují příznaky typické pro astma, neváhejte s návštěvou lékaře. Včasná a správná diagnóza umožní úspěšně zvládnout astma a zabránit jeho vývoji v závažnější stádia. Při neléčeném astmatu se zúžení dýchacích cest stane nevratným.