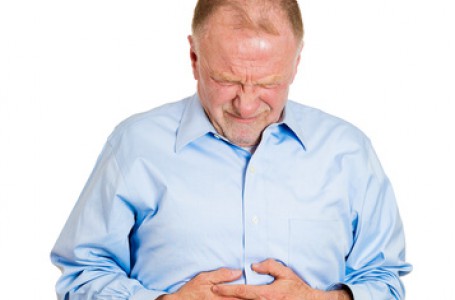 Aneurysma aorty příznaky a léčba
Lokalizované rozšíření tepny se označuje jako tepenná výduť odborně aneurysma. Tepna se rozšiřuje o více než polovinu svého průměru v daném místě. V praxi to znamená rozšíření nad 3 cm. Průměr tepny je ovlivněn pohlavím, věkem, celkovým vzrůstem a dalšími faktory. Aneurysma může vzniknout na každé tepně či na srdci v místě po srdečním infarktu, ale nejčastěji postihuje aortu. Pokud dosáhne rozšíření výdutě určité míry, může dojít k odloučení vnitřní výstelky cévy (disekci) a následnému prasknutí (ruptuře) aorty, což je závažný život ohrožující stav, který v 85% případů způsobí úmrtí. Včasné stanovení diagnózy a její řešení může nemocnému zachránit život.
Anatomie
Aorta neboli srdečnice je nejdelší a nejsilnější tepnou lidského těla. Vystupuje z levé srdeční komory a rozvádí krev prakticky do celého těla. Její průběh je možné rozdělit na tři úseky – vzestupnou aortu, oblouk aorty a sestupnou aortu, která kromě hrudníku probíhá i v břišní dutině. Ze vzestupné aorty odstupují dvě věnčité tepny zásobující srdeční svalovinu. Aortální oblouk zásobuje okysličenou krví hlavu, krk a horní končetiny. Sestupná aorta vyživuje břišní orgány a dolní končetiny. Ve výši čtvrtého bederního obratle se aorta větví na dvě kyčelní tepny.
Výskyt
Výduť aorty se typicky vyskytuje u kuřáků. Muži jsou postiženi až 6x častěji než ženy, i když aneurysma častěji praskne ženám. Výskyt stoupá rovněž s věkem nad 60 let. V této věkové kategorii postihuje okolo 2 - 6% mužů. Jeden člověk z 250 osob ve věku nad 60 let může zemřít na prasklou výduť.
Z dalších rizikových faktorů nepříznivě působí vysoký krevní tlak, zvýšená hladiny cholesterolu a přítomnost chronické poruchy prokrvení dolních končetin (tzv. ischemické choroby dolních končetin) a ischemické choroby srdeční (poruchy prokrvení srdeční svaloviny). Pokud má aortální výduť někdo z vaší rodiny, i vy máte vyšší riziko jejího vzniku.
Jak vzniká tepenná výduť
Vznik aneurysma souvisí s výskytem aterosklerózy, tedy koronatění tepen. Mnohem významnější jsou však degenerativní procesy postihující stěnu srdečnice. Změny ve struktuře stěny aorty, zejména její vazivové složky, hrají důležitou roli při vzniku aneurysma. Může se jednat o dědičná onemocnění pojivové tkáně jako je Marfanův nebo Ehlers-Danlosův syndrom. Jindy může být příčinou infekce, úraz nebo nepravé aneurysma místě napojení cévní protézy.
Aneurysma aorty - příznaky
Většina aortálních aneurysma je bezpříznakových a projeví se prasknutím anerysmatu, které vede v 85% případů ke smrti. Jindy je aortální výduť vedlejším nálezem při vyšetřování z jiné příčiny. Může se rovněž projevovat bolestí na hrudi (v případě hrudní aorty) či bolestí kolem pupku s propagací do třísel, boku nebo beder (u břišní aorty) či jako nespecifický pocit pulzací okolo pupku v poloze na břiše. Bolesti jsou trvalé s úlevovou polohou na zádech se zvednutými končetinami. Výraznější bolest je vždy varovným signálem hrozící ruptury, protože se objevuje u rychle rostoucích výdutí.
Dalším projevem může být nedokrvení (ischemie) orgánů nebo končetin při ucpání periferních cév krevní sraženinou, která se utrhne z vaku výdutě. Aneurysma hrudní aorty se může projevit potížemi s dýcháním nebo polykáním a chraplavým kašlem. Jindy se aneurysma manifestuje tlakem na okolní orgány při narůstající velikosti, nejčastěji močovod, dvanáctník, bederní nervy nebo velké žíly.
Disekce aorty
Stěna aneurysmatu je náchylnější k podélnému rozštěpení její stěny tzv. disekci aorty. Ve vnitřní vrstvě aorty vznikne podélná štěrbina, do které proudí krev a vytvoří se falešné lumen. Šíří se jak po směru toku, tak proti jeho směru. Postupně může postihnout celou aortu až do břišní části i přejít na odstupující cévy. Jedná se o akutní život ohrožující stav vyžadující rychlou a správnou diagnózu i léčbu. Disekce se projeví náhle vzniklou krutou bolestí v zádech či na hrudi a podle dalších postižených cév i cévní mozkovou příhodou, kolapsem, srdečním infarktem, ledvinným selháním, silnou bolestí břicha nebo dolní končetiny.
Nejzávažnější komplikací je prasknutí – ruptura aorty, která je prvním příznakem ve 40% případů. Má charakter náhlé příhody břišní a bez včasného a dostatečného zásahu končí smrtí. Krev z aorty se ojediněle řine do volné břišní dutiny (což bývá fatální), v lepším případě a častěji do retroperitonea (prostor mezi zadní břišní stěnou a pobřišnicí), kde tlak okolí může celý proces zpomalit a umožnit jeho řešení.
Aneurysma aorty - diagnostika
Jestliže pocítíte náhle vzniklou krutou, řezavou bolest v zádech nebo na hrudi, ihned vyhledejte lékaře nebo si zavolejte rychlou záchrannou službu. Zvláště pokud má někdo v rodině tepenné aneurysma, zemřel na náhlé úmrtí (mohlo se jednat o rupturu aneurysmatu) nebo trpíte vrozenou poruchou pojivové tkáně. Lékař se vás bude ptát na vaše aktuální potíže a vyšetří si vás. Většina aortálních aneurysmat je bezpříznakových, pro disekci aorty je typický nehmatný pulz na periferních tepnách a výrazný rozdíl krevního tlaku mezi pravou a levou horní končetiny.
Při podezření na aortální aneurysma se nejprve provádí ultrazvukové vyšetření srdce tzv. echokardiografie. Nejlevnější a neinvazivní vyšetření je vhodné zejména pro vyhledávání nemocných a sledování velikosti výdutě v čase. Běžná echokardiografie (přes hrudní stěnu) není pro potvrzení či vyloučení diagnózy dostačující, přesnější je jícnové vyšetření, při kterém je ultrazvuková sonda zavedena do jícnu.
Přesně zobrazit rozsah aneurysma, jeho rozměry, přítomnost disekce se dvěma lumen, vztah k okolním orgánům, ohraničení, přítomnost krevní sraženiny ve vaku dokáže CT vyšetření tepen tzv. CT angiografie. Při vyšetření se do žíly aplikuje kontrastní látky, zpravidla jód, která zobrazí průběh tepen. Stejné výsledky poskytuje i magnetická rezonance. Jedná se však o vyšetření dražší, méně dostupné a nevhodné pro akutní diagnostiku.
Zobrazení aneurysmatu aorty může být i vedlejším nálezem při vyšetřování pro jiné účely. Někdy jej odhalí obyčejný rentgen srdce a plic, jindy CT vyšetření.
Aneurysma aorty a jeho léčba
Forma léčby závisí na příznacích, nutnosti akutní léčby i lokalizaci výdutě. Při jakýchkoli potížích je jednoznačně volen neodkladný výkon. Dříve dominovaly chirurgické výkony, dnes se začínají úspěšně prosazovat endovaskulární výkony, a to i v případě akutního stavu. Pro jednoho pacienta je vhodná klasická chirurgická operace, pro jiného endovaskulární výkon. Obě metody mají své výhody a nevýhody. Vhodnější postup vám doporučí váš lékař (samozřejmě pokud se nejedná o akutní, život ohrožující stav, kdy rozhodnutí provede sám lékařský tým).
Endovaskulární výkon
Endovaskulární léčba znamená, že se výkon provádí uvnitř cévy. Do místa aneurysmatu se přes tříselnou tepnu zavede potahovaný stent (síťovitá trubička ve svinuté formě). V určeném místě se nafouknutím balónku stent rozvine a po svém ukotvení vytvoří nové lumen cévy a vyřadí z funkce vak aneurysma. Takovýto výkon trvá 1 – 3 hodiny.
Endovaskulární přístup je minimálně invazivní, má méně komplikací v podobě míšního nedokrvení, kratší dobu rekonvalescence. Na druhé straně je zatížen rizikem posunutí stentu nebo prosakováním krve do nefunkčního aneurysmatu, které nebylo odstraněno. Proto jsou důležité pravidelné kontrolu u lékaře, jejichž součástí je i rentgenové nebo CT zobrazování stentu a aneurysmatu. Endovaskulární přístup je určený pro výdutě v sestupné aortě nebo některé její větší větvi.
Chirurgický postup
Při operačním výkonu je aneurysma odstraněno a nahrazeno chirurgickou cévní protézou. Operující lékaři získají přístup k aortě provedením řezu přes hrudní kost, ze strany hrudníku nebo přes břišní stěnu. Při všívání cévní protézy na určené místo se zastaví průtok krve přes aortu. Celý výkon trvá asi 2 – 4 hodiny. Chirurgické postupy se volí u aneurysmat a disekcí aorty ve vzestupné části v blízkosti srdce, nebo pokud není možné provést endovaskulární výkon.
Konzervativní přístup
U bezpříznakových aneurysma a disekcí je důležité správné načasování a způsob léčby. K řešení se přistupuje, pokud výduť přesáhne určitou velikost nebo nastanou nějaké komplikace.
Menší aneurysma se léčí konzervativně léky na snižování vysokého krevního tlaku (antihypertenzivy) a snižování hladiny krevních tuků (hypolipidemiky). Nemocní jsou pak pravidelně sledováni ultrazvukem. Přirozeným průběh je postupné zvětšování kolem 5 mm za rok. Zrychlení růstu je rovněž signálem pro časné řešení.
Aneurysma aorty - prevence
Vznik aneurysmatu je do velké míry dědičný, riziko jeho vzniku můžete snížit prevencí tvorby aterosklerotických plátů. Nekuřte a vyhýbejte zakouřeným prostorám. Jestliže máte nadváhu nebo jste obézní, zhubněte. Jezte zdravě, pravidelně 5x denně, omezte solení, tučná a kořeněná jídla, uzeniny a sladkosti. Dostatečně se hýbejte.
Jestliže se v rodině tepenné aneurysma vyskytlo, určitě upozorněte svého lékaře, aby včas zahájil preventivní či léčebná opatření. Váš krevní tlak a hladina krevních tuků musí být důsledně kontrolovány a případně léčeny.
Doporučení
Pokud vám bylo diagnostikované aneurysma aorty, jehož řešení zatím není nutné, a vy pocítíte prudkou bolest na hrudi či v okolí pupku, závratě, náhlou slabost či rychlý srdeční tep, neprodleně volejte svého lékaře.
Při potvrzeném bezpříznakovém aneurysmatu musíte užívat léky ke snížení krevního tlaku, a to konkrétně betablokátory (Concor, Vasocardin, Betaloc, ..), event. další antihypertenziva. Váš tlak musí být pod 120/80 mm Hg. Pokud je vyšší, navštivte svého kardiologa a nechte si medikaci upravit. Vysoký krevní tlak napomáhá rychlejšímu zvětšování výdutě a zvyšuje riziko disekce a ruptury aorty. Dále se vyvarujte nadměrné fyzické zátěži.