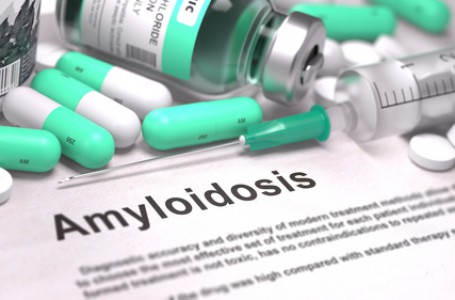 Amyloidóza
Amyloidóza neboli amyloidní dystrofie není samostatným onemocněním, ale jde o příznak skupiny onemocnění, pro které je typické ukládání tzv. amyloidu ve tkáních. Amyloid je hmota složená z nerozpustných produktů některých bílkovin. Název amyloid pak vychází ze skutečnosti, že se tato hmota při speciálním diagnostickém barvení chová podobně jako škrob (latinsky amylum). Depozita amyloidu se ukládají v intersticiu, což je prostor mezi jednotlivými buňkami. Následkem toho pak dochází k poškození řady orgánů (ledviny, střevo, srdce, jazyk, játra ale také mozková tkáň). Statisticky se amyloidóza vyskytuje o něco častěji u starších mužů.
Příčiny vzniku amyloidózy
Amyloidóza se velmi často objevuje u řady chronických zánětlivých onemocnění. V mnoha případech se také jedná o dědičná onemocnění. Obecně se dá říct, že při amyloidóze se v těle člověka tvoří mutantní bílkoviny. To znamená, že v průběhu jejich syntézy dochází k jejich abnormálnímu skládání. To má pak za následek to, že zbytky těchto bílkovin jsou náchylnější ke tvorbě a ukládání amyloidu. Základem amyloidu mohou být také nefunkční protilátky vznikající u nádorových onemocnění. Ačkoliv v dnešní době existuje přes 30 různých typů proteinů, které mají při jejich porušené struktuře za následek vznik amyloidózy, konečný produkt amyloid je většinou vždy velmi podobnou strukturou.
Existuje několik různých principů vzniku amyloidu, které jsou pak typické pro určité onemocnění. První možností vzniku amyloidu je změna proteinu, která indukuje změnu v proteinu normálním. Další možností je mutace genu, který kóduje určitý protein. Tento typ je typický pro dědičné formy amyloidózy. Dalším způsobem vzniku amyloidu je nadprodukce normální bílkoviny, která pak zvýší riziko vzniku amyloidu. Tento typ se podílí většinou na lokalizované amyloidóze. Tyto drobné rozdíly při vzniku a ve složení amyloidu jsou stěžejní při poškození tkání. Podle struktury amyloidu se amyloid ukládá izolovaně v určité tkáni (izolovaná amyloidóza) nebo je naopak tak rozšířen, že ho lze nalézt téměř v každém orgánu (systémová amyloidóza). Systémová amyloidóza se nejčastěji vyskytuje v ledvinách, srdečním svalu a plících.
Systémová amyloidóza se dělí na 3 základní typy, jeden od druhého se velmi liší. Typy jsou označeny dvoupísmenným kódem začínajícím vždy A pro amyloid. Druhé písmeno pak označuje bílkovinu, která se ukládá v dané tkáni. Jako primární amyloidóza se označuje amyloidóza vznikající bez zřetelné návaznosti na základní onemocnění. Amyloidóza ale nikdy nevzniká jako samostatné onemocnění a do této skupiny patří amyloidóza jako následek mnohočetného myelomu. Podstatou je vznik nádorových bílých krvinek, které tvpří velké množství defektních protilátek. Část protilátek se stává základem pro vznik amyloidu. Sekundární amyloidóza vzniká jasně v závislosti na jiném základním onemocnění (tuberkulóza, osteomyelitida, revmatoidní artritida, Bechtěrevova choroba, chronické zánětlivé onemocnění střev atd). Podstatou je vytvoření bílkovin akutní fáze, které jsou při chronickém zánětlivém procesu zvýšeny trvale, tím se některé z nich mohou začít ukládat.
Zvláštním typem amyloidózy je také Alzheimerova choroba, kdy se z dosud nezjištěné příčiny ukládá amyloid v mozkové tkáni a narušuje její funkci. V minulosti byla nejčastější příčinou zánětu a amyloidózy tuberkulóza. V dnešní době se ale sekundární amyloidóza objevuje nejčastěji jako komplikace revmatických onemocnění (revmatoidní artritid, která představuje až 70% případů). Díky kvalitní prevenci u primárních základních onemocněních se ale amyloidóza vyvine asi jen u 6% nemocných. Je potřeba zmínit, že tyto hodnoty se týkají zemí vyspělých. Ve vývojových zemích je příčinou sekundární amyloidózy nejčastěji chronická infekce.
Zvláštní skupinou je amyloidóza chronických dialyzovaných osob. Jde o nemocné osoby s nefunkčními ledvinami, jejichž funkce je nutno nahradit přístrojem - dialýzou. Amyloidóza je velmi vážnou komplikací. Příčinou vzniku amyloidózy v tomto případě je protein, který normálně prochází ledvinami. U dialyzovaných osob ale dochází k jeho hromadění. Onemocnění se rozvíjí několik let, dochází k ukládání amylidu v kloubech (syndrom karpálního tunelu), může docházet k patologickým zlomeninám.
Amyloidóza - projevy a průběh
Jelikož je amyloidóza poměrně mnohotvárné onemocnění, také projevy a průběh amyloidózy bývají velmi odlišné u různých typů základního onemocnění, typu bílkoviny a typu postiženého orgánu či orgánů.
Amyloidóza spojená s postižením srdečního svalu se projevuje jako poruchy rytmu, pocity zesíleného bušení srdce, bolesti na hrudi, neschopnost fyzické aktivity s dušností a většinou poškození vede až k srdečnímu selhání.
Plicní amyloidóza se projevuje jako dušnost, případně vykašlávání krve.
Postižení střev vede k malabsorpci a neprospívání, hubnutí, zvracení, průjmům a ve stolici se může objevit krev. Vstřebávání základních živin je narušeno, objevit se proto mohou příznaky hypovitaminózy a hubnutí se ztrátou svalové hmoty.
Poškození nervové tkáně je spojeno s polyneuropatií, poruchami paměti, změnami chování či pohybovými změnami.
Amyloidóza jaterní tkáně a ledvin má taktéž velmi vážné následky se selháváním funkcí těchto orgánů. Systémová amyloidóza se velmi často jako první projevuje poškozením ledvin, které postupně chronicky selhávají. V návaznosti na jejich poškození se objevuje poškození dalších orgánů.
Amyloid se může ukládát také v jazyku, kdy dochází k jeho zvětšení.
Problémem amyloidózy je, že projevy většina nemocných nepostřehne až do doby, kdy dochází k vážnému poškození daného orgánu. Nesprávná funkce jednotlivých orgánů se pak může projevovat jako otoky (při srdečním selhávání či poškození ledvin), závratě a slabost s dušností (postižení plic), necitlivostí a bolestí končetin (postižení nervové tkáně). Možné jsou také kožní změny.
Diagnostika amyloidózy
Jak už bylo zmíněno, velmi často může být amyloidóza přehléduta kvůli tomu, že se projevy začínají objevovat velmi pozdě. Je ale známé, že se amyloidóza vyskytuje u některé onemocnění, proto je důležité na ni myslet a včas diagnostikovat. Časná diagnostika je důležitá pro záchranu dané tkáně. Základem vyšetření je podrobná anamnéza s pátráním po členech rodiny, kteří amyloidózou trpí. Následuje správné fyzikální vyšetření s poslechem srdce a plic a prohmatáním břicha. Důležité je vyšetření končetin, zda nedochází k jejich otokům. Dalším krokem jsou laboratorní testy, kdy se vyšetřují vzorky krve a moči.
Ze vzorků se analyzují abnormální bílkoviny, které by mohly poukazovat na amyloidózu. V závislosti na daných konkrétních projevech se pak pátrá dál a to po jednotlivých orgánech. Testovat se může funkce štítné žlázy, jaterní funkce, funkce ledvin, plic či srdce. Pro přímé odhalení amyloidózy je ale často zapotřebí provést biopsii tkáně s odběrem vzorku. Vzorek se obarví speciálním barvivem a dále sleduje mikroskopicky. Toto vyšetření většinou amyloidózu spolehlivě odhalí. Tkáňová analýza pak prokáže také typ amyloidu. Dobré je využít také zobrazovacích metod jako je ultrazvuk, počítačová tomografie či magnetická rezonance. Tyto metody zobrazí daný orgán a mohou odhalit jeho zvětšení a další změny. Pro vyšetření srdce se často využívá ultrazvukové vyšetření (echokardiografie), která zobrazí srdeční funkce a poškozené části srdce.
Léčba amyloidózy
Léčba tohoto onemocnění je velmi individuální. Závisí na typu postižené tkáně a na základním onemocnění, které vede k amyloidóze. Systémová amyloidóza, která postihuje několik orgánových systémů, je většinou pomalu se v čase zhoršující onemocnění (progredující). Bohužel má většinou fatální následky a ani agresivní léčba nemívá velké úspěchy. Ani správným léčením nelze již jednou uložený amyloid z tkáně odstranit, proto je základem léčby léčba způsobujícího onemocnění. Pokud amyloidózu způsobuje mnohočetný myelom, k léčbě řadíme chemoterapiii či odstraňování nefunkčních protilátek z krevního oběhu (využívá se přístroje, který fragmenty bílkovin vychytává). U chronických zánětů (Crohnova choroba) se využívá imunosupresiv a dalších látek potalčujících zánětlivou reakci organismu. V případě tuberkulózy je nutné využít antibiotik a přídavných léků likvidujících mykobakterie (povodce tuberkulózy). Při izolovaných amyloidózach, které napadají poze jeden orgán, je v případě úplného poškození funkce orgánů možné uvažovat o jeho nahrazení transplantací od cizího dárce (amyloidóza srdce či ledvin).
Prevence amyloidózy
Amyloidóza se bohužel řadí do skupiny onemocnění, u kterých prevence není téměř možná. Nicméně amyloidóze vzniklé na základě jiného hlavního onemocnění může být předcházeno důslednou léčbou tohoto základního onemocnění. Jako možnost prevence u dědičných forem amyloidózy se dá také označit genetické poradenství. Genetická vyšetření se provádí především v rodinách se známou amyloidózou u jednoho z partnerů. V prevenci jakéhokoliv onemocnění pak nikdy neuškodí dodržovat základy zdravého životního stylu, jehož základem je zdravá vyvážená strava, nekuřáctví, neužívání žádných návykových látek a pravidelný pohyb.