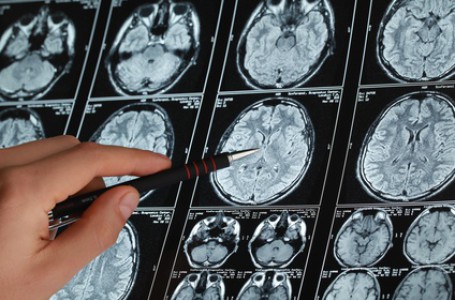 Adenom hypofýzy je forma nádorového onemocnění, které zaujímá až 10% množství veškerých nádorů mozku.
Adenom hypofýzy je označení pro benigní neboli nezhoubný nádor podvěsku mozkového. Hypofýza nebo také podvěsek mozkový či latinsky glandula pituitaria je endokrinní žláza uložená hluboko v lebce (na bázi lebeční v klíové kosti). Tato žláza je velmi důležitá endokrinní žláza, která je nadřazená téměř všem periferním žlázám s vnitřní sekrecí.
Hypofýza neboli podvěsek mozkový a jejho funkce
Hypofýza je spojená s hypothalamem, což je část mozku ovládající hypofýzu. Hypofýza neboli podvěsek mozkový se skládá ze dvou částí - přední adenohypofýzy a zadní neurohypofýzy. Adenohypofýza je přední lalok hypofýzy, který je bohatě prokrven.
Produkce hormonů a hypothalamus
Adenohypofýza se skládá z několika různých typů buněk, které pak produkují řadu různých hormonů. K těmo hormonům patří růstový hormon (somatotropin), luteinizační hormon, prolaktin, thyreotropní hormon, folikuly stymulující hormon, adrenokortikotropní hormon a endorfiny. Produkce těchto hormonů je regulována látkami vylučovanými hypothalamem. Neurohypofýza je zadní lalok hypofýzy, který je tvořen výběžky nervových buněk a krevními kapilárami. V této části podvěsku mozkového nedochází k produci hormonů, hormony jsou do této části vedeny z mozku. V neurohypofýze je skladován hormon oxytocin a antidiuretický hormon.
Co je to adenom hypofýzy
Adenom nebo adenoma je slovo označující nádor žlázového epitelu. Jelikož je přední část podvěsku mozkového také žláza (adenohypofýza), adenom je tedy nádorové bujení této části. Tato část se ale skládá v řady různých buněk, proto typ nádoru záleží na typu buněk, ze kterých nádor vychází. Statisticky ale nádorové bujení vychází nějčastěji z buněk produkujících prolaktin, tento typ adenomu se pak nazývá prolaktinom. Obecně adenom hypofýzy představuje asi 10 % nitrolebních nádorů. Nejčastěji se adenom vyskytuje u 30 až 40letých osob.
Příčiny vzniku adenomu hypofýzy
Ačkoliv probíhá řada projektů zkoumajících příčiny vzniku adenomů, přesná příčina vzniku dosud není známá. Většina adenomů hypofýzy vzniká nečekaně a pravděpodobně náhodně. Nebyla prokázaná přímá dědičnost adenomu. Jasné je, že základem vzniku je náhodná porucha DNA endokrinních buněk podvěsku mozkového.
Někteří nemocní trpí tzv. MEN1 vrozeným syndromem, což je mnohonásobná endokrinní neoplasie. Jde o vrozený syndrom, kdy dochází k poruše některých endokrinních buněk. Nemocní pak mohou trpět žaludečními vředy, abnormální produkcí hormonů slinivky břišní, příštitných tělísek nebo také podvěsku mozkového. Prolaktinom, což je adenom podvěsku mozkového vycházejícího z buněk produkujících prolaktin, je právě adenom spojovaný s MEN1 syndromem. Proto je jako jedna z udávaných příčin vzniku právě dědičnost. Přesný gen nebo geny ale objeveny nebyly.
Adenom hypofýzy - příznaky a průběh
Příznaky a průběh adenomu podvěsku mozkového vždy záleží na typu buněk, ze kterých adenom vychází. Tyto buňky se nekontrolovatelně množí a produkují nadbytečné množství daného hormonu. Tyto hormony mají vliv na periferní žlázy těla a dále se pak podílejí na řízení určitých metabolických procesů.
Adenom je nezoubný nádor, což znamená, že roste pouze místně, nešíří se dále po těle, jako by to bylo u zhoubného nádoru. To ale neznamená, že adenom není nebezpečný. Hypofýza je uložena na bozkové bázi v blízkosti velmi důležitých struktur, které růstem hypofýzy mohou být utlačováný a poškozeny. Lebka je uzavřený prostor pevně ohraničený, proto růst v mozku, který je lebkou ohraničený, znamená růst tlaku a útisk struktur.
Důležité je rozdělit příznaky adenomu podle typu produkovaného hormonu.
Nadprodukce hormonu prolaktinu
Kpříznakům patří laktace čili produkce mateřského mléka mimo mateřství, porucha menstruačního cyklu u žen, nepřítomnost ovulace, nepřítomnost menstruace, u mužů snížené libido, růst prsou, velmi vzácně s tvorbou mléka.
Nadprodukce růstového hormonu
Příznaky jsou gigantismus u dětí, což je extrémní růst do výšky, velká hlava a velká výrazná dolní čelist, velký jazyk, hluboký hlas. Jedinci se mohou dorůstat výšky přes 2 metry. U dospělých osob nadprodukce růstového hormonu vede k růstu periferních částí těla, což znamená, že jedinec má velké ruce, nohy, velké masité rty, zvýrazněné nadočnicové oblouky, velkou čelist a velké uši.
Nadbytek thyreotropního hormonu
Příznaky jsou zvětšení štítné žlázy (struma), hubnutí, pocení, návaly horka, poruchy menstruačního cyklu, exoftalmus (prominující oční koule).
Nadbytek adrenokortikotropního hormonu (Addisonova choroba)
Příznakem je zvýšená pigmentace v oblasti podpaží nebo zátylku, změny krevního tlaku, únava, poruchy srdečního rytmu, zvracení a hubnutí.
Některé typy adenomů jsou tzv. afunkční, což znamená, že neprodukují žádné hormony, ale mají místní projevy. K těm patří bolest hlavy, poruchy zraku, nevolnost až zvracení, výjimečně i poruchy vědomí.
Pokud nádor dorůstá velkých velikostí, může provokovat poruchy dýchání, krvácení, parézy, křeče apod.
V počátcích, kdy má adenom velmi malou velikost je průběh klidný, příznaky mohou být velmi nespecifické jako jsou občasné bolesti hlavy, nevolnost a poruchy zraku. Hypofýza totiž leží v blízkosti překřížení zrakových drah a tím jak adenom roste, tlačí tak na tzv. chiasma opticum a vznikají tak typické výpadky zrakového pole (temporální výpadek), což znamená, že jedinec vidí jen polovinu sledovaného obrazu, druhá polovina obrazu je jen černé nic. Pokud dojde k zasažení všech zrakových vláken, může dojít až k úplné slepotě.
K dalším příznakům z útlaku patří také obrna víček (ptóza), dvojité vidění, čichové haucinace, bolsti hlavy, psychóza, demence, záchvaty a mnoho dalších příznaků. Nádor bývá často velmi dobře prokrven, jeho růstem tak může dojít ke krvácením, které pak imitují náhlou mozkovou příhodu.
Růst nádorů může také způsit ucpání drenážního systému mozkomíšního moku a projevy pak vypadají jako klasický hydrocefalus.
V průběhu tohot onemocnění se může objevit řada komplikací. K jedné z ní patří to, že zvýšená hladina růstového hormonu může vést k růstu vnitřních orgánů. Tím dochází k větší zátěži srdce, které někdy nestačí velké orgány zásobovat krví a dochází k srdečnímu selhání. Potlačena může být také funkce ledvin. Stejně tak při poškození nadledvin může dojít k celkovému selhání organismus (nekontrolovatelný krevní tlak, ztráta potřebných iontů apod).
Diagnostika adenomu hypofýzy
Existuje několik diagostických metod. Základem je ale vždy podrobně odebraná anamnéza, která velmi často k diagnóze adenomu hypofýzy může vést. Důležité je zjistit, kdy se první příznaky objevily, pro adenom hypofýzy je velmi typické narušení zrakové dráhy s útlakem chiasma optikum, dále pak neplodnost ženy s laktací mimo běžného období kojení novorozence.
Při podezření na naprodukci určitého hormonu je možné provést poměrně rychlý test, kdy se ze vzorku krve zjistí hladina daného hormonu. Pro přesnější diagnostiku pak slouží výšetření magnetickou rezonancí (MRI), která detailně zobrazí oblast podvěsku mozkového, jeho umístění a velikost. Konečné a zcela jisté prokázání nádoru a jeho typu je pak možné po operativním odstarnění nádoru a jeho důkladném histologickém vyšetření.
Poměrně dobře nádor může zobrazit také počítačová tomografie (CT). K dalším diagnostickým metodám patří také oční vyšetření, které pak odhalí výpadek zrakového pole a díky tomu je pak možné přibližně odhadnout, na které úrovni je zraková dráha narušena.
Adenom hypofýzy - léčba
Při léčbě adenomu hypofýzy je možné kombinovat několik typů léčby, existuje tak mnoho strategií, jak toto nádorové onemocnění léčit. Léčba velmi záleží na typu postižených buněk a tím pak typu produkovaného hormonu. Pokud je nádor odhalen náhodně při vyšetření mozku, nepůsobí žádné potíže a nadprodukce hormonu je minimální nebo žádná, je požné se přiklonit k metodě pozorování. Jedinec je tak jednou nebo několikrát ročně vyšetřen CT nebo MRI, nádor je srovnán a změřen. Zjistí se tak, zda roste nebo je stále stejně velký.
Další možností je farmakologická léčba, kdy se nadprodukce určitého hormonu tlumí léky. Pokud předchozí možnosti nepřipadají v úvahu, na řadě je chirurgická léčba. Cílem je vždy zajistit nemocnému normální, co nejpohodlnější život. Samozřejmě že nejideálnější je, pokud se nádor podaří kompletně odstranit. Ne vždy je to ale možné. Existuje mnoho přístupů a typů operací, možné je také využití tzv. endoskopických metod, kdy se složitě neřeže lebka a kůže, ale vytvoří se pouze několik velmi drobných otvorů, kterými se protáhnout sondy s kamerou a nástrojemi, takto je možné nádor odstranit bez většího poškození nemocného. K operacím se používají kvalitní mikroskopy. Někdy je možné se k náoru dostat přes dutinu ústní nebo dutinu nosní, jelikož je hypofýza uložena na bázi mozku.
Prevence adenomu hypofýzy
Prevence adenomu hypofýzy není dosud známá. Existují určité rizikové faktory, ale v praxi není možné se vyvarovat veškerým vlivům, které by mohly teoreticky ke vzniku nádoru vést. Základem prevece jakéhokoliv nádorového onemocnění by ale mělo být vyloučení kouření, ionizujícícho záření a chemikálií vedoucích ke vzniku nádorů. Nikdy neuškodí dodržovat zdravý životní styl s příjmem ovoce a zeleniny a dostatkem pohybu.